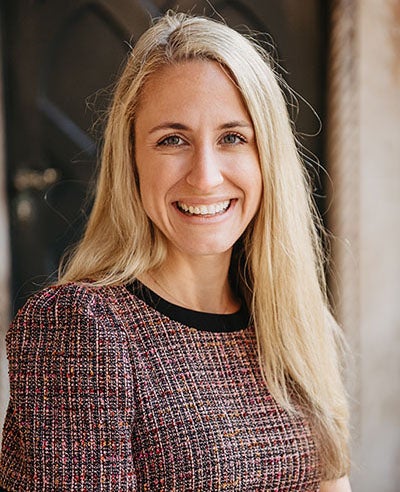 Majla Custo '10
Economics Concentrator
Kirkland House
Majla Custo '10 likes to say that going to Harvard seemed as likely as going to Mars. As a teenager in Bosnia dreaming of Cambridge, Custo could not imagine how her College journey would unfold. But propelled by her own tenacity and supported through financial aid, she used her time in the Yard to capitalize on extraordinary opportunities that led her to a career in finance at Goldman Sachs and SpaceX, the company that designs and launches advanced rockets and spacecraft. This year, she has just returned to the investing world at Owl Rock in New York City and has taken on a new role: vice chair for recent graduates for the Harvard College Fund. Custo shares how a movie about a determined young Harvard student inspired her to apply and why she volunteers to make sure others have the same life-changing moments that she did.
Why did you want to come to Harvard?
I saw Legally Blonde when I was 14 as a freshman in high school. I was really lucky that my parents had just gotten dial-up Internet. I started Googling Harvard because I wanted to find out how to go there. The school system in Europe is different, so it probably took me a full year to figure out all the things you had to do to apply to school in the U.S. You couldn't take the SATs in Bosnia, so I became an exchange student in Michigan my junior year so I could take the tests. I went to Boston that year to visit my cousin, and he took me to visit Harvard. When I returned home, I applied to a number of schools, but when I got into Harvard, there was no way I was going anywhere else.
Was it different than you expected?
I was really surprised by how social U.S. colleges are. Even in Legally Blonde, they're studying, they're nerds, and they're in the library. I didn't realize how important people are. In Europe, the whole college education is studying for the exams. During my freshman fall, it took me some time to realize that I don't have to be in the library all the time and that I needed to go out and meet friends. The people are by far the most important part for me during and since my Harvard time.
What were some of your favorite things about Harvard?
There is no other place like it. I had friends from everywhere. They came to Harvard because they wanted to change the world. Everyone was so ambitious, driven, smart, and hardworking. They wanted to have an impact.
I realized very early on how incredible it was to have access to all of what Harvard had to offer. In my second week at Harvard, I was at a reception with the presidents of Serbia and Croatia. I would never have been having cocktails with them in normal life. I got to speak with Hank Paulson when he was the secretary of the treasury, and I took a first-year seminar with Richard Cooper, one of the world's top economists.
How is going to Harvard like going to Mars for you?
I've worked at SpaceX, and the company's mission is to go to Mars. Back in the early 2000s, when I started telling my parents, "I need to go to the U.S.," it seemed like the craziest thing in the world. For my family, getting a U.S. education, let alone going to Harvard, seemed much more unlikely than going to Mars in my lifetime. I didn't know what the opportunities were in this country. It opened so many doors and fundamentally changed my life by having the opportunity to be in this incredible country. When I applied to Harvard in 2006, the financial aid office had started giving full aid a year or two before. The average salary in Bosnia is $300 a month. If it weren't for Harvard and the financial aid I received, I wouldn't have the life I have now.
You are a loyal Associates donor and recently became vice chair of recent graduates for the Harvard College Fund. What motivates you to give back to Harvard?
I think of all the opportunities I had when I was there—from learning with my professors to the jobs I got. I wouldn't have any of it if I hadn't been at Harvard. I wouldn't know my best friends. I would not have done what I did in life. I wouldn't be here. I would probably be in Bosnia and wouldn't have gotten to know so many people, different worldviews, and parts of the world. My sister Lejla '18 wouldn't have been here. How could I not give back? Harvard has changed my life so much, and I want to contribute so other children's lives can be changed.
What continues to draw you to the Harvard community?
My views are very much aligned with the College's. Harvard is very thoughtful about social issues, and I think the world needs that—we all can continue to learn and grow. I remember I went to visit Lejla when she was a first-year student. We sat in Annenberg for hours with some of her friends. All these kids were eight years younger than me, but it was like the same experience over again—they were debating, wanting to leave an impact, being passionate about anything and everything. And Harvard is able to convene these incredible people over and over again and make that possible.