Harvard College Alumni
College Alumni Volunteers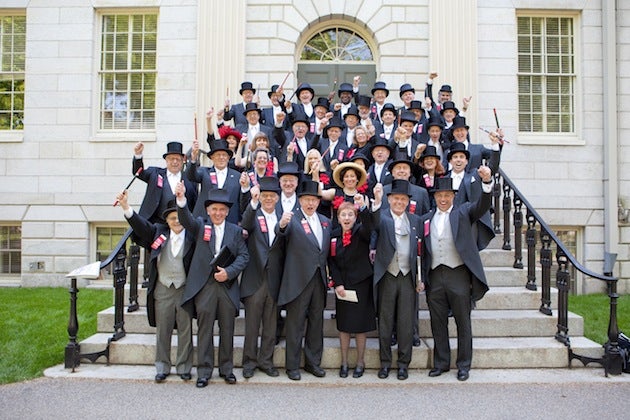 Whether you are an alumnus/a of Harvard or Radcliffe Colleges or a current student excited about connecting with fellow classmates and alumni, intentional ambassadorship through your commitment of time or philanthropic support is essential for supporting our vibrant Harvard community. Explore the myriad ways below to join the growing alumni volunteer community.
Harvard Online
Volunteering can be as simple as connecting with classmates or fellow Harvard alumni online, through LinkedIn, Facebook, or Twitter. By connecting and contributing meaningful content or promoting digital opportunities to others, you are serving as an advocate for the College.
Share Harvard Updates
Share news of House Renewal projects, Faculty Research, alumni accomplishments, and Harvard publications. Encourage others to leaf through Harvard Magazine, pass along a Harvard Gazette article, or circulate photos from campus activities and ongoing Harvard traditions.
Community Events
Participate in events across the country, including Global Networking Night (GNN), the bi-annual event in cities across the world. Led by alumni volunteers, Harvard Clubs and Shared Interest Groups (SIGs) organize these free events, which provide alumni and current students with opportunities to meet and mingle at local venues. Volunteer opportunities include encouraging others in your area to attend or taking a leadership role in planning local events. Learn more by being in touch with the Clubs and SIGs team at clubs@harvard.edu or 1-800-654-6494.
College alumni are also encouraged to greet the newest class of alumni in cities across the world each fall as part of the Welcome to Your City event series. Attend and welcome new arrivals or volunteer to host an event in your area. Find out more by contacting the College Alumni Programs team at haa_collegealumniprograms@harvard.edu or 617-496-7001.
Participate in educational and engagement opportunities for alumni across Harvard University, both on-campus and around the country, through Alumni College events. These programs range from social outings to presentations by and discussions with leading professors. In addition, ideas and recommendations for an event—be it an educational panel, walking tour, or networking luncheon—are always welcome. For more information or to suggest a program, contact the Alumni Education team at haa_alumnieducation@harvard.edu or 617-495-1920.
Reunions
Join your Reunion Program Committee or Class Fundraising Committee to connect with classmates before, during, and following your class reunions and support one of the most popular ways alumni engage with each other and with the College. Attending your own reunion and encouraging others to do so is also a key way to ensure that your class stays well connected over the years.
Reunion Program Committee
Help lead your class reunion effort as a member of the Reunion Program Committee, a group of volunteers who plan reunion events and encourage broad reunion attendance and excitement. To learn more about Reunion Programs, contact the College Alumni Programs team at 617-496-7001.
Reunion Campaigns
Help lead your Reunion fundraising effort as a class co-chair or vice chair, or join your class participation, Associates, or leadership gifts committees. Then celebrate with your classmates at your spring or fall reunion on campus. Learn more about Reunion Campaigns and contact your class officer to get involved.
HAA Board of Directors
The HAA Board of Directors, headed by an Executive Committee and comprised of thirteen committees, helps to advise the HAA on ways to best engage the alumni community. A certain number of the Directors are elected by Harvard alumni at large. If you are interested in learning more about the HAA Board of Directors, please contact Alumni Board Services at haa_alumnihelp@harvard.edu or 617-495-5731.
Philanthropic Support
Volunteering with the Harvard College Fund provides one of the most meaningful and influential opportunities for individuals to stay connected to the College and University. Our dedicated volunteer corps of more than 1,500 College alumni and alumnae spans more than 60 class years, and College parents and Graduate School alumni join us in our efforts to raise funds for a range of endeavors across Harvard's Faculty of Arts and Sciences, which includes Harvard College, the Graduate School of Arts and Sciences, and the Harvard John A. Paulson School of Engineering and Applied Sciences.
Learn more about becoming a volunteer, and contact your gift officer to get involved.
Connect with Undergraduates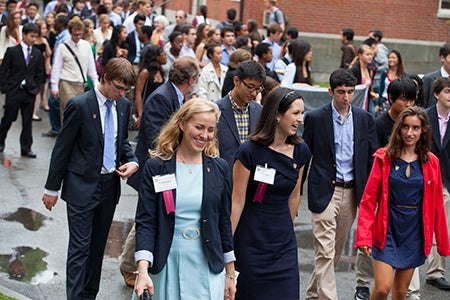 Career Assistance
The alumni network through Harvard College is strengthened through career connections and experiences. Did you know that you could offer internships and jobs to current and graduating undergraduates? Visit the Office of Career Services alumni homepage for more information, including guidelines and instructions about how to post opportunities.
On-Campus Undergraduate Engagement
Each year, hundreds of College alumni volunteer their time and expertise to connect with students for panels and workshops, career exploration programming, and Wintersession events. If you are able to return to campus and you are interested in participating in this type of programming, please contact the College Alumni Programs team at haa_collegealumniprograms@harvard.edu or 617-496-7001.
Admissions Interviewing
Each year, alumni admissions interviewers and members of our Schools & Scholarships Committees recruit and evaluate applicants to Harvard College. If you are interested in interviewing prospective students, please fill out the Alumni/ae Interviewer Registration form with the necessary information. If there is a need for alumni interviewers in your area, the Chair of your local Schools & Scholarships Committee will contact you.
Senior Class
Senior Class Committee
Led by current elected and appointed seniors, the Senior Class Committee helps build connections during senior year that will last until the fifth reunion and beyond. These leaders develop resources and events for fellow classmates, culminating with Senior Week and Class Day. To learn more about how to become a part of this effort, please visit the Senior Class Committee homepage.
Senior Gift
Appointed during senior year, Class Gift Marshals help educate seniors about the importance and impact of alumni giving, and encourage classmates to make their first gift to the College. Learn more about Harvard's annual Senior Gift Campaign by visiting the Senior Class Committee homepage.