Public Service
The Harvard Alumni Association has a historic tradition of public service. Through programs like Non Profit Recruitment and Engagement Fairs, Early College Awareness, and the Summer Community Service Fellowship, alumni who volunteer through our programs are making a difference across the globe.
Interested in participating? Learn more about all of the public service program we provide with alumni support.
Early College Awareness
The Early College Awareness (ECA) Program was established to provide Harvard Clubs, Shared Interest Groups (SIGs), reunion classes, and other alumni organizations with a comprehensive way to help increase college awareness and preparedness among middle school and high school students.
Focusing on schools and communities that are underserved, the ECA program provides hope to those who don't think college is an option. Through inspiration, information, and guidance, alumni volunteers can help students and their families learn realistic approaches to higher education, find sources of support, and prepare.
Organizations interested in implementing the ECA program in their area can review our toolkit, which presents several ECA models and provides resources that will help you get started.
Non Profit Recruitment and Engagement Fairs
To connect Harvard University alumni to local, national, and international non profit organizations, Harvard Clubs have started to hold recruitment fairs for their local alumni to meet and match up with local non profits. These fairs have generated high levels of satisfaction among alumni and participating organizations.
Harvard Prize Book
Prize books are presented annually in more than 1,900 high schools around the world to outstanding students in the next-to-graduating class who demonstrate excellence in scholarship and achievement in other nonacademic areas. The award is often given at the School's graduating exercises, with appropriate remarks by a local alumnus/a.
Summer Community Service Fellowship
Harvard Clubs and SIGs have the option to provide a fellowship to a Harvard undergraduate. Working with a nonprofit host organization in their local community or area, student fellows gain relevant experience that will help them launch their careers after graduation.
Public Interested Conference
Founded in 2012, the annual Public Interested Conference provides opportunities for Harvard undergraduates to engage with and learn from alumni serving and interested in various public interest fields. Each year, alumni and student attendees hear from inspiring speakers, network, participate in engaging activities, and meet peers who share a passion for public service.
The conference is convened by the Phillips Brooks House Center for Public Service and Engaged Scholarship and collaboratively planned by the Center for Public Interest Careers, Harvard Alumni Association, Institute of Politics, Office of Career Services, Office of Sustainability, Phillips Brooks House Association, and Public Service Network.
Learn more about the Public Interested Conference and its upcoming dates.
Stories About Alumni Service: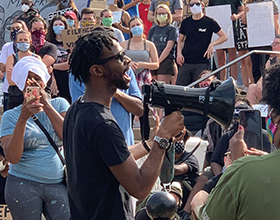 Omavi Kushukuru JD '12 went into law because he felt it was "the most effective route to go on that [would] allow me to help change people's material reality for the better." Kushukuru founded Seeds of Liberation, an education and advocacy organization focused on supporting and empowering formerly incarcerated people and those impacted by incarceration.
---
Savannah "Sav" Miles AB '18 is a community organizer who works to facilitate collective action among faith communities across the city of Gadsden, Alabama. With a grant from the Gates Foundation, she builds educational and training programs focused on breaking down economic and racial barriers and creating a better future for generations to come.
---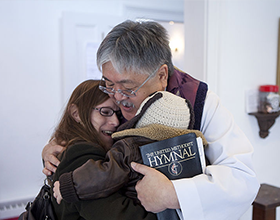 Rev. Mel Kawakami MDiv '74, ThM '87 is a retired pastor and pastoral counselor for the United Methodist Church. In addition to his work in churches across New England, he spent his career helping communities devastated by unexpected loss—from terrorist attacks to natural disasters—as a disaster relief volunteer.
---
For more stories of Harvard community members committed to public purpose and to making a positive difference in communities throughout the country, visit the Harvard Gazette's To Serve Better series.