Join our engaged community of nearly 1,500 volunteers to support Harvard's Faculty of Arts and Sciences and stay connected to Cambridge even if you live far away.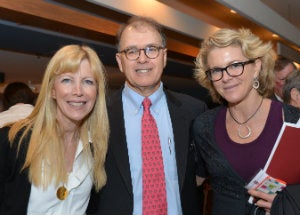 Whether you are an alumnus/a of Harvard College, Radcliffe, or the Graduate School of Arts and Sciences, a College parent or grandparent, or a current student excited about next year's Senior Gift campaign, your contribution of time and resources is essential to our fundraising efforts.
We provide training and support for all of our volunteers and have created several online resources to help you get started. To learn more, please contact your gift officer or one of the individuals listed below.
Reunion Campaigns
Help lead your class fundraising effort as a class co-chair, vice chair, or participation chair, or join your class participation or leadership gift committees. Then celebrate with your classmates at your spring or fall Reunion on campus. Learn more about reunion campaigns and contact your class officer to get involved.
Annual Giving
Stay involved with your Class during non-reunion years as a participation volunteer or by raising leadership funds through Associates giving, which focuses on annual immediate-use gifts. Learn more about Annual Giving or contact your class officer.
Harvard College Fund Parent Engagement Programs
As a Harvard parent or grandparent, you can help raise immediate-use funds that directly benefit current students. Learn more online about the Harvard College Fund Parent Engagement Programs, or contact Cara Mia Bruncati at 617-496-3819 to make a leadership gift or to volunteer.
Graduate School Fund
Inspire others to support the Graduate School of Arts and Sciences by giving flexible, immediate-use funds for the recruitment and training of graduate students. Learn more online about the Graduate School Fund, or contact Stephanie Skedros at 617-495-1629.
Senior Gift
Help educate seniors about the importance and impact of alumni giving, and encourage classmates to make their first gift to the College. Learn more about Harvard's annual Senior Gift Campaign, and contact Molly Stansik at 617-496-9545 or molly_stansik@harvard.edu to get involved.