Harvard College Alumni
Awards and Scholarships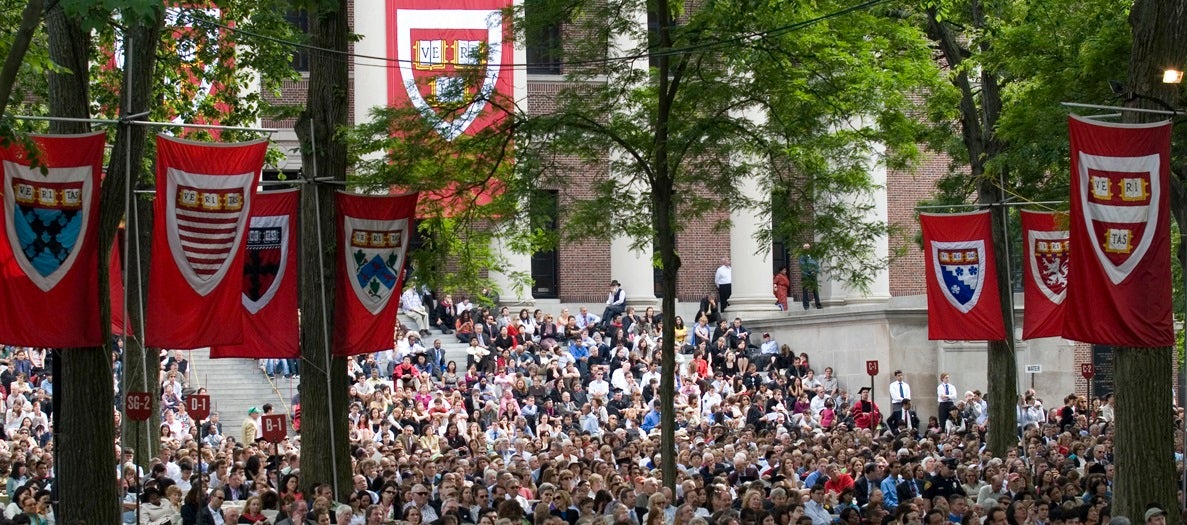 The Harvard Alumni Association oversees the application and nomination process for the three awards and scholarships listed below. To learn more, please visit the page for each program.
The David and Mimi Aloian Memorial Scholarship
The David and Mimi Aloian Memorial Scholarship is an award given to current juniors, with scholarships to be used during senior year, who have made significant contributions, which have positively changed the quality of life for House members. The criteria for the awards reflect the traits valued and embodied by the late David and Mimi Aloian: thoughtful leadership that makes the College an exciting place in which to live and study, with special contributions to the quality of life in the Houses.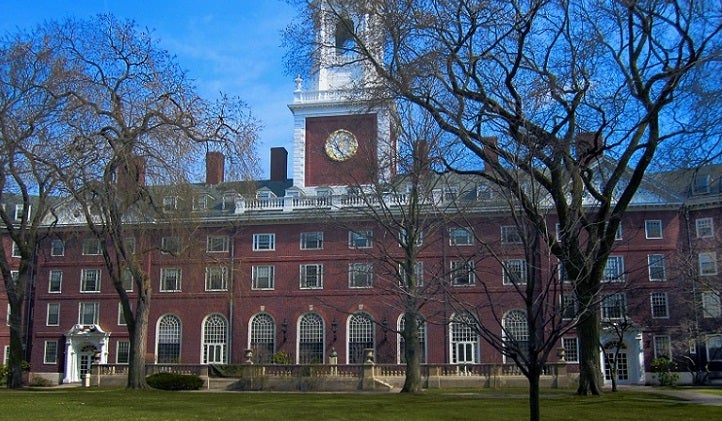 Each year, the Harvard Alumni Association (HAA) selects two current juniors to receive an Aloian Memorial Scholarship for use their senior year. The criteria for the awards reflect the traits valued and embodied by the late David and Mimi Aloian: thoughtful leadership that makes the College an exciting place in which to live and study, with special contributions to the quality of life in the Houses.
History and Purpose
David Aloian, Class of 1949, worked tirelessly for Harvard and the Alumni Association. As Executive Director of the HAA from 1978 until his death in 1986, he made the HAA more open and inclusive. In addition, David and his wife, Mary "Mimi" Aloian, guided Quincy House with grace and inspiration as Masters from 1981 to 1986. While a student at Harvard, David experienced firsthand what the Houses could do to expand the horizons of College students. Later, as House Master, he dedicated himself to the ideal that the Houses should not only be homes but communities for intellectual and social growth. To honor David and Mimi Aloian's achievements and memory and to recognize the importance of House life at Harvard College, the HAA established the Aloian Memorial Scholarships in 1987.
Nomination and Selection Process
We ask for your help in nominating one junior candidate from your House for the Aloian Scholarships. Students may be nominated by any member of the House community. Once students are nominated, they are asked to apply for the scholarship by submitting a personal statement from the student, along with a letter of recommendation from the applicant's Faculty Dean. These letters should highlight the student as a person, a neighbor, and as a citizen of the House community who embodies the ideals and spirit of the Aloian Scholarships as described and highlighted above. Specific anecdotes are most helpful, as are direct quotations from tutors and others who know the student. Criteria for consideration may also include college-wide impact and contribution to campus life, community building, social service and campus green initiatives.
Nomination Process for 2018
February 5–23: Faculty Deans publicize the Scholarships to students and tutors through the House newsletter and posters.
February 23: Members of the House community submit all nominations to Faculty Deans.
March 2: Faculty Deans select a finalist and send the student's name, address, phone number, and email address to the HAA (Kate Freed, kate_freed@harvard.edu).
March 9: Applications sent to all finalists.
April 6: Completed applications due at the Harvard Alumni Association offices, 124 Mt. Auburn Street, 6th Floor. Applications must include a personal statement from the student, along with a letter of recommendation from the applicant's Faculty Deans.
Staff and alumni volunteers on the Board of Directors review applications and select students based on contributions to the House and Harvard community. The two winners receive an award of $2,000. Winners who qualify for financial aid receive their Harvard scholarship from the Aloian Fund. Aloian Scholars and their Faculty Deans are recognized each year at the fall dinner of the Board of Directors of the Association.
---
Aloian Scholarship Recipients
1988
Stuart Sechriest - Pforzheimer
Mary Ellen Ronayne - Winthrop
2003
Shaka Bahadu - Dunster
Shira Sivan Simon - Leverett
1989
Rebecca Berner - Winthrop
John Smith - Leverett
2004
Gina Bruno - Adams
Darren Morris - Mather
1990
Michael Camunez - Currier
Lori Outzs - Lowell
2005
Joshua Reyes - Leverett
Navin Kumar - Kirkland
1991
Gabrielle Burton - Adams
Gregory Lisi - Pforzheimer
2006
Eric Lesser - Kirkland
Lauren Tulp - Eliot
1992
Melinda Wang - Currier
Christoper Thiessen - Leverett
2007
Matthew Drazba - Kirkland
Ana Vollma - Dudley
1993
Sarah Kimball - Leverett
Peter Hahn - Dunster
2008
Amanda Fields - Lowell
John Sheffield - Pforzheimer
1994
Joann Chan - Kirkland
Chris Evers - Mather
2009
Karl Kmiecik - Cabot
Kirsten Slungaard - Eliot
1995
Daniel Altman - Quincy
Vanessa Coke - Mather
2010
Michael Baskin - Dunster
Ryan Schell - Pforzheimer
1996
Lisa Chu - Lowell
Russel Perkins - Leverett
2011
Anne Douglas - Adams
Marcel Moran - Eliot
1997
Mark Engler - Dudley
Sheila Warren - Dunster
2012*
Matthew Chuchul - Pforzheimer
Laura Hinton - Cabot
Abiola Laniyonu - Lowell
Meghan Joy Smith - Leverett
1998
Mary Murphy - Kirkland
Matthew Smith - Leverett
2013
Kathryn Walsh - Adams
Roland Yang - Kirkland
1999
Michael Abate - Lowell
Isabel Beerman - Leverett
2014
Rob Gunzenhauser - Adams
Mathilde Montpetit - Winthrop
2000
Fentrice Driskell - Mather
Nancy Poon - Dunster
2015
Gabriela Ruiz-Colón - Quincy
Jordan Weiers - Winthrop
2001
Albert Cho - Adams
Silas Wang - Leverett
2016
Annalee Perez - Dunster
Brittany Wang - Quincy
2002
Angela Freeburg - Cabot
Justin Erlich - Quincy
2017

Aldís Elfarsdóttir - Eliot

Hannah Smati - Adams
*Four awards were given in honor of the program's 25th anniversary.
---
The Richard Glover Ames and Henry Russell Ames Award
The Ames Award is given to seniors who have shown heroic character and energy with helping others and whose substantial contributions may not have been acknowledged. This prestigious honor is granted to two members of the senior class during the Class Day Exercises on the day before Commencement. The goal of this award is to honor two unsung heroes of the class.
History
On June 19, 1935, Richard Glover Ames and Henry Russell Ames, brothers and Harvard students, gave their lives to save their father, who was washed overboard during a storm off the coast of Newfoundland. Every year since, the Ames Award has been given in their memory to recognize two seniors who have shown energy in helping others and who exhibit the same heroic character and inspiring leadership of the Ames brothers.
Nomination and Selection Process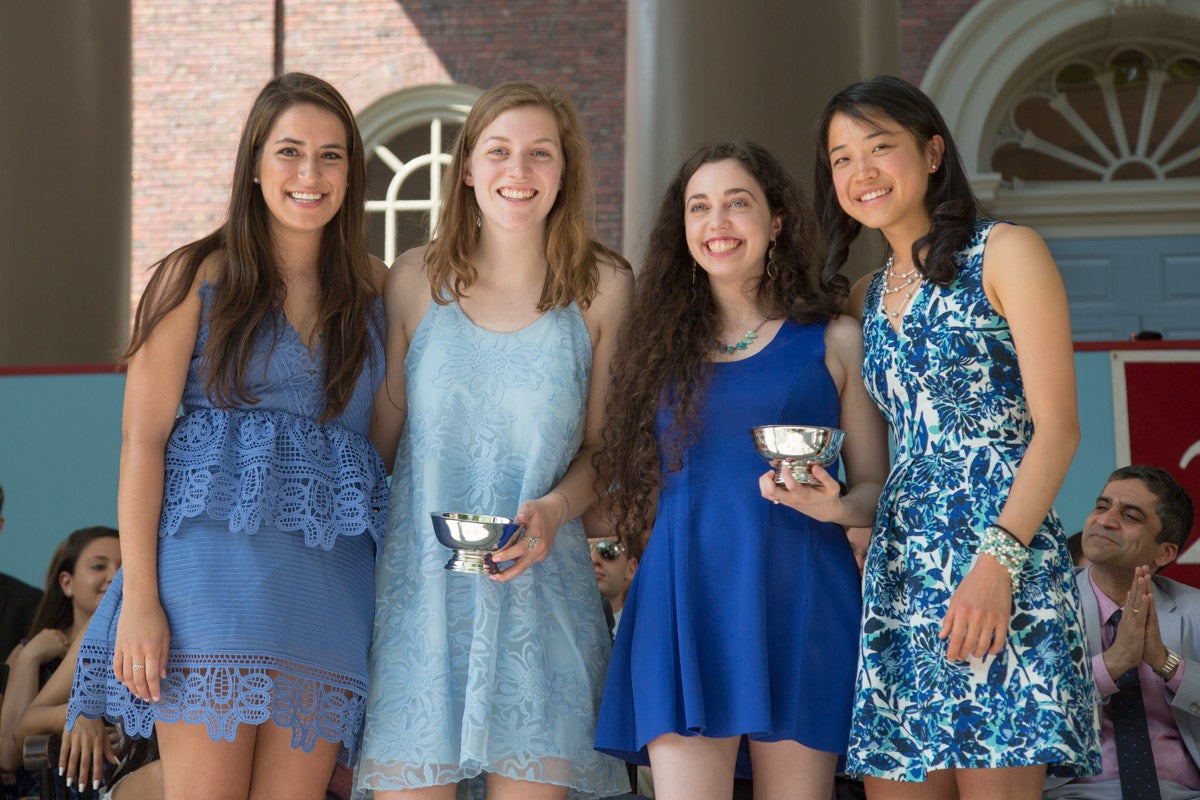 While Harvard students are often commended for their many achievements, this award is unique in striving to identify individuals whose substantial contributions have not been acknowledged. The goal of this award is to honor two unsung heroes of the graduating class.
We welcome nominations of seniors from deans, faculty, faculty deans, staff, fellow students, and others from the Harvard community. Nominations should be for students deemed worthy of such an honor, whether their service has impacted the community inside or outside of Harvard, on a large or small scale. We ask for your help in bringing their stories, and the lesser-known facets of their personalities, to light. At the same time, please do not hesitate to nominate individuals who may have already received some recognition for holding leadership positions in organizations or activities.
Nomination Process for 2018:
Members of the Harvard community should nominate individuals in the form of a letter or email. These letters or emails will be the sole basis of our decision, so please be as specific as possible and provide us with as much relevant information about your nominee or nominees.
Send nomination emails or attached letters to haa_collegealumniprograms@harvard.edu.
Nomination deadline: March 23, 2018
Winners will be selected through a blind review process by 2018 Senior Class Committee members and Harvard Alumni Association staff. Traditionally, one of the most special aspects of the Ames Award is that it comes as a joyous surprise to the recipients and the entire audience on Class Day. Thus, in keeping with the spirit of the award, we request that you refrain from discussing your nomination(s) with the nominees themselves.
---

Recent Ames Award Recipients
2004
George Lee
Christine Tran
2011
Johan Hong
Anna Kamerow
2005
David Jenkins
Susan Mathai
2012
Jonas Wang
Rumbidzai Mushavi
2006
Eric Momin
Laura Jean Ridge
2013
Victor Flores
Sara Lytle
2007
Rajan Sonik
Rabia Mir
2014
Majahonkhe Shabangu
Sarah Rosenkrantz
2008
Matthew Smith
Chiara Condi
2015
Fadhal Moore
Michelle Ferreol
2009
Robert Jay Ross
Jean Junior
2016
Gabrielle Milner
Allison Torsiglieri
2010
Adam Travis
Talya Havice
2017
Jennifer Hao
Juhwan Seo
---
The Harvard-Cambridge Scholarships provide for one year of study at Cambridge University. There are currently four Harvard-Cambridge Scholarships, which are distinct from one another only in the Colleges where respective scholars reside and include the Lionel de Jersey Harvard Scholarship (Emmanuel College), John Eliot Scholarship (Jesus College), Lt. Charles H. Fiske III Scholarship (Trinity College) and Gov. William Shirley Scholarship (Pembroke College). Each of the four scholarships provides placement at the designated college, lodging, and a stipend to cover all maintenance expenses for one year, including transportation and some travel. Recipients are chosen by former winners according to broad criteria.
---
Established in 1992, the Summer Community Service Fellowship (SCSF) program has become a crucial initiative in supporting the development of a new generation of graduates working for the public interest. Through this program, Clubs and Shared Interest Groups (SIGs) have the opportunity to provide a fellowship to a Harvard undergraduate working with a nonprofit host organization in their local community or area.