Bob Bowie AB '73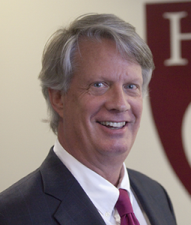 Robert R. Bowie Jr. AB '73 is the Harvard Alumni Association (HAA) poet laureate. An attorney, Bob is an active participant in the HAA, having served the alumni community in a variety of capacities, including as HAA president from 2010 to 2011. He believes that members of Harvard's alumni community "are instantly part of a worldwide network of shared experiences and a common history." Bob is also a playwright and poet.
Rose Bowl
Our Virtual Graduation 
(A Salute To The Determination And Character Of Our Scholar Athletes Told Through Harvard's Amazing Football History In A Time of Necessary Quarantine)
Since the HAA Spring Meeting did not convene in person this year due to the COVID-19 pandemic, Bob's ode as the HAA Poet Laureate (with a tip of the hat to our poet Seamus Heaney) was recited from outside his kitchen door. Take a look at the video.
"A Spirit moved. John Harvard walked the Yard.
The books stood open and the gates unbarred."
I quote Seamus Heaney. Cause he's a real Rock Star.
I'm not, so imagine the gates are not unbarred…
Because I'm quarantined and locked out of Harvard Yard
With my ode to football history and our student stars!
But first, since Harvard must be first, because God has made it so --                                                                               
Harvard invented football! Here's how that story goes:
Back in 1869, Rutgers and Princeton
Claimed they played no passing, carrying and no run,
No pads, no helmets, wrong ball, not even blockers!
They claimed they played the first football game, but that was soccer!
Thank "heaven" five years thereafter, Harvard played McGill
In an international collegiate game of skill.
Thank "heaven" Harvard's rules were used, and they came to be,
To replace the rules for kickball in backwoods New Jersey. 
Harvard is "veritas!" So, what's the mystery?
First game? Right rules! God knows who rewrote that history!
And then "a spirit moved" the Class of '79.
In 1903 they built it, ahead of its time…
In mid-November, just one month before man could fly…
An above ground bomb shelter with a fifty-yard line…
If you think that stadium money went down the drain
Consider, a century ago, we won the Rose Bowl game
And seven national championships were also won,
With six big Rhodes Scholars (each maybe a tenth of a ton)
And seventeen conference titles and we're not even done
Because it looks like Coach Murphy is still having tons of fun.
Forty-two varsity sports. The most in Division One.
Our Scholar Athletes test real well and they also can chew gum!
Yes, it's sad for all of us! Quarantined from the Yard,
Exiled from graduation. Alums is what we are!
So, let's summon Seamus Heaney. He is our trusted bard,
To turn our prayers to poetry and realign our stars:
Let's pray soon a spirit moves and John Harvard will walk the Yard
And the books will reopen and soon, for all of us, the gates can be unbarred.
---
Portrait of Gentleman Jim
Whenever I became too confident
Of my perfect Harvard education
My ex-father-in-law, concomitant,
Was there to deliver expiation.
His timing was perfect. He'd watch and wait.
He'd set me up and then he'd set me straight.
Let me describe this kind and gentle man:
In profile he was blessed with a perfect
Semi-circular belly and no can.
Perfect as a backlit window silhouette:
A photo I still love and regret.
A photo my ex-wife wouldn't forget.
A small piece of a small, but sad divorce.
He has 'passed on' but I miss the man.
Comfortable with himself. Steady. On course.
Leaning back with a scotch glass in his hand,
"I sell seeds and satisfy farmers' needs,
Go to church, plant the garden, pull the weeds."
Every Easter the two of us would go
Outside to smoke illegal Cuban cigars.
He'd get me to tell him what he should know.
He'd always wait until I'd gone too far.
He'd lean back: "Ahh, hoist by your own petard?"
Flick off his ash and say "Harvard-smavard."
They're all gone now, his wife, mine and him.
But still up until the very end
I would package and carry up to him
All my old Harvard Magazines and then
He always put them there in the same place,
Next to the kindling and fireplace.
I drove up a month or so before he died.
He so deeply missed his loving wife.
The reconciliations I had tried
Had failed. Love was leaking out of his life.
The door unlocked, sleeping in his chair
With a Harvard Magazine spread out there
Heaving on his perfect snoring belly,
What a perfect find was all of this?
There was food in the ice box from the deli.
I found whiskey and two glasses. I kissed
Him and asked "What's this you're reading you fool?"
With a cagey smile: "It ain't that bad a School."
---
The Pearl in the Oysta
A Personal Resolution of Town/Gown Schizophrenia
(Delivered in Slow Boat Rocking Rhythm and Lithium Couplets)

I've always been of two minds but one heart
With one foot in each camp from the start.
A heart, half Sox fan and half cap and gown
Split between this my college and my town
But then I found what might be the cure--
I called the front desk 'n booked a Crimson Tour.

As I wait for my group to gather and grow
I watched like years, the cars come and go,
And ruminate on that crew-cut kid
And all the terrible things that I did,
Like drinking, smoking and learning to curse
When Cambridge was perfect, as my universe.

Then Harvard Admissions had an accident
And ended a youth completely misspent
Leaving that thought lingering within:
Who would I have been if I didn't get in?
Then across from the kiosk I think I see
This shouting jaywalker waving at me.

Who is this unshaven and quite rotund
Red Sox jacketed, bull moose moribund--
A Harvard cap propped on top of his head
Zombie strolling half alive n' half dead?
 "Bar Fly" doesn't really give him his justice,
Til I realize–My God, I must trust this:

He grabs me and violently shakes my hand
And spits out words I barely understand.
"You're a tourist–want to know how I know?
Because I'm your townie, alter ego."
Oh no, I'm completely Cambridge born and bred.
"Yeah!  The 'bread' is what Hav'ad stuffed 'n yer head."

Is this really who I would have been?
But for Harvard, my identical twin?
In Cambridge it could have started and ended?
I would have watched sports, slept late and bartended?
How could I look like what he looks like today?
A two-day growth and a crewcut, both gray?

"I'll tell ya from the bottom of my ha'rt"
He observes, "I'm not ly'n, you don't look real smat.
Ya may be try'n too ha'd with all that hay'a.
La Flamme's still that ba'ba shop just over they'a.
Look in the mir'a.  I'm who you really are!"
He takes me through Johnson Gate to the Yard.

"Look, that's where they teach Chem 30–It's the worst.
It's so hard it is worse than giving birth."
He pauses for effect–"Fer a Yea-a!
How was ya smat enough to get inta he'ya?
Hey, you was a jock. You applied on a hunch,
And ya' best sport was pinball at Tommy's Lunch."

…But what if my alter ego understood
That not getting in might have been for the good?
What if I had lost that luck of the draw
And never been guilty of the practice of law?
Or learned something practical before I retire
Like I actually knew how to fix a flat tire.

No! This university has given me friends
And a love of learning that just never ends
And knowing all of my smarter classmates
And quoting them when they prognosticate
And that hidden forbidden personal curse:
That bloated respect for my own self worth?

When meeting strangers I don't make them wait
To know from where I matriculate
Or perhaps this disclosure I curtail
To make them think that I might be from Yale.
But really I learned what it is about:
Teaching your ego to have no self-doubt…

"For the love of God" my twin interrupts,
(My inner Townie can be quite abrupt)
"What happened to those 'two minds but one heart
With one foot in each camp right from the start?'
May I suggest that what yer searching for
Is a unification by metaphor.

Woah—sweet Jesus did I really say that?
I thought it was a burp but it came from the heart.
…Nonetheless I'll continue if I might
With something perspicacious and erudite:
If you were sand to the oyst'a you'd tell
Of a pearl in its Cantabrigian shell

That tested you and changed you for the best,
That challenged truth and disregarded the rest
When others lived in dark you lit their path
When others cried you taught them to laugh
And instead of just flipping them the bird
You didn't call your Stanford friends 'the nerds'.

Hey—I had the smats. I had the Art from the start.
In South Boston they'd call my art a brain far't
But he'a in cul'chud Cambridge that'd be a sin
It's a 'Cerebral Broadcast' or 'Break'n some Wind.' "
And then in that moment we noticed the trees
The Yard's elms, oaks, horse chestnuts, the shadowing leaves.

"Perhaps yer roots are much more essential
Than yer stell'a crimson credentials".
We both look at John Harvard's golden toes.
And are told he's the man that nobody knows.
Past Widener, cross Mass. Ave, precisely at noon,
Past Grolier's, the Old Pudding, to the Lampoon.

"I'm real proud of ya. Ya worked ha'd. I'm not mad.
You didn't really turn out all that bad."
As the tour breaks up I'm feeling healed and quite well.
Like a pearl safe in a Cantabrigian shell.
"Hey I'm tending bar at the 'Plow in the Stars'
Let's lift one together at our favorite bar.

Why divide our home from our education
Perhaps we two were blessed to be one.
Tell the truth about what Harvard has done.
It has made us one of the fortunate ones."
 "We are one." I cry, "And we owe such love'n respect
So first to Development to write them a check."                               
---
Our Recent Winter
Instead of my customary poem as your Poet Laureate I thought I should read you an email I received from an extremely distraught member of the Schools and Scholarships Committee which was sent after he heard that several admitted students were rumored to have chosen Stanford because the weather this winter was better in Palo Alto. I recognized the extent of his emotional distress when I realized that his email was written in six-line stanzas with a rhyme scheme of ABACCB.
To: William Fitzsimmons, Dean of Harvard College Admissions
Cc: Robert Bowie Jr., former chair of Schools and Scholarships Committee
From: snowboundalumnus@post.harvard.edu
Re: Our Recent Winter
Dear Fitz, Why should this winter trouble us?
To Hell with them. Really, just let them go.
How "New Age" to be "temperature obsessed."
Who would choose Stanford because of its weather?
We disagree, don't we? It brought us together—
Wasn't Cambridge blessed by its nine feet of snow?
Behold how our Puritan God offers us bliss:
The parking meters are shut down and frozen.
Do we all see the perfect justice in this?
Do we bear witness to this Revelation:
No taxation with extreme precipitation?
A great education requires four seasons!
Washington broke up snowball fights between his guards.
Hey, we love our bad weather, seriously!
What if we'd marched in Palo Alto not the Yard:
"Pack your sunblock and flip-flops, if you care,
Tomorrow night we'll be crossing the Delaware
And don't you forget your surfboard and Frisbee!"
All kidding aside, it's a question of judgment.
Fitz, I'm serious, let's go on the attack.
Education is its own environment…
Hey, isn't the snow rain and rain is water?
Why dehydrate your son or your daughter?
What parent or guardian could live with that?
It's a desert out there! A constant drought!
Forget the soap if you've got a cistern.
Seriously that's what we're talking about.
If you want a shower you're out of luck
Unless your kid has his own water truck
And a hydrolic recycling system.
At Harvard we learned at the edge of water.
It is part of us. It is our gestalt.
Education is our advancing order.
Isn't by a river the perfect place to teach?
We live to learn at the edge of our beach.
We have the Charles. They've got the San Andreas Fault.
Our winters are not black and white you know.
It gets a little dark, all that is true
But the snow turns gold when the dogs let go.
It's our great beer that gives us our pink cheeks,
For here in Cambridge we are all unique.
We don't catch a "common cold" we die of flu.
Fitz, I think I may be permanently damp—
But things are real good…real good…great for me—
Since I've started to worship an old sun lamp.
I took some Prozac. Snorted Wellbutrin;
And am waiting for the Zoloft to kick in
And I love my Primal Scream Therapy.

After this winter, spring will catch us all off guard
And the new flowers will bloom after all.
Your admitted freshmen will flood the yard,
Kick off their winter boots and feel the warm sweet
Grass tickling their cute little freshmen feet—
Let's not tell them about the hurricanes next fall.                           
Best wishes,
snowboundalumus@post.harvard.edu
---
You Are the Wind and Our Flag as One
– For Jack Reardon
When you called me. When I got the news
I was frightened. I thought of that picture
Of the two flags on that single pole which
Are flying away from each other–
Like wings without wind, flying in the past
In the room where old class reports are kept.

So now I wait for you in your office
And you are on the phone. Jack is listening.
He tilts his head, turns, glances back at me,
Returns to the call. He is listening.
"I agree but it's complicated."
I hear that voice. Why do I feel so safe?

I have known this man for forty years.
He wrote recommendations for me
As a reformed Kirkland House reprobate.
He counseled me as a young Alumnus
And as the President of the Alumni.
Why do I hear that voice and feel so safe?

Has Jack really managed everything?
In Admissions as a progressive
Multiculture advocate; as Director
Of Athletics he summed it up by saying:
"We built lots of buildings, there weren't any
Scandals, and the teams did relatively well."

That constant modest voice. Radcliffe equal
In academics and athletics joined us
And then with his perfect brother, Tom
He turned to raising money for the place.
For fifty years he has touched each of us.
Why am I troubled by divided flags

Hanging on forgotten walls in frames?
Down there on Mt. Auburn Street in the Square
The bars and boutiques are all too bright.
We grew up in a different dark out there–
I return to watching Jack. He looks at me
And returns to the call. "That's a good I-deer."

What is an "I-deer" I ask myself?
An ego with antlers? I'm clearly getting
Hungry. Jack is on the phone. I want to ask him
But I don't know what. Through atmospheres, time
And generations he has seen it all:
Years ago the twenty-four-seven of

Hayes Bickford with its ungodly all night light
And its sleeping sailors facedown drunk
On their trays, the locked trolley yards became
The John F. Kennedy School of Government,
The Mass Hall occupation, student riots.
Jack lets the speaker conclude the call.

Hangs up. "Disgruntled alumnus." He smiles at me.
And then with his combination of pure
Candor and perfect discretion, moves on
To our, and his next Harvard discussion.
I think of the flags again but now
The wind becomes a metaphor. It is not

Variable and blowing from all directions.
What if it is constant and always
Serves the flag and displays it to every
Quadrant and causes the catch of the eye–
That causes the mind to remember–
And I think, how like Jack: The outstretched flag

Reminding us, causing us to look above
Ourselves and above our uncertain life
And more than split flags of his past achievements
I have come to know what he is to me–
And more than historical monuments
I know what he is to this university:

You are ever present and have become
The loving wind and Harvard flag as one.
I ask him, "What will we do without you?"
He smiles and puts his baseball cap back on.
And then comes again, that steady, steady voice:
"I'm not goin' anywhere…and it'll be terrific."
---
The Sundial on a Rainy Day
Like the southern trial lawyer that he is,
Before he got started, Carl cleared his throat,
Slowly surveyed the room through thick glasses
Spread his hands out across the table top
And brought the chatter in the room to order.
"The central feature that distinguishes mankind

From the other creatures on this earth
Is 'memory' and from 'memory'…"
He pauses, looks at us and continues…
"And from memory we create our past
And from memory we chart our future…"
Momentarily distracted I think

Isn't "memory" just what I don't forget?
And missed Carl's comment about a sundial
"In the North West corner of the Yard."
After our lunch and more of our meetings
We followed tradition back to The Yard
But because of the rain The Convocation

Was held inside. We opened umbrellas
Above our freshman and walked them to the Church,
But once I'd seated mine, I return to the Yard.
I wanted the students all to be gone
So I could stand in this empty private space.  
Why am I still fascinated by the

History, the details of the place?
So many graduate and leave it all behind
Shouldn't I have outgrown all of this?
Past the puddles, I return to from where
I had come. At Lionel and Mower
In the soft rain it stopped me in my tracks.

There in the northwest corner of the Yard,
Quite by accident, behind Holden Chapel,
I found the old sundial, and I stopped to read:
"On this moment hangs eternity."
And there my question was abruptly answered:
The shared grey convocation, the laughter

In the morning meetings, the familiar
Classrooms, the old brick dorms, an old sundial,
The HAA, all on this "our common ground."
That evening, back in my room at the Charles
I found the sundial on the web and found a Crimson
Article dated October 1925

With a quote from C.R. Apted, a sage,
Superintendent of Harvard's caretakers,
Commenting on the recent shade upon the dial
From the "Two new dorms, Lionel and Mower,"
"It's just as ornamental out of the sun
As it was in, and about as useful."

Carl was right. With the help of a forgotten
Sundial on which I couldn't read the time,
On this "common ground" I hold so dear,
I found the past and future are present here.
It is memory, not the clock-like sunshine
That sets the time and always lights the way.
Bob Bowie AB '73