What's Your SIG? Harvard Alumni for Mental Health
Q&A with HAMH Founding President Annie Douglas AB '12
May 23, 2017
The Harvard Alumni Association's more than 50 Shared Interest Groups (SIGs) bring together tens of thousands of alumni across the globe around common interests, whether it's a cultural identity, a student activity, a professional field, or something else. Whatever your passion, there's a SIG for you! To help you find your SIG, the HAA presents "What's Your SIG?"—a series of conversations with members of different SIGs about what these dynamic communities mean to them.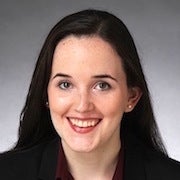 An engaged network of alumni with a common interest in mental health, Harvard Alumni for Mental Health (HAMH) links alumni and current students across the University to facilitate mentoring relationships and foster ongoing conversations about mental health topics on and off campus.
HAMH Founding President Annie Douglas AB '12, a neurology resident at the Hospital of the University of Pennsylvania, described how the SIG has helped her stay connected to Cambridge and make new connections as she embarks on a career in medicine.
What inspired you to create Harvard Alumni for Mental Health?
As a student at Harvard College, I served as a Student Mental Health Liaison (SMHL), which inspired my thesis on depression-related distress among Harvard undergraduates. Through my research and experiences as an SMHL working with clinicians and faculty members on campus, I gained an appreciation for the importance of mental health—not only among current students but also in the greater Harvard community. During my gap year between college and medical school, I had the privilege of working with Harvard University Health Services (HUHS) as a Behavioral Health and Academic Counseling intern. I worked with HUHS Director Paul Barreira and a few of my fellow alumni to create Harvard Alumni for Mental Health. Our primary goal was, and remains, to connect alumni with an interest in mental health—whether personal or professional—and to create a network to engage one another and current Harvard students with similar interests.
Who are your members?
Our membership consists of alumni who are active in mental health professions as well as nonprofessionals who have an interest in mental health, particularly issues related to college students and young adults. HAMH offers a next step for mental health groups at Harvard, such as peer education groups (Student Mental Health Liaisons, Drug and Alcohol Peer Advisors), peer counseling groups (Room 13, Eating Concerns Hotline and Outreach, Contact, Peer Contraceptive Counselors, Response), College Peer Advising Fellows, the Graduate School of Arts and Sciences Mental Health Alliance, and similar organizations across the University.
What do you enjoy most about being part of this community?
Interacting with other alumni, faculty, and staff on campus with similar interests and goals. I'm often surprised by the variety of motivations folks have for joining the group, their backgrounds, and their professional interests.
How has it benefited you personally or professionally?
I'm grateful for the ways in which my involvement with this SIG and the HAA more generally has allowed me to stay connected to Cambridge. It has given me reasons to keep in touch with mentors and friends, and it has introduced me to new colleagues, collaborators, advisors, and possible career paths. On the flip side, in the past year especially, I've been gratified to offer advice to graduating students and new alumni.
Why should alumni consider joining HAMH?
You don't have to be a mental health professional to join this group. In the years leading up to and following HAMH's inception, mental health has become a hot topic on university campuses and in society more broadly. We aim to create a space for these conversations and to consider how our experience as Harvard alumni may be relevant.