Launching the Harvard Teacher Fellows
June 29, 2016
Richard L. Menschel MBA '59 is a graduate of Harvard Business School (HBS), but he and his wife, Ronay, have never limited their philanthropy to just that one part of the University. Instead, they have viewed Harvard as a whole, providing support for innovative programs across the University.
"Excellence is where you find it," says Richard Menschel. "It's not about being the biggest or the most well known. It's about being the best at what you do with the most potential to make a difference—and that kind of excellence is something you can find all across Harvard."
True University citizens, the Menschels recently made a major contribution to the Harvard Teacher Fellows (HTF) program at the Harvard Graduate School of Education (HGSE), an innovative new pathway for Harvard College undergraduates to prepare for careers in teaching. Launched in fall 2015, the HTF program was created in response to the growing interest in teaching among Harvard College students, as well as the pervasive need to strengthen teaching and learning in many parts of the United States. The Menschels previously supported HGSE's doctoral program in education leadership, which was launched in 2009. "We are concerned about the effectiveness of K-12 education today but also heartened by the interest among young people in teaching," says Ronay Menschel. "The Ed School is positioned to respond to this interest and marshal the many resources Harvard offers to equip undergraduate students to teach effectively upon graduation. The Fellows and those in the EdLD leadership program will bring skills and new approaches to teaching in local schools and make an important difference."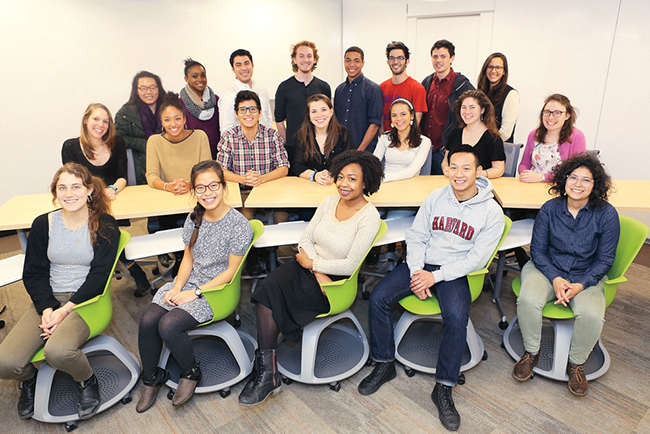 Hailing from across the country and concentrating in fields that range from biology to history and literature, the inaugural class of Harvard Teacher Fellows (HTF) is poised to make a difference:

"In the few short months I have spent with my cohort, I have already learned so much more about myself, my passions, and the reasons why it is imperative that we have really smart and effective people in the classroom. I would either like to enter school administration or education policy, but the longer I work with HTF, the more I wonder if I will end up staying in the classroom instead."
—Kia Turner AB '16
Evidence abounds for the Menschels' commitment to transformative philanthropy across Harvard. Longtime supporters of the Harvard T.H. Chan School of Public Health, they recently established the Transforming Public Health Education Initiative Fund, which has enabled the School to redesign its educational strategy and introduce innovative teaching methods, faculty training, new educational technologies, and fieldwork and experience-based learning. At HBS, they have provided endowment support for the School's Leadership Fellows program—which places HBS graduates with nonprofit and public sector organizations, supplementing their salary and providing professional development throughout the one-year fellowship as well as financial aid for HBS students coming from or entering the nonprofit sector. The Menschels also have been major supporters of Harvard College, the Harvard Art Museums, and many other areas of the University.
A senior director at Goldman Sachs, Richard Menschel received the 2015 Carnegie Medal of Philanthropy, an award that is given to individuals who have dedicated their private wealth to the public good. In 2007, he received the Harvard Medal, which recognizes extraordinary service to the University. Ronay Menschel, a deputy mayor of New York City in the Edward I. Koch administration, is currently chair of Phipps Houses, a nonprofit developer of low- and moderate-income housing in New York City, and the Trust for Governors Island. The Menschels have three daughters, all Harvard graduates: Charis AB '97; Sabina AB '99, MBA '05; and Celene AB '04, MBA '13.
The Menschels are pleased that President Drew Gilpin Faust's vision for One Harvard has inspired other alumni and friends to join them in supporting the University as a whole. "This kind of giving is wonderful," says Richard Menschel. "Alumni from one School are helping to support worthy programs that interest them at other Schools. This is the kind of giving that advances Harvard's overall excellence and ability to make a positive impact in the world."
---
Explore more stories from Gift Strategies and contact University Planned Giving to learn more about supporting University programs.