Resources
Publications
Planned Giving Tax Information
Publications
Gift Strategies
If you would like to subscribe to Gift Strategies, please email University Planned Giving or call either 800-446-1277 or 617-495-4647.
Message from the CEO of Harvard Management Company about the events of the period ended June 30, 2019.
The Harvard Manual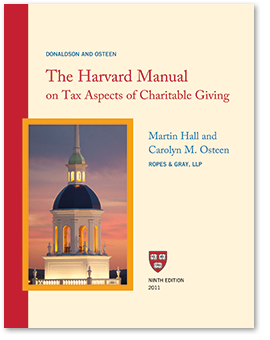 Originally written by David Donaldson and Carolyn Osteen of Ropes & Gray, LLP, The Harvard Manual on Tax Aspects of Charitable Giving provides an in-depth look at the technical aspects of planned giving. The Manual is intended for practicing attorneys, accountants, and other professional tax counsel. It has also proven useful to individuals who are philanthropic and/or have some familiarity with the tax law related to charitable contributions. The most recent edition is the ninth edition, which was published in 2011 and edited by Carolyn Osteen and Martin Hall of Ropes & Gray, LLP.
The Harvard Manual is available in print for $195.00, as well as on compact disc for $175.00. For both a book and CD, the cost is $325.00.
As part of our ongoing green efforts to reduce waste, we will produce The Manual on a rolling basis, in line with the orders we receive. As a result, it may take a few weeks for your Harvard Manual to arrive.
Order The Harvard Manual
You may email pgo@harvard.edu, or call the Harvard University Planned Giving Office at 800-446-1277. Payment by check is required for email and phone orders.
Wealth in Families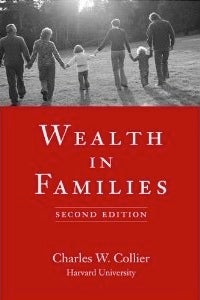 Wealth in Families, a book by Charles W. Collier, Harvard's former senior philanthropic advisor, can be a helpful resource with your own planning. This book addresses many of the questions of concern to families of wealth, including ways to teach values to your family through philanthropy.
For more information, please contact Keira Walsh at keira_walsh@harvard.edu or 617-495-4647.
Planned Giving Tax Information
Tax Identification Number
Harvard University's Tax ID number is 04-2103580.
Tax Law Changes
CARES Act (Coronavirus Aid, Relief and Economic Security Act) Tax Incentives

Now through December 31, 2021, cash gifts made to Harvard can have a greater impact for both you and the University:
The legislation extends through the end of 2021 the CARES Act provision that increases the limitation on cash contributions by itemizing donors to qualified charities in 2021 to 100% of adjusted gross income. As in 2020, gifts to donor-advised funds, supporting organizations, and most private foundations do not qualify under the law.
The law extends and modifies the charitable deduction available to non-itemizers for cash gifts they make to qualified charities. For 2021 only, the law doubles to $600 the maximum amount joint filers may deduct. As in 2020, single filers or married filers who file separately are limited to $300, and gifts to donor-advised funds, supporting organizations, and most private foundations do not qualify under the law.
The law also restructures the deduction for non-itemizers: unlike in 2020, deductible gifts made by non-itemizers in 2021 will not reduce donors' adjusted gross income.
Tax-Free IRA QCD Gift Permanently Extended
On Friday, December 18, 2015, Congress passed the Trade Facilitation and Trade Enforcement Act of 2015, of which a part was the IRA QCD Gift provision.
Under this legislation, qualified donors may make outright gifts of up to $100,000 per year to Harvard from their IRA and avoid taxation on the distribution. These charitable distributions also help satisfy the donor's required minimum distribution (RMD) for the year.
To benefit from this gift opportunity, the following qualifications must be met:
Donor must be age 70 ½ or older at the time of transfer.
The maximum amount a donor may transfer is $100,000.
The gift must be outright. Gifts to donor advised funds or to life income vehicles do not qualify.
The gift must be transferred directly from the IRA account by the IRA administrator to Harvard. Donors with check-writing ability for their IRAs may use this feature to complete their gift.
To assist donors interested in making a charitable gift from their IRA, we have provided the following sample letters:
The first letter contains specific transfer instructions from the donor to the IRA custody agent.
The second letter is from the donor to Harvard to inform Harvard as to how the gift should be used. This letter is particularly important for donors interested in splitting their gift between multiple Schools or Harvard affiliates. It also ensures Harvard's ability to provide appropriate class credit to alumni donors.
If you have any questions regarding the IRA QCD giving opportunity or how to make a planned gift to Harvard, please contact University Planned Giving at pgo@harvard.edu or 800-446-1277.
Previous Tax Law Changes
Job and Growth Tax Relief Reconciliation Act of 2003
On May 23, 2003, Congress passed the Job and Growth Tax Relief Reconciliation Act of 2003 (the "Bill"). It was signed into law on May 28, 2003.
The Bill will:
Temporarily accelerate the rate reductions enacted by the Economic Growth and Tax Relief Reconciliation Act of 2001 (the "2001 Act");
Temporarily lower the top long-term capital gain rate to 15% and lower the rate on most dividends to 15%; and
Increase and extend the "bonus depreciation" for new depreciable business property enacted by the Job Creation and Worker Assistance Act of 2002 (the "2002 Act") and increase the amount of depreciable business property that small businesses may currently deduct.
These rate reductions are the most significant reductions in income tax rates (especially on investment income) since 1986, and will create many planning opportunities. The following is a brief summary of the tax provisions of the Bill most likely to be relevant to our clients.
Individual Income Tax Rate Reductions
The current 38.6%, 35%, 30% and 27% income tax rates will be reduced as of January 1, 2003 to 35%, 33%, 28%, and 25% respectively. This represents a drop in rates of 9.3%, 5.7%, 6.7% and 7.4% respectively.
The amount of income exempt from the alternative minimum tax will be raised by $7,500 (for single individuals and married individuals filing separately) or $15,000 (for married couples filing jointly) for 2003 and 2004.

Under the terms of the 2001 Act, none of these provisions will apply for taxable years beginning after December 31, 2010.
Capital Gain and Dividend Rate Reductions
Once enacted, the Bill will reduce the top rates imposed on long-term capital gain from 20% to 15%. There is no rate reduction for short-term capital gain, which will continue to be taxed at ordinary income tax rates. These rate reductions will be effective for taxable years ending on or after May 6, 2003 and beginning on or before December 31, 2008. For the current year, the lower rates will apply only to long-term capital gain realized after May 6, 2003.

Under the Bill, "qualified dividend income" received by individuals will be taxed at the reduced long-term capital gain rates described above. Like the reduction in long-term capital gain rates, the reduction in the rate at which a dividend is taxed will not apply after December 31, 2008.

The reduction in the tax rate on dividends from 38.6% to 15% (a 61.1% reduction) will create many planning opportunities for pulling dividends out of companies (from operations or through leveraged recapitalizations).

Qualified dividend income is defined as dividend income (whether paid out of current or accumulated earnings and profits) received from domestic corporations and qualified foreign corporations. A foreign corporation is a qualified foreign corporation if it is (i) incorporated in a possession of the U.S., or (ii) eligible for the benefits of a comprehensive income tax treaty with the U.S. Dividends on stock of a foreign corporation "readily tradable on an established securities market in the U.S." will be treated as qualified dividend income. Dividends from foreign personal holding companies, foreign investment companies, and passive foreign investment companies will not be qualified dividend income.

Qualified dividend income does not include any dividend received on a share of stock (i) held for less than 60 days during the 120 day period beginning 60 days before the stock becomes ex-dividend or (ii) to the extent the taxpayer has hedged his position in the stock.

Qualified dividend income will only be included in "investment income" (for purposes of the limitation on deductibility of investment interest) to the extent an election is made to subject such dividend income to ordinary income tax rates. If a taxpayer makes this election, the dividends will no longer be qualified dividend income.

If a shareholder receives qualified dividend income from "extraordinary dividends" on his shares (basically, a dividend or dividends representing over 10% (5% in the case of preferred shares) of the shareholder's basis in the shares) any loss on the sale of the shares will be treated as long-term capital loss. This prevents a taxpayer from taking dividend income into account at 15% and then selling at a short-term capital loss to offset other ordinary income (at rates of up to 35%).

Capital gain dividends paid by a regulated investment company ("RIC") are taxed at the reduced long-term capital gain rates, and are not considered qualified dividend income. In addition, unless dividends received by a RIC constitute 95% or more of a RIC's gross income, only the portion of the dividend designated by the RIC as being paid out of qualified dividends received by the RIC will be considered qualified dividend income at the shareholder level. Similar pass-through rules apply to dividends paid by a real estate investment trust ("REIT"). A transition rule provides that only dividends received by the RIC or REIT after December 31, 2002 are eligible for pass-through treatment.
Growth Incentives for Businesses
Once enacted, the Bill will extend and increase the special depreciation allowance created by the 2002 Act. For most new depreciable business property acquired after September 10, 2001 and before September 11, 2004 the 2002 Act provides a depreciation deduction of 30% of the cost of the property in the year the property is placed in service. This first year bonus depreciation will be increased to 50% for property that is acquired after May 5, 2003 and before January 1, 2005 and that is placed in service before January 1, 2005. In addition, the Bill provides that the "placed in service" date or property eligible for 30% bonus depreciation under the 2002 Act will be extended to January 1, 2005. See Tax &Benefits Department Memorandum 2002-3 for more detail on these provisions.
Under present law, certain businesses with a sufficiently small amount of annual investment may elect to deduct each year up to $25,000 of the cost of depreciable business property. The $25,000 amount is phased out if more than $200,000 of depreciable business property is placed in service during the taxable year. Once enacted, the Bill will
increase the deductible amount to $100,000 and the phase-out amount to $400,000 for property placed in service in taxable years beginning in 2003, 2004 and 2005. The Bill also provides that "off-the-shelf computer software" placed in service through January 1, 2005 will be eligible for 50% bonus depreciation.
This tax alert was provided by counsel of Ropes and Gray.
Economic Growth and Tax Relief Reconciliation Act of 2001
The following is a summary of some of the major provisions of the Economic Growth and Tax Relief Reconciliation Act of 2001 (the "Act"). The Act contains a "sunset" provision under which none of the provisions of the Act will apply for taxable years beginning in 2011, unless re-enacted by a future Congress before then.
Key Points to Keep in Mind
It is impossible to predict how these tax changes may affect giving to charities. A reasonable assumption, however, is that supporting Harvard and other charities outweighs tax considerations in most, if not all, gift decisions. Tax and income considerations largely play a role in determining how best to fund a gift.
There still are tax incentives to give to charity. With the changes in these incentives, some individuals may choose to give in different ways. It could be argued that these tax changes would eventually favor more lifetime giving. Gifts of highly appreciated property will continue to be an attractive option.
Remember, the estate tax repeal and other provisions of this Act must be re-authorized by Congress before 2011 to extend beyond then.
Individual Income Tax Rate Reductions
The Act contains a new 10 percent rate for a portion of taxable income that is currently taxed at 15 percent. This rate became effective in tax year 2001.
The current income tax rates will be decreased over six years. The new rates are summarized as follows:
| | | | | |
| --- | --- | --- | --- | --- |
| Calendar Year | 28% rate reduced to | 31% rate reduced to | 36% rate reduced to | 39.6% rate reduced to |
| 2001 | 27.5% | 30.5% | 35.5% | 39.1% |
| 2002-2003 | 27% | 30% | 35% | 38.6% |
| 2004-2005 | 26% | 29% | 34% | 37.6% |
| 2006 and later | 25% | 28% | 33% | 35% |
Retirement Savings Provisions
It still is not possible to give retirement plan assets to charity during one's lifetime without paying income taxes. However, charitable bequests funded with these assets remain attractive.
Beginning in 2002, the annual limit for employee contributions to a 401(k) or 403(b) plan is increased from $10,500 to $11,000, and then further increased by $1,000 per year until $15,000 is reached in 2006.
The annual IRA contribution limit is increased from $2,000 to $3,000 for 2002-2004; $4,000 for 2005-2007; and $5,000 beginning in 2008.
Both the 401(k)/403(b) and IRA contribution limits are further increased for taxpayers who have attained age 50. The 401(k)/403(b) elective deferral limits are further increased by $1,000 per year beginning in 2002 until $5,000 is reached in 2006. These additional contributions may be made regardless of any other limit applicable to these plans. The IRA limit is further increased by $500 for the years 2002-2005, and then $1,000
in 2006 and thereafter.
Beginning in 2006, employees will be able to deem certain 401(k) and 403(b) contributions as after-tax "Roth" contributions, avoiding tax on the investment buildup.