Next-Generation President
Margaret Wang '09 leads with authenticity
November 30, 2018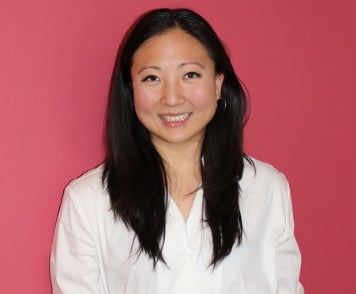 Margaret Wang '09
Economics and History of Art and Architecture Concentrator
Winthrop House resident
For Margaret Wang '09, being a good leader means she needs to act her age. As the youngest president in the Harvard Alumni Association's modern history, Wang believes being authentic is key to deeper engagement across the alumni community. She also draws on her love of Harvard, her many volunteer roles within and outside of the University, and the wisdom of intergenerational friendships to guide her in the year-intensive post. Just shy of her 10th Reunion, Wang balances her commitments to Harvard with a career at the hedge fund Bridgewater Associates and board service for a number of art nonprofits. Wang shares why she is optimistic about the challenges Harvard faces, why she believes alumni should talk more, and how she finds her way into Winthrop House at any chance she gets.
When you think about Harvard, what are some of your most memorable experiences?
When I first got to campus, I was part of the pre-orientation Freshman Arts Program (FAP), which pulled together a multidisciplinary group across the arts to collaborate and create a show for the rest of the incoming class. This was the first strong community I had at the College. Each year I returned to proctor the program, I had a tremendous amount of fun creating something new. Many students became longtime friends, and today I love being continuously inspired by their creativity. That first year, I also walked onto the Harvard Varsity Sailing Team, having never sailed before, which became a big part of my College experience over the next three years.
Harvard is a place that gives you myriad ways to explore: if you want to study it, if you want to practice it, if you want to find other people to create it with, you can do it. If you don't see the thing that exists, you can build it yourself or find others to build it with. I am extremely grateful to the College for giving me that perspective. It gave me the life I have today.
How did Harvard change your perspective?
I grew up in a pretty homogenous community—a small town in upstate New York—where I was one of few Asians. When I was younger, I was bullied for being Chinese and had few friends. It's an experience that's stayed with me and shaped my values. At Harvard, I was exposed to such a pluralistic community, with diverse viewpoints from all over the country and world. It widened my aperture and exposed me to what was possible.
I also came to Harvard very math and sciences focused. Up until then, I didn't think much about the differences between the things you can do versus the things you want to do. I was heavily influenced by my parents and grew up in a household with a strong immigrant mindset. They encouraged me to study the same things they did and pursue a path they knew well.
But there was such an emphasis on the arts at the University, which I loved. It's what led me to do my secondary field in art and architecture. The arts are now a huge part of my life. Today, I co-chair Ambassadors for Creative Time, a nonprofit focused on supporting socially engaged art in the public realm. My significant other is an artist, and we love supporting emerging artists.
You've been deeply involved with the College since you graduated, serving on your class committee, as an associate member of the Harvard College Fund, and as Harvard Alumni Association (HAA) president, to name just a few roles. What inspires this commitment?
It's my vote for the place. As a senior and recent graduate, I felt the most meaningful way I could give back was through my time. I wasn't able to make a gift then that was financially significant (but gave something along the lines of $25 because I think participation is good and necessary). Harvard gave me a wonderful platform from which to learn and grow, and giving back to this community is important to me.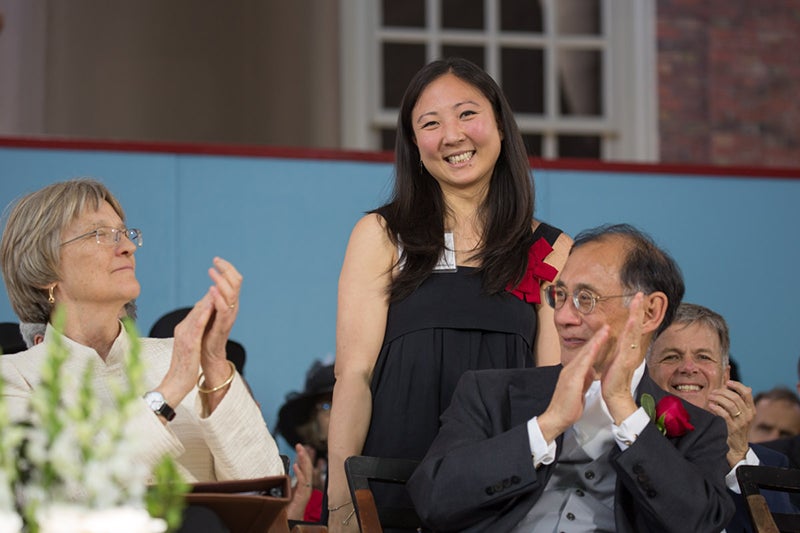 What's it like to be HAA president right now?
This year has turned out to be a unique confluence of events—some exciting, some challenging—including the lawsuit and fracturing of the Asian American community, the endowment tax, and our new University president. As much as I have school spirit and as much as I love the University, I see that Harvard comes with its own challenges. It's imperfect in its own way, and it is learning and growing. And we can all be a part of that. I think there are real opportunities to contribute to shaping its evolution.
I've developed strong friendships across generations and have learned so much from my peers and from those who are older. This is a community steeped in good values, truth, and empathy that wants to create a greater sense of inclusion and belonging. I have conviction we can work on this together.
What does leadership mean to you?
Today more than ever I think about how excellent leadership requires not just strategic vision and strong execution but also the ability to reflect, learn, and empower others. I have a mentor who is also a Harvard alum, who has always modeled the notion of service leadership. This is how I see my role here this year—being a service leader who works to identify how the strengths of the group can partner to achieve something bigger. It's what's authentic to me and also what's exciting—seeing how the work of many can bring together collective impact.
How do you feel being the youngest president?
Back when I was first out of college, I was trying to be somebody I'm not, acting older and trying to come off as impermeable to garner the respect and the engagement that I wanted. I was trying to act much older and businesslike at the ripe age of 21. And then I realized it was better just to be myself and how that in and of itself is a type of power.
I draw on a lot of experiences from the different places I've worked, as well as from the reflection and learning during my MBA. I find great fun in getting to bring ideas to the table from experiences outside the HAA and trying on new ways of doing things. I am trying to make this my own and to really be myself. I'm showing up this way—with these ideals and these values—and hope you all come with me on this journey this year. That is the pitch.
Why do you think alumni stay engaged with Harvard?
I think everyone has their own reasons. I've come across alums on both sides of the spectrum. Some people say this place changed their lives, and some share that they didn't have a great experience at the School. But many have had meaningful relationships that they've developed throughout the years.
I think a lot about how each person has a personal "why." I don't think we share enough of that ourselves. How do you connect on a human level versus as a so-called successful Harvard alum? I hope that people share more of what's going on in their lives—the triumphs, challenges, and everything in between—and what is important to them. Only until we really do that—go below the surface-level conversation with each other—do we actually get to a place where people feel more engaged.
You are celebrating your 10th Reunion this spring. Where do you like to go when you're on campus?
Yes! I'm really looking forward to it, and I'm excited to see many from my class back on campus. I try to visit Winthrop House every time I'm up there. I joke that it's the best real estate I've ever had, with the river views and friends in the same building, but I think that's likely very true. I'm still very close to my blocking group (they're the best), and we made wonderful memories in Winthrop House. I love going there to reflect on where our lives have taken us since.