More than a House, a Home
October 14, 2015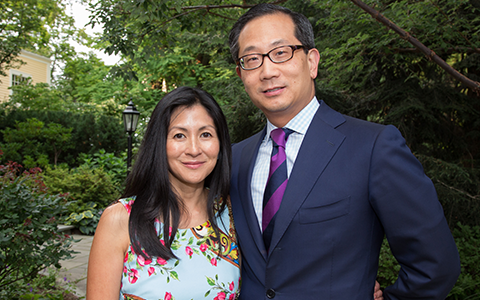 Looking back on his College days, Kewsong Lee '86, MBA '90, P'19, '16 remembers meaningful times with Lowell House friends—debating over dinner, ringing the Russian bells, attending the celebrated House teas, and "becoming who I am," he says. "House life is such a formative aspect of your time at Harvard. As much learning goes on outside the classroom as inside, and much of that happens in the Houses."
Lowell House is also where Lee met his future wife, Zita J. Ezpeleta '88, JD '91, P'19, '16, when she was a sophomore and he was a senior. Loyal Harvard volunteers, the Larchmont, New York, couple has established a challenge fund to support House Renewal and the undergraduate experience, with the goal of helping alumni extend the impact of their philanthropy.
Says Ezpeleta, "The Houses form the precious bedrock of undergraduate life. They foster an enduring sense of connectedness and are home to shared memories and experiences. In many cases, not just ours, the Houses nurture relationships that become lifelong friendships." Lee, a partner with a global investment firm, agrees, "We are deeply committed to the Houses and want to encourage alumni to support House Renewal with us, to help Harvard keep pushing forward and improving the student experience."
Related:
Back to:
As seen in HARVARD MAGAZINE
---
Choose Harvard today with a gift to the Harvard College Fund.
Oct 14, 2015

William E. Markus '60 and his wife, Carole, have named a seminar room in Dunster, the first full House to undergo renewal. The gift, which helps to foster student-faculty exchange, is one reflection of their commitment to Harvard. Read More

Oct 14, 2015

Daniel J. Ullyot '58 named an advising community in Leverett House's McKinlock Hall in honor of his senior tutor, Richard Gill '48. Read More

Oct 14, 2015

House Renewal revitalizes cherished living-learning communities. Read More