Houses Inspire Harvard Citizens
October 14, 2015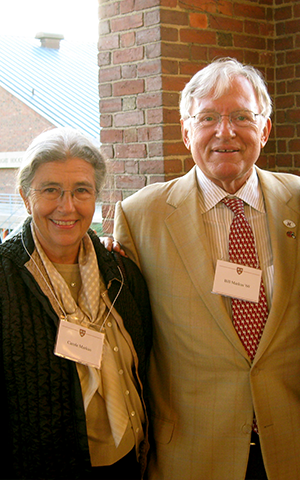 As a freshman, William E. Markus '60 had longed to live in the strikingly beautiful Dunster House, and the experience surpassed his expectations. During his three years in Dunster, he formed lifelong bonds with friends who dined together each night. He found a valued mentor in senior tutor Carroll "Stan" Miles MPA '49, PhD '56. And, shortly before graduation, Markus looked out his window and saw literary giants T. S. Eliot and Walter Lippmann, both Class of 1910, chatting in the courtyard at their 50th Reunion. "That remarkable incident spoke so much of Harvard and the House system," Markus says.
Markus and his wife, Carole, have named a seminar room in Dunster, the first full House to undergo renewal. The gift, which helps to foster student-faculty exchange, is one reflection of their commitment to Harvard. Markus serves on various alumni and fundraising committees, chaired the Harvard Varsity Club committee that produced the Third H Book of Harvard Athletics, and is a regular at Crimson sporting events, including traveling with Carole from Pittsburgh to attend virtually every varsity football game. The couple celebrated his 55th Reunion this past May.
Markus, a former political science professor at Duquesne University, says Harvard helped shape him professionally and personally, "and the House system was a big part of that preparation for life. It's wonderful to have the opportunity to support the future of the Houses."
Related:
Back to:
As seen in HARVARD MAGAZINE
---
Choose Harvard today with a gift to the Harvard College Fund.
Oct 14, 2015

Daniel J. Ullyot '58 named an advising community in Leverett House's McKinlock Hall in honor of his senior tutor, Richard Gill '48. Read More

Oct 14, 2015

Loyal Harvard volunteers, Kewsong Lee '86 and Zita J. Ezpeleta '88 have established a challenge fund to support House Renewal and the undergraduate experience. Read More

Oct 14, 2015

House Renewal revitalizes cherished living-learning communities. Read More