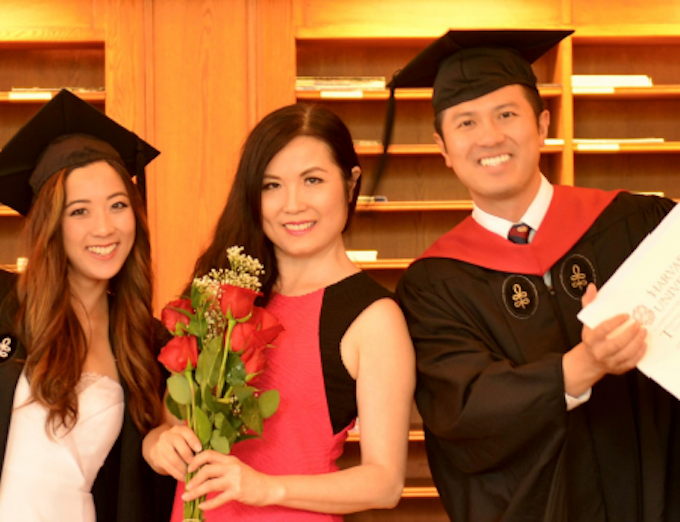 For recent graduate Tony Wang AB '11, MBA '17, long-term giving to Harvard through a charitable lead trust is an investment in building community and maximizing financial impact.
Growing up in small-town Iowa as a first-generation Chinese American, Tony Wang AB '11, MBA '17 learned from an early age that it's never too early to start giving back.
His late father, David, was an oral surgeon in China but chose to re-enroll in dental school after immigrating to the United States to build a practice from the ground up. Tony was deeply affected by his father's commitment to providing free dental care for those who were unable to afford critical services, recalling that David frequently woke up in the middle of the night to perform emergency dental procedures.
Tragically, David sacrificed his life to save a drowning child—yet his commitment to giving back and civic-minded ethos continue to be upheld by his children, Tony and Cassie AB '17, MBA '23. Both their father and their mother, Grace, a college professor, instilled in them the importance of education and of using their skills to serve the community.
These family values—and the opportunities he had as a student at Harvard—later inspired Tony to establish a charitable lead trust named in honor of his father, Dr. David J. Wang.
"Education was a reason our family was able to succeed and eventually give back," he says. "I've always felt like Harvard took a chance on me as a small-town kid from the Midwest, and I see giving back as a way to not only invest in someone's education but also in their ability to pay it forward in the future."
In addition to studying government and economics at Harvard College, Tony's entrepreneurial spirit led him to manage businesses with Harvard Student Agencies, serve on the Undergraduate Council, start a consulting group and an education business, and lead the business board as the advertising manager at the Harvard Lampoon. After graduation and some time working in the financial industry, he was accepted into Harvard Business School (HBS) to pursue his MBA—yet another opportunity for which he felt immensely grateful. An active member of the HBS community, he went on to serve as president of his HBS section and continues to be actively engaged as an alumni leader.
"These are two tremendous institutions that helped me so much over the years with opportunities to broaden my horizons," he says of the College and HBS. "They're both near and dear to my heart. And when I think about all of the friends I've met, mentors who have guided me, professors I've learned from, and the fantastic sense of community I've experienced at Harvard, it was important for me to give back to both."
As a tech investor and vice president at T. Rowe Price, he manages a large portfolio of semiconductor investments, advising clients on long-term strategies that help individuals and institutions build wealth. And when he started to think about his own financial future, he wanted to show his gratitude to the University that played such a pivotal role in his life, choosing a charitable lead trust as the right vehicle for him to leverage his investing skillset to support both the Faculty of Arts and Sciences and HBS.
While he has been an active donor since graduating from college, by utilizing long-term and structured charitable giving methods in his early thirties, he explains, he is able to maximize his long-term impact.
"Even if you start out more modestly in the beginning, giving earlier and consistently in one's lifetime amplifies the impact at Harvard over time due to the compounding nature of capital," he says. And with his charitable lead trust—along with a company match contribution and donor-advised fund structures—he's helping support Harvard's goals for decades to come.
In addition to the tangible benefits, there are unexpected benefits to long-term giving—the opportunity to meet and collaborate with alumni and friends across the world who are also motivated to strengthen the University's mission and support the next generation of students.
"Being part of this community and doing something impactful together is more fulfilling than I could have imagined," he says. "I have a stake in Harvard's future because I'm invested. And the more involved I get, the more I want to contribute."
---
This story is featured in the Fall 2021 issue of the Gift Strategies newsletter. For more information about charitable lead trusts, please visit our webpage or please contact us with any questions.