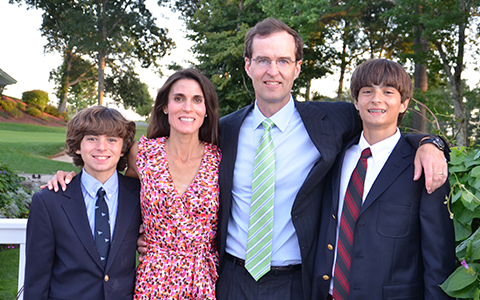 Eliot House fundraisers for the Jimmy Fund; Core Curriculum with Professor Seymour Slive; cross-disciplinary studies; Greek Mythology; deep-rooted friendships; field hockey, lacrosse, and crew—these are but a few of the many Harvard memories that Jim '89, MBA '96 and Beth Frates '90 continue to hold close to their hearts.
Giving back to Harvard—the place where they met—is of utmost importance to the couple.
"Establishing a bequest to Harvard is our investment in the future," Jim says. "We're helping the best minds of the current generation have an impact on the future."
Together, Jim and Beth recollect how their experiences at Harvard ultimately shaped who they are today. Jim, currently the chief financial officer at a biotechnology company, first learned about medical research while at Harvard. The work he did with the Jimmy Fund through Eliot House introduced him to the organization and sparked an interest in biotechnology that has informed his career.
Beth, now on the faculty at Harvard Medical School, says she never considered a career in medicine until she reached the gates of Harvard Yard as an undergraduate. She points to a lunch with the late B. F. Skinner, then a professor emeritus of psychology at Harvard, as having had a significant impact on her life, still to this day.
For Jim and Beth, these experiences—all spawned during their years at Harvard—are an affirmation of the importance of planning, to help ensure a legacy for their family—and their Harvard family.
It was their respective losses of a parent that ultimately prompted the couple to establish their bequest. "When you lose a parent, it focuses you on what will happen when you're gone," Jim says.
In addition, Jim took notice when friend and mentor Bill Oates '38 was featured in an issue of the John Harvard Society Newsletter. Jim, always inspired by Oates's dedication and devotion to Harvard, learned of Oates's bequest through the Society's publication and resolved to follow suit.
"The benefits of how you give—not just what or where you give—can be surprising," says Beth. "Giving to a charitable institution like Harvard is a great way to maximize your assets when you're gone." She credits Harvard's Office of Gift Planning with helping the couple to plan and use their resources efficiently.
Jim and Beth confirm that the opportunities Harvard provided them—from meeting one another to sparking their careers and friendships—are undoubtedly the inspiration for their giving.
"We make our bequest because of the significance Harvard had on our lives, and our desire to do the same for students in the future," says Jim. "We had our opportunities because of past generations. Now we want to ensure that future students keep Harvard vibrant."
"The opportunity to give Harvard any kind of aid, so that they can continue to attract the best minds and stay on at the forefront of education," adds Beth, "is a gift and an honor."
---
Learn more about making a bequest to the Faculty of Arts and Sciences by visiting the Bequests/Estate Gifts page or by emailing ogp@harvard.edu.