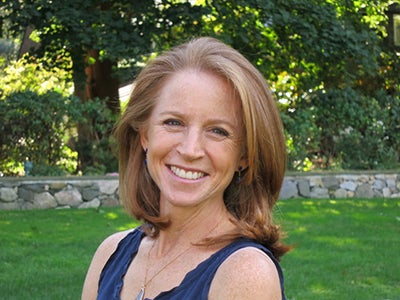 Cynthia Austrian Weber '88, MBA '93, P'25, '22, '19 couldn't wait to compete for Harvard. "All I wanted to do was be on a team," remembers Weber, who played tennis for four years and led as captain. "I learned perseverance, resilience, and character. I was never the best on the team, but it gave me the greatest joy," she says. 
Even so, it was an unsuccessful attempt to also make the women's hockey team that may have made an even bigger impression. 
"It was one of my most treasured failures," she says, recalling the friends who helped her prepare for tryouts in daily practices on the ice. Not only did those practices lead to lifelong friendships, but it also highlighted a credo she frequently thinks: "win with humility and lose with grace." 
The athletics community gave Weber a bedrock of support that has never left her. And she's witnessed her children—Austin '19 and Bennie '22—experience the same kinds of connections at Harvard. (Graham '25 will be attending next year.) "My son has the Harvard Krokodiloes. My daughter has the Lampoon," says Weber. "These friendships are some of the most important parts of Harvard." 
Weber's love of Harvard and the connections she made there have fueled her love of volunteering. She is active with the Varsity Club Advisory Board, serves as co-chair for the Harvard Outreach Committee for the NYC Schools and Scholarship Program, and is co-president of the Westchester Harvard Club. 
Most recently, she was appointed the Harvard College Fund's vice chair for participation. Her time as a team player inspires her to encourage others to support Harvard philanthropically. 
"I feel like we're part of something," she says. "The Harvard community will always stand by you and be your team for life."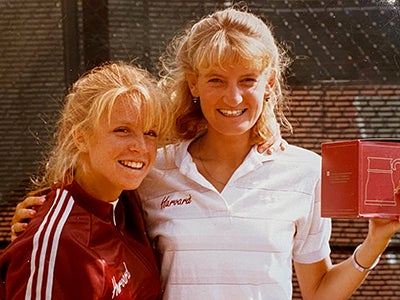 She and her husband have also shared her gratitude in a number of gifts to Harvard, including President Associates-level gifts, financial aid and flexible, current-use resources, the establishment of an Arts and Creativity Fund, and support for Harvard Tennis, the Harvard-Radcliffe Foundation for Women's Athletics, Friends of Harvard Hockey, and the Harvard Varsity Club.
"Harvard changed my whole life," says Weber. "It's why I want to stay connected with the people and places that were so meaningful to me."   
Be a part of Cynthia's team by making your gift in support of the Harvard community and students today.
Above: Weber and her sophomore doubles partner Katherine Vigna Archibald '87 after a tournament win.