What's Your SIG? Harvard Alumni for Education
Q&A with HAEd cofounder Lakita Edwards EdM '02
April 24, 2017
The Harvard Alumni Association's more than 50 Shared Interest Groups (SIGs) bring together tens of thousands of alumni across the globe around common interests, whether it's a cultural identity, a student activity, a professional field, or something else. Whatever your passion, there's a SIG for you! To help you find your SIG, the HAA presents "What's Your SIG?"—a series of conversations with members of different SIGs about what these dynamic communities mean to them.
Harvard Alumni for Education (HAEd) connects alumni from many different disciplines who are doing interesting and important work in education—from closing the achievement gap to building new tools and educational models to entrepreneurship and the arts. Since becoming a SIG in November 2015, HAEd has quickly grown to over 1,300 members spread across chapters in six U.S. cities as well as international chapters in sub-Saharan Africa and Greater China.
HAEd cofounder Lakita Edwards EdM '02, who works as an arts education specialist for the National Endowment for the Arts, spoke about how the SIG is creating a collaborative community where alumni involved in education can learn, teach, and share.
What inspired you to get involved with Harvard Alumni for Education?
The field of education is multifaceted and plays a critical role in so many life and career pathways. For me, HAEd represents a networked "third place" where we can bridge our passion for education and our professional interests with other Harvard alumni. Every board meeting I attend leaves me inspired and recharged because we're always building on opportunities for connection.
Who are your members?
Our members hold degrees from all of Harvard's Schools, with graduation years ranging from 1973 to 2015. We work across the public, private, and nonprofit sectors—as educators, entrepreneurs, policymakers, and media mavens—and we are unified by our passion and focus on education.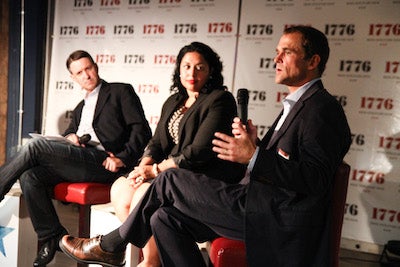 What do you enjoy most about being part of this community?
There is a genuine interest in building community through meaningful collaborative efforts. When starting a conversation with someone, our members tend not to ask, "What do you do?" Instead, they are more likely to ask, "How can we work together?" We recognize there are multiple networks within the Harvard alumni community and are eager to make connections. For example, we partnered with the Harvard Club of D.C. in September 2015 to organize a fireside chat with Harvard Graduate School of Education Dean James Ryan and a moderated panel on preparing Americans for inclusive 21st-century careers. It was a great feeling to see Dean Ryan give a Twitter shout out to HAEd cofounders Vanessa Beary EdM '11, EdD '14 (our president) and Michael Sanders EdM '14 (our communications advisor) after that event.
How has it benefited you personally or professionally?
My involvement with HAEd enriches my perspective as an education leader and as a lifelong learner. The knowledge exchange and career development opportunities compel me to actively engage in the continuum of teaching and learning. Furthermore, I find it empowering to be a part of a community that embraces reflection and evaluation for improvement—from the big picture regarding the field of education to the nuts and bolts of how we function as a SIG.
Why should alumni consider joining HAEd?
We provide a platform for passion-driven work guided by collaboration, inclusion, and service. You will be empowered to make a difference through connection and action.