To the Heart of Harvard Life
Alexander Otto '90, MBA '94 makes a generous gift in support of House Renewal
July 10, 2017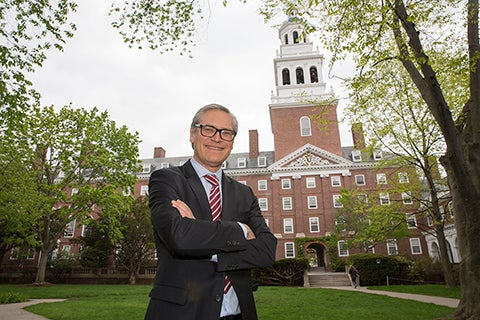 When Alexander Otto '90, MBA '94 reminisces about his years at Harvard College, he talks about Eliot House, Freshman Week programming, and the friends he's known since. In gratitude, Otto has made a generous gift to House Renewal to help Harvard create the best possible experience for 21st-century students.
In recognition of his support, the Great Hall in Lowell House will be renamed Otto Hall and serve as the programmatic heart of the House, with new recreational, study, and common spaces. The gift has also established a challenge fund to help motivate other alumni to step forward in support of House Renewal.
Of German nationality, Otto is chief executive officer of ECE, a leading developer of large-scale real estate properties in Europe. He serves on numerous nonprofits and corporate boards, and leads several of his own foundations in support of youth sports, health care, and cultural projects.
He shares why he believes the Houses are so central to the Harvard experience and what excites him about the future of Lowell House.
What inspired you to make a gift in support of undergraduate residential education at Harvard?
I have very positive memories of my time at Harvard. Those were really formative years for me, and, therefore, I really appreciate the chance to give something back to the Harvard community.
How do you see the relationship between the Houses and student experience at Harvard?
I'm still very close friends with several of the Housemates who I met during those years. I think that's where great relationships are formed—starting with your daily interactions in the dining hall and the library. I think it's a very important part of the overall Harvard experience.
You lived in Eliot House—how did it shape your Harvard experience? What is it about the House system at Harvard that you found to be influential?
I think the House system forms the basis of the overall Harvard experience. From sophomore to senior year, this is really the place not only where you live, but also where you have some of your closest friendships and relationships, and where you study. In the end, next to truly belonging to the Harvard community, you also feel like you belong to your own House community.
What do you hope the redesigned Houses will offer future generations of College students?
I am very excited about the new House designs. There will be more comfortable common rooms, lounge areas, dance studios, and other places for leisure. I think that this provides an added element that's very special to the House experience.
You came to Harvard after completing high school at Oxford in England. What was that like?
One of the first surprises that I discovered when I got here was how closely the Harvard community is intertwined and the great care with which Harvard sees to it that all the students, especially the international ones, are taken care of.
Did anything else surprise you about life at Harvard?
Freshmen Week was something really special to me. There were a lot of things that were completely new to me, but through all these programs it was incredibly easy to make friends and get to know professors on a very close basis. This is something that would not have been imaginable, for example, in Germany, where you have much bigger classes and where all the students are responsible for their own accommodations.
Graduation was also extra special. In Europe, you get mailed the transcript at the end, and students organize their own final parties. Harvard not only provides such a wonderful learning atmosphere, but also a foundation for a very close-knit social network.
You are also an active volunteer for Harvard. Why is volunteering important to you?
I think it's very important to give back to the University as thanks for your education. I also support a number of causes in Germany and internationally. I think it's important to be an active part of your community and to dedicate time to do your part to make the world a better place.
Your son is now at Harvard. What's it been like seeing Harvard through his eyes?
What surprises me the most is how Harvard has really remained the same, especially the places where people spend time and the interactions among students. Of course, a lot of things have changed—like the restaurants in Harvard Square. The traditional German restaurant that had been there for many decades is now gone (laughing). I'm not upset at all. Now there are five Mexican places. I regret that this didn't change earlier.
Do you have a favorite place that you like to go when you come back to Harvard?
I like to stroll through the Yard and relive some of the moments there. And I also like going to the University museums, which I think are very special.
Photo by Kris Snibbe, Harvard University.