Supporting SEAS and Applied Learning
Michael Cronin '75, MBA '77
October 4, 2018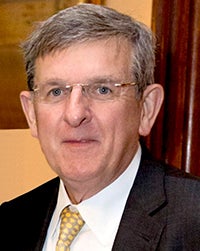 For Michael Cronin '75, MBA '77, the journey to Harvard started with a coin toss. Cronin spent his high school years studying electronics at a vocational high school and couldn't decide between an engineering school and Harvard. "I never visited the Yard and didn't know anyone who went there," he says. "There were very few people in Dorchester who crossed the Charles River." Harvard won out—in more ways than one.
Cronin is now an active volunteer and donor, particularly motivated by the work at the Harvard John A. Paulson School of Engineering and Applied Sciences (SEAS). In addition to funding a professorship at SEAS, he established a Harvard-managed charitable remainder unitrust that he hopes will help promote innovation and entrepreneurship.
"Making a planned gift is a compelling way to support Harvard," Cronin says. "While investing in Harvard for the long term, you benefit from the income in the short term."
The gift is part of Cronin's retirement planning for himself and his wife, Marian. "By establishing a charitable remainder unitrust, we receive a pretty significant lifetime income. And the upfront tax deduction we received was a bonus," he says.
Cronin hopes these funds will help to further applied learning at Harvard, which was a formative part of his College years. An economics concentrator, he remembers going to the basement of the Science Center to learn the computer programming language Fortran. He also spent many hours working for Harvard Student Agencies, an organization of which he is now alumni chairman. These hands-on experiences led to an MBA at Harvard Business School and a career in venture capital. Cronin is now the founder and managing partner of the private equity firm Weston Presidio.
He believes SEAS provides the kind of education that prepares students to make a real-world impact, and he hopes that his support and that of other alumni will help the School continue to grow after the Science and Engineering Complex opens in Allston.
"SEAS is like a 100-year-old startup, and it's only the beginning" says Cronin, who was serving as a Harvard overseer when he voted to elevate the Division of Engineering and Applied Sciences to a School in 2007.
"With the new building in Allston and huge increases in student enrollment, SEAS is going to need more teaching fellows and support."
He credits the Harvard alumni community for acting as his mentors, both in his career and in his work as a volunteer and philanthropist. "If you came from Dorchester as I did and ended up benefiting from such opportunities, there's no wonder I want to give back," Cronin says. "The School, and the alumni who I've met along the way, are just incredible."