A New Lens for Field Research
Peter Dyrud MPP '08, PhD '18
January 24, 2018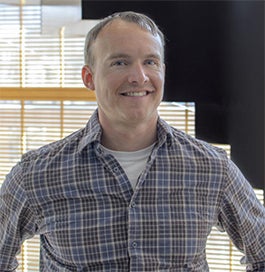 "The way I'm built, I have to be a doer and a thinker," says Peter Dyrud MPP '08, PhD '18. It's why, after 11 years serving as a combat rescue officer with the U.S. Air Force, he came to the Graduate School of Arts and Sciences.
In his pursuit of a PhD in public policy, he was able to look more deeply at the impact of the kinds of rescues he's been involved with as part of the Department of Defense's personnel recovery community.
He wondered if there was a cause-and-effect relationship between the number of hostage rescue operations in a particular country and the number of kidnappings that occur there. "I saw the opportunity to measure quantitatively whether rescue operations are actually making a difference as a deterrent," says Dyrud.
Focusing primarily on the kidnappings of citizens in the Middle East and Africa, he combed through a data set of about 700 incidents compiled by the Combating Terrorism Center at West Point.
"There's an assumption that an effective rescue operation not only saves the citizen, but also gives kidnappers the signal that this government is willing to take this risk and that they are likely to experience harm as a result," says Dyrud. His research has shown there is a definite deterrent effect, on average, and he hopes to be able to continue to analyze what factors contribute specifically to these trends.
Dyrud attended Harvard through a program with the Air Force and will return this fall. He plans to bring back what he's learned in data collection, analysis, and research to benefit those in the Air Force.
"Research can provide new ways to think about some of our challenges," says Dyrud, citing ways he might use data to advocate for more support for his squadron, whether for physical therapy or psychiatric services.
"Flying squadrons have large budgets for planes and other equipment. Our bodies are the weapon systems," he says. "If we could compare rates of injury or inability to complete a mission because of physical limitations, it could help us make a good argument for more resources."
Dyrud knows something of advocacy from his service as president of the Harvard Graduate Council. "It was a great leadership challenge," he says. It also gave him the chance to branch out with people from different disciplines and backgrounds, one of his favorite aspects of being at GSAS.
"It gives you a different way of looking at things," he says. "I'd like to bring this variety of perspectives to whatever organization I'm a part of."