The Many Ways Stephen Blyth Gives Back
April 28, 2017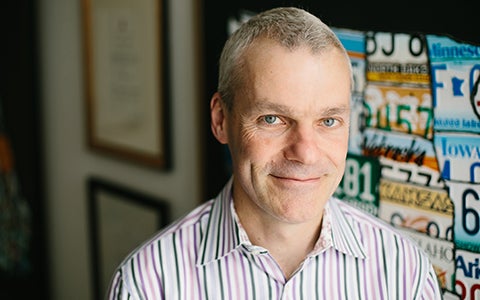 Anyone cataloguing the many gifts Stephen Blyth PhD '92 has made to Harvard over the last decade could use an annotated guide. He has named each benefaction—whether to financial aid, House Renewal, or graduate education—for his wife, his parents, a faculty advisor, Tufnell Park (a tube stop near his boyhood home in North London), or for other connections. Regardless of the nomenclature, it is clear: Blyth's far-reaching generosity to Harvard is deeply personal.
"I've had so many different connections to Harvard. It's such a great institution," says Blyth, who served 10 years at Harvard Management Company (HMC)—including his last two as CEO—before stepping down last July for health reasons, and returning to Harvard this spring to teach his popular course Stat 123: "Applied Quantitative Finance."
"Harvard's been really good to me," he says, recalling its many influences on his life as a PhD student at the Graduate School of Arts and Sciences (GSAS), resident tutor, and professor of the practice of statistics—not to mention his career in finance. It was Blyth's 10 years with HMC, with all of its successes and challenges, that gave him the resources and inspiration to dedicate an expansive philanthropy to areas of Harvard near to his heart.
He began by endowing an undergraduate scholarship, inspired by how instrumental Harvard's financial aid policy has been in attracting talented and diverse students. "It's such an empowering program," says Blyth, who has since endowed a total of eight undergraduate scholarships. "The breadth of talent among the undergraduate students at Harvard is stunning."
Blyth experienced this while serving as a resident tutor for two years in Winthrop House as a doctoral student. "It gave me exposure to the whole extent of the undergraduate body," he says. "I remember thinking how amazing it was to be hanging out with all of these people who are so sharp, funny, motivated, and articulate."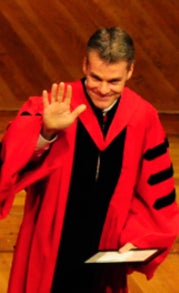 While at Winthrop, he played intramural sports with students, watched the Head of the Charles from his room's fire escape, and loved the community he found in its common rooms and courtyards. In recognition of his deep appreciation for House life, Blyth has made several gifts to House Renewal, which will name a number of spaces in the soon-to-be-rejuvenated Winthrop House.
"I wanted to give back more, and I knew this was a priority," Blyth says. "I loved my experience in Winthrop House and am still very attached to it."
Other gifts Blyth has made are inspired by his time in Harvard classrooms. Feeling indebted to the education he received at GSAS and those he met while in the program, he established a graduate student fund named for an influential advisor, Arthur Dempster, emeritus professor of theoretical statistics.
In support of friend Xiao-Li Meng, now GSAS dean, Blyth gave generously to the Dean's Discretionary Fund. The gift made it possible for GSAS to create and fund the Harvard Horizons program, a TED-style symposium that coaches participants in how to present complicated research in a clear, concise way for a lay audience. "It's so important for graduate students to be able to articulate the impact and relevancy of their research," he says.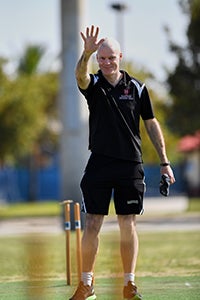 Blyth has always had strong connections with his students, whether going to dinner with them as part of the Classroom to Table program or helping to fund the Cricket team at Harvard, when his student Ibrahim Khan '14 revived the club. At first, Blyth agreed to be the club's faculty advisor and then stepped forward to help the club with resources for travel and equipment. His enthusiasm for the team extends to traveling to Florida to see them play this spring in a quarterfinal of the National Cricket Championships.
Being a mentor and advisor has always appealed to Blyth, who was eager to return to the classroom when he first joined HMC to run their fixed income group. He takes great pleasure in his teaching and describes winning the Phi Beta Kappa Teaching Prize in 2013 as one of his proudest moments. So it may be no surprise that Blyth chose to return to Harvard once again via the classroom, even while undergoing final chemotherapy sessions.
"Getting to teach Harvard students is a great antidote to cancer treatment," says Blyth, who just been given a clean bill of health. "It's so energizing to get the chance to reconnect with Harvard."
---
Photos by Juliette Halsey, Muhammad Tahir, and James Hardy.