Leading Harvard Management Company
N.P. "Narv" Narvekar
November 26, 2018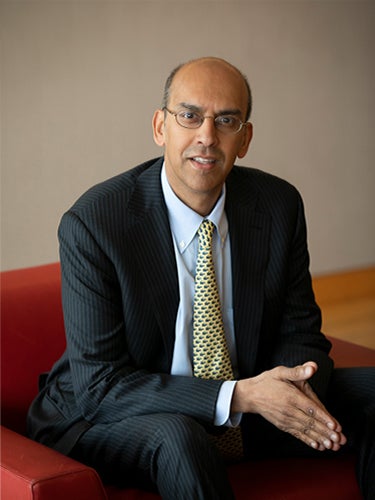 When N.P. "Narv" Narvekar joined Harvard Management Company (HMC) in December 2016 as president and chief executive officer, he knew managing an endowment of the size and scope of Harvard's would not be without challenges. However, having successfully led Columbia University's Investment Management Company since 2002 with substantial long-term returns, he was more than prepared for the task at hand. Here, Narvekar explains what he thinks is the key to success in managing university endowments, and why HMC must continue to change in order to stay the course.
What are your guiding principles, as head of HMC?
I have found in every institution that I have worked for that a high-performing team is essential to accomplishing any organizational goal. A clear strategy and conviction in its implementation is vital, but without the right team to execute your plans—and adapt them when necessary—you're not going to get very far.
What drew you to HMC?
Having worked for other university endowments, I was very familiar with HMC and the leadership role it has held among institutional investors. The opportunity to help guide and improve the organization to support future generations of Harvard students, faculty, and researchers really made this an attractive opportunity for me.
You are leading a significant transition in philosophy and structure at HMC. Can you talk more about the key elements of this change, such as why HMC and the University have decided to make this transition and how you will measure success?
This is certainly a moment of significant change for HMC. Upon arriving in December of 2016, we took stock of where the organization stood and how it needed to change in order to best fulfill its mission. The biggest change has been the move from a "siloed" model of investing—with internally managed asset classes—to a generalist model of investing where a single investment team takes ownership over the performance of the entire portfolio. This reduces both organizational complexity and the need to attract and retain investment expertise, making HMC more nimble in exploiting rapidly changing opportunities. The process is well underway, and we're where we expected to be at this point, but even with an exceptionally talented staff, it will take years to adequately train them to adapt to this model.
How does HMC balance the desire for high short-term returns with the need to position the endowment for long-term steady performance?
It's easy to get caught in the trap of one-year returns, which generate a lot of interest each fall. Especially now, as we transition the organization and the portfolio, observers will certainly look at individual year performance as the benchmark for how things are going. Like all endowments, however, Harvard's is best measured by 10- and 20-year performance. Our sole mission is to support Harvard University, and our investment strategy will always reflect that singular responsibility.
How would you describe the overall risk sensitivity of the endowment? How does HMC manage against risk in general, and in particular against the prospect of another financial market downturn like the one in 2008?
Risk and liquidity are perhaps the most important factors in managing the endowment. We have established more direct coordination with the University to ensure that we manage both according to Harvard's needs. For this reason, we view risk, not asset class, as the most important factor in allocation. For example, private equity as an asset class may carry more long-term risk than public equity, but within each of these asset classes individual investments and funds may vary significantly. Therefore, HMC accounts for the risk and liquidity of each investment, so that in the event of a significant market event like 2008 we can still provide the University with the resources it needs.
What are the primary objectives for the endowment in FY19?
Our primary goal is to maintain the momentum we have created by restructuring the organization and the portfolio. It's important to remember that we are less than two years into a five-year transition. We have a lot of work ahead of us, but we've made great progress and are confident in the endowment's long-term prospects.
---
Contact University Planned Giving to learn more about supporting University programs.