Leverett Legacies: Howard '68 and Ann Georgi
Longtime faculty deans wish their young friends a fond farewell
June 2, 2018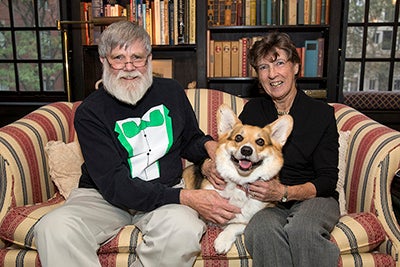 Every year, Howard and Ann Georgi memorize the names of nearly 500 Leverites. It's just one of the ways they've made Leverett House a home for the last two decades.
As faculty deans for Harvard's largest House, the Georgis have overseen a transformation in residential life—from the days when dining halls were just for meals through the changes House Renewal brought to common spaces and student programming.
They share why they are stepping down after 20 years this May, what Bob Dylan has in common with Howard's 50th Reunion, and how the long-eluded Straus Cup led to their nicknames "Coach" and "Chief."
As you prepare to retire as faculty deans, what's it like being at the end of 20 years at Leverett House?
Howard: This has been an absolutely wonderful experience. I wouldn't have traded it for anything. But 20 years is a long time. We still have plenty of energy, but we're getting older. And there are many things I want to do next.
Ann: It's very bittersweet—we've had a great run, but it's really time for new energy and new ideas in the House.
What has it been like to serve in this role for students? Can you be introverts if you're faculty deans?
Howard: It's not generally known, but I'm a shy person. I have learned to enjoy getting to know the kids because they are so much fun.
We just have so many young friends. It's fabulous.
Ann: They share their problems and their joys with us. I love being with them, and I think they keep us young. A while ago, I had a bad day at the lab, and I was walking through the dining hall. Some kid came running up and gave me a big hug and said, "Coach, Coach, Coach, guess what happened today?" And I thought, "OK, I can do this for another 10 years." Their energy is really quite magical in the end.
Where did your nicknames "Coach" and "Chief" come from?
Ann: I'm a competitive athlete so I like to relate to the students that way. When we were interviewing to become faculty deans, I asked the students about their intramural sports team. Leverett hadn't won the Straus Cup in many years (and we still haven't won it). I asked them about the football team and if there were rules about faculty deans playing. They couldn't believe that I wanted to play.
One of the students then said, "But what will we call you? We can't yell 'Go deep, Mrs. Georgi!'" So, we chatted about a nickname, and one of us said, "Coach," and the other one said, "Perfect."
The House Committee got wind of it and had a special meeting because they didn't want to call us "Master Georgi and Coach." Then we got a call asking if we minded if the students called Howard "Chief" because it goes with "Coach." And we said yes.
Howard: We hear it all the time. When Larry Summers started calling us that, we decided it was permanent.
How has House Renewal changed Leverett?
Howard: We actually have wonderful common spaces now. We can do things that we couldn't imagine doing before renovation. My favorite is Faculty Family Thursday, which we can do now because the Light Court is gorgeous, and there are all these rooms off the side that we can turn into playrooms for the kids.
Ann: We kept wondering why we don't get young faculty to the student-faculty dinners, but it was so obvious. They've got families, and they've got kids. And then we thought, why don't we invite junior faculty with their kids? We give the kids bunny ears and give them a special meal. It is fun for the families and the students.
Howard: The kids ask when they can go back to college.
What is it like to be celebrating your 50th Reunion, Howard?
Howard: First of all, I love Harvard. I arrived as a freshman in 1964, and it was fabulous. We still vacation with my college roommates. I normally don't pay too much attention to Reunions because I'm here all the time and we're so involved with Commencement. I did organize an event for the 45th Reunion. This year, we had a lot of events for my class at Leverett House on Tuesday: a big dinner in the dining hall and the McKinlock Courtyard; classmates sharing their musical talents in the Junior Common Room; and two brilliant Bob Dylan shows in our Emerald Library Theater. This allowed me to hang out some with my classmates.
What's your favorite time of year in the Houses?
Howard: Commencement, the not-just-sherry hour, the music dinner where the Blodgett Artists-in-Residence do a little concert, the student-faculty dinner—they are all fantastic. It's the events.
Ann: We're very busy in the fall trying to get the sophomores integrated into the House and learn their names and hang out with them. Then things settle down a little. The spring semester goes fast and all of sudden it's Commencement. I go through a grieving process when I realize that I'm not going to see many of these kids again.
Howard, as the Mallinckrodt Professor of Physics, how has your teaching been influenced by your time at Leverett House?
Howard: As department chair in the early '90s, I discovered we weren't serving our undergraduate women in physics well and that turned me into a feminist on the spot. I worked very hard on these issues, but it also got me more generally involved in figuring out how we can do a better job with all of our students. The most important thing that we needed to do was to encourage working with other people rather than working in the privacy of your closet, which is what people had done in physics for years. This is one reason I was interested in serving as House Master.
When we opened the dining hall 24-7, I was teaching our advanced freshman physics class, and they started to come to the dining hall on Wednesday nights to work on problem sets. Then another class started to come and that was the beginning of Physics Night at Leverett.
Ann: Now there's a Math Night too.
Howard: It's great for my teaching and is an extension of my abilities to interact with students. But there aren't quite enough hours in the day for all the things that we want to do.
How do you make the House a home for students?
Ann: We've always had dogs here. For students who are homesick, they can come and say, "Can I play with Bandit because I miss my dog?" Sometimes Bandit just holds office hours in the living room while Howard is working in the study.
To me, it's also the strong intergenerational community: the tutors, the tutors' kids, the dining hall staff, the building manager and his staff, the office staff, and the students make up one incredible community. You find all of these ways to make the House a home. That's what makes it such a cool job.
Photo by Jon Chase.
---
Related:
Adams House slated for Renewal
New faculty deans for Harvard's Leverett House