A Lifetime of Activism Shapes Donor's Legacy
Rosemary Straley EdD '68
November 24, 2018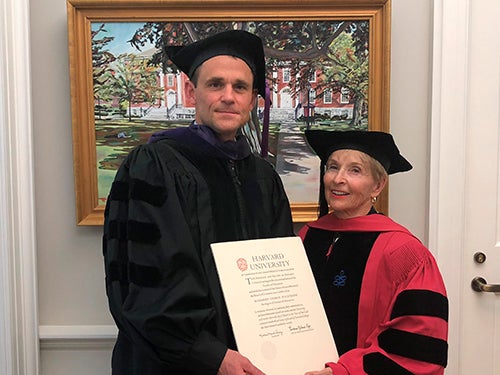 "A ship in harbor is safe, but that is not what ships are built for."—John Augustus Shedd
Rosemary Straley EdD '68 grew up in Southern California as the daughter of a Presbyterian minister. During her youth, her family moved every five years, and a steady stream of missionaries came through her home, igniting her curiosity about where they came from and the size of the world.
When John F. Kennedy SB '40 started the Peace Corps in 1961, Straley was inspired to join the ranks. Her first volunteer position was as a French and history teacher in a secondary school in Ghana.
"I'm impressed with what Harvard has become in terms of leadership of women."
—Rosemary Straley EdD '68
"When you're working 250 miles from the nearest American and you're the only woman faculty member of the school, you really have to learn about the culture around you and integrate yourself into it," Straley says. "The Peace Corps was such a formative, impactful experience. Most people who have gone in feel that way, that it played a major role in the direction of their lives and interests."
After the Peace Corps, Straley planned to return to Stanford, where she earned her bachelor's and master's degrees, and where her significant other was waiting. But after reading the newly published The Feminine Mystique, she once again changed course.
"I realized I didn't have to be only part of someone else's life—I could go ahead and do something for myself," she says. "I spent the $2,000 check for my two years in the Peace Corps on a new car, drove for five days to Cambridge, and never looked back."
Straley's work with tribes in West Africa sparked an interest in Native American cultures and traditions, which she studied while pursuing her doctor of education degree at the Harvard Graduate School of Education (HGSE) under Herold Hunt, former undersecretary of the U.S. Department of Health, Education, and Welfare (DHEW). She loved her summer internship at DHEW so much that she nearly stayed in Washington, D.C.; however, she returned to Harvard to finish her degree.
"It's not just a matter of writing a check—you can have an ongoing relationship."
—Rosemary Straley EdD '68
At Harvard, Straley was enrolled in a program of 15 people. She was the only woman. The lack of a female role model affected her deeply, and, once again, it became a driving force in her life's work. Ten years later, she was named the Peace Corps country director in Cameroon, one of the first women elevated to that leadership level.
In May 2018, Straley returned to HGSE to celebrate the 50th anniversary of her graduation, and she was delighted to see what a difference time had made on the University.
"It meant a great deal to me to come back. I felt like I had graduated from an institution that now truly reflects American society—with all sorts of ethnic varieties and, importantly, the women who are there," Straley says. "I'm impressed with what Harvard has become in terms of leadership of women."
Straley's belief in Harvard is so strong that she has chosen to support the University through multiple charitable gift annuities. The appeal of this giving vehicle is twofold: the annuity generates a helpful flow of income and provides a nice link to her activism. It's why she encourages others to do the same.
"It's very attractive to those of us who intend our resources to go to the institutions and organizations that we care about," she says. "It's not just a matter of writing a check—you can have an ongoing relationship."
The roster of organizations that Straley supports is a lengthy one, each pointing toward a momentous occasion or tipping point in her life. She's likely to add to the list as she continues her work as an active member of 21 San Diego organizations, president of the George-Straley Foundation, co-founder and executive committee member of Run Women Run, a 20-plus-year member of the Peace Corps' national Director's Circle, and national coordinator of the Hillary Rodham Clinton Support Network.
"I'm avid about participating in any way I can," she says. "Most returning Peace Corps volunteers are very active in their community. That's part of Harvard, too. Harvard is preparing people for the world—especially great women—because of its worldwide reach."
Bitten by the travel bug on her first foreign trip to Hawaii in 1958, Straley's career in public service has taken her to more than 150 countries and 49 states as an educational planner and evaluator with the U.S. government based in Washington, D.C., and UNESCO based in Paris. In September, she was honored by Women's Empowerment International as the 2018 Woman of Empowerment for her lifelong catalytic role in the advancement of women and girls in both the U.S. and the world. Still traveling 50 years after receiving her terminal degree, Straley continues to learn lessons that will shape her legacy.
---
Contact University Planned Giving to learn more about supporting University programs.