Exploring Uncharted Territory
Ashley Anderson PhD '16
November 16, 2016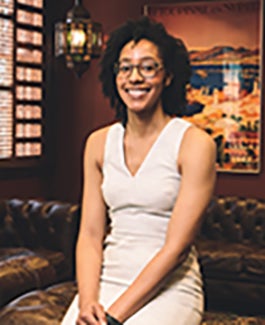 Ashley Anderson came to Harvard because she wanted the latitude to explore. "So many people told me that I might need to change my focus during my graduate career," says Anderson, who was studying terrorism and terrorist groups. "I wanted to make sure that I picked a school that had scholars in all areas of interests, so if I did change my studies, I wouldn't be without a good support network."
The breadth and depth of the faculty at the Harvard Graduate School of Arts and Sciences gave Anderson the ability to go where her research took her.
"I decided to take a closer look at conflict and why people risk their lives for goals and ideals in society," she says. "In my third year, I talked with professors about narrowing my subject matter and I ended up looking at why trade unions participate in pro-democratic movements."
For her thesis, Anderson compared political mobilizations in Tunisia and Morocco as the Arab Spring swept through North Africa in 2011. She spent 18 months in both countries and conducted over 120 interviews to try and understand why some labor unions engaged in anti-regime protests and others did not. The more embedded unions were in the authoritarian government, she found, the less likely they were to challenge them, which, in part, affected whether its citizens were successful in overthrowing them.
"In Tunisia in particular, labor organizations proved to be key contributors to the success of the pro-democracy movement," she says. Anderson hopes her research may ultimately translate into a better understanding of how progressive movements support human rights and civil liberties. She plans to develop this research into a book and, in her next project, expand her inquiries to look at the varying fates of Islamic parties that take part in an electoral process. "Will they succeed in winning seats or will there be riots if they participate in democratic elections?" asks Anderson.
While Anderson's research certainly brought her to academia, her love of teaching has kept her there. "I like to mentor students," she says. Anderson spent most of her graduate career as a resident tutor in Winthrop House.
"I really liked being a part of that community and getting to know undergraduates beyond the classroom. These places become their homes in a way that I've never seen in other schools."
Wanting to be a better teacher, Anderson took advantage of GSAS resources, seeking out advice from faculty and working with the Derek Bok Center for Teaching and Learning. "There is so much institutional support at Harvard," she says, including the chance to be a Harvard Horizons scholar. "It was a good way to find out how to share complex research with a wide audience."
Donors play an important role in helping students access resources that encourage emerging scholars to make a wider impact, says Anderson.
"You're not only allowing people to pursue their passions, but also to contribute knowledge that the world really needs," she says. "Think about what might have happened if Albert Einstein didn't have funding. Or math genius John Nash. They changed the way the world is now in fundamental ways. You never know if these people are going to expand knowledge in a way that shifts paradigms for your life or your children's lives."