Donor chooses a path beyond suffering
May 9, 2018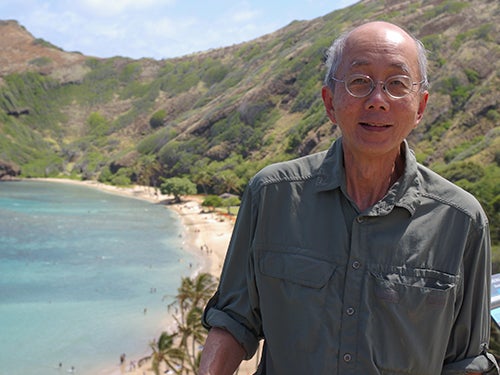 Calvin S. Y. Chun grew up in a place that's about as far away from Harvard as one can go and still be in the United States: Hawaii. As a child, he knew only one person who attended Harvard College. Yet even from 5,000 miles away, he could see Harvard was the right place to invest in research that he hopes will lead to a cure to a disease that he has been battling for many years.
In his early adulthood, the Honolulu native began experiencing intermittent tinnitus (or ringing) in his right ear. It forced him to avoid loud noises, and it persisted for decades. Around the time Chun turned 60, the tinnitus worsened, becoming constant. Tests revealed he was suffering from Meniere's disease, an inner ear disorder that causes episodes of disabling dizziness and would ultimately cost him all the hearing in his right ear. At 70, Chun noticed he was losing hearing in his left ear as well. As a result, his diagnosis shifted to the much rarer form of Meniere's disease—bilateral.
"Having Meniere's disease in both ears was especially disabling," Chun says. "I was no longer comfortable communicating orally, even with a hearing aid. I could no longer attend concerts and opera or listen to the extensive collection of musical CDs I had accumulated. Traveling became problematic, concentration became difficult, and it affected my balance. Every day, I have to cope with the symptoms of Meniere's disease."
"My hope is that the endowment becomes a permanent source of funds to enable researchers to eventually find means to prevent and cure hearing loss."
—Calvin S. Y. Chun
Chun's diagnosis also put an end to his professional career, which centered on his interests in science and math. A self-described bookworm with a PhD in biostatistics from UCLA, Chun has been a computer programmer, a math and statistics teacher at a community college, and a consulting statistician for the California Department of Fish and Wildlife.
Despite the struggles he has endured in his adult life, Chun is hopeful for the future and for the prospects of those afflicted with Meniere's disease and similar maladies—and he's actively making a difference.
Chun recently established an endowed fund at the Harvard Stem Cell Institute (HSCI). With more than 1,000 investigators and clinicians, HSCI is the largest and most prolific stem cell research program in the world. HSCI scientists have made groundbreaking biological discoveries and are now poised to bring stem cell-derived treatments to patients who are affected by a wide range of diseases, including hearing loss. Chun has also added a bequest to Harvard in his will.
Having worked in research environments, Chun understands the value of non-grant money for scientific discovery, which served as a great motivator for his gift to Harvard.
"My hope is that the endowment becomes a permanent source of funds to enable researchers to eventually find means to prevent and cure hearing loss," he says.
Chun's giving to Harvard continues an impressive track record of philanthropy. Previously, he established endowed funds for Meniere's disease research at Stanford University and for student scholarships at the University of Hawaii. He has also supported world hunger and poverty reduction, pollution mitigation, and wildlife conservation.
"Life in Hawaii blended a wonderful combination of Western values, Asian culture, and the Hawaiian spirit of welcoming and sharing," he says. "Growing up there was an opportunity and a privilege."
Now 75, Chun still embraces the values of the Aloha Spirit learned in his youth, which manifests itself through his philanthropy.
---
Contact University Planned Giving to learn more about supporting University programs.