At Teach-In, Alumni Stand Up for Voting Rights
Marilyn Holifield JD '72 reflects on The Harvard Black Alumni Society of South Florida's recent Voting Rights Teach-In, the importance of civic involvement, and the role of the Harvard alumni community in addressing voting rights.
October 13, 2016
In signing the Voting Rights Act of 1965, President Lyndon Johnson acknowledged an uncomfortable truth: "Millions of Americans are denied the right to vote because of their color. This law will ensure them the right to vote. The wrong is one which no American, in his heart, can justify. The right is one which no American, true to our principles, can deny."
But more than 50 years later, voting rights remain a pressing concern. In recent years, many states have enacted increasingly restrictive voting laws—ranging from strict photo ID requirements to early voting cutbacks to registration restrictions—which critics say disproportionately affect minority voters. While the courts have recently struck down such measures in several states, come Election Day, 14 states will have new voting restrictions in place for the first time in a presidential election, according to the Brennan Center for Justice.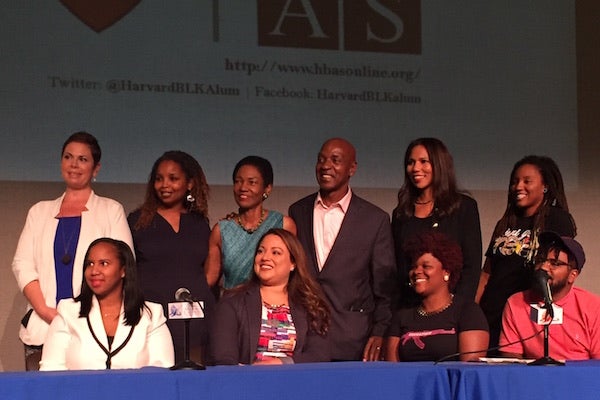 With this as a backdrop, The Harvard Black Alumni Society (HBAS) of South Florida recently cosponsored a Voting Rights Teach-In at Florida Memorial University (FMU) in Miami Gardens, Florida. Among the speakers were three prominent Harvard alumni: Charles Ogletree JD '78, Jesse Climenko Professor of Law and founding executive director of the Charles Hamilton Houston Institute for Race & Justice at Harvard Law School; Theresa Therilus JD '04, assistant director for the Internal Services Department of Miami-Dade County, adjunct professor of law at St. Thomas University School of Law, and co-president of HBAS of South Florida; and Marilyn Holifield JD '72, a partner in Holland & Knight's Miami office and a member of HBAS of South Florida. Other participants included Tameka Bradley Hobbs, interim chair of the Department of Social Sciences and assistant professor of history at FMU; Carolina Lopez and Allison McComb from the Miami-Dade County Elections Department; and Umi Selah and Jasmen M. Rogers of Florida-based civil rights group the Dream Defenders.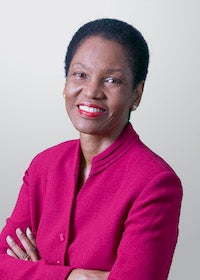 Holifield, who helped organize the event, reflected on the teach-in, the importance of civic involvement, and the role of the Harvard alumni community in addressing voting rights.

HBAS of South Florida held a similar event before the last presidential election in 2012. How did that come about? Why a teach-in?
The Florida state legislature had recently passed laws that restricted early voting and imposed other voting restrictions. People were very concerned about the laws and the potential impact on voting in black communities, minority communities, and elderly communities. We thought a teach-in would allow us to pack in a lot of information and in doing so bring all of us up to date on the national history of repression of voting rights, and more particularly Florida's history of suppressing voting rights.
How did this year's event compare to four years ago?
This year we included representatives from the Dream Defenders, a group representing younger voices who are standing up and very impatiently bringing to the forefront issues of police violence, the environment, education, and other issues that impact young people and communities. We thought it was important to foster an intergenerational discussion about the importance of voting and of participating after you vote. Sometimes people think of voting as a one-off activity, but the results of elections and post-election participation impact all of us in just about every aspect of our lives.
What was it like to share the stage with Professor Ogletree? What did you take away from his remarks?
Professor Ogletree is an icon. Over the years, he has demonstrated unrelenting efforts to make change, to move our country forward, and to be a voice that captures a different point of view on many issues related to law. I view him as an inspirer in chief, and it was really special that he would take time to share his knowledge and experience. His remarks about the continuing necessity for each of us to be vigilant to protect rights resonated not only with me but with the audience. We need to be vigilant in holding elected officials accountable.
What can the Harvard alumni community do to promote voting rights and voter engagement?
If there were a way to involve Harvard alumni in voting rights activities in a more systemic way, it could create a movement to understand the history of the voting rights struggle in every community where Harvard is. Voting is so important, and the challenge to what we thought were well-settled rights is unrelenting. The right to vote is being challenged quietly in some places, overtly in other places. I think it would be a real gift to our community if we could make protection of voting, participation in voting, and participation in post-election efforts to hold elected officials accountable a part of our conversations on a regular basis as opposed to being relegated to a particular election cycle.
How will you keep the voting rights conversation going in your local community and in the Harvard community?
HBAS of South Florida is committed to being involved in voting rights education. One of the things the Dream Defenders challenged us to do was to continue to interact with them as they go forward. We also intend to continue our relationship with Florida Memorial University and engage in outreach to the community.
You have been both a model of and a champion for public service. What drives your passion for service?
I suppose it stems from my family. I grew up in Tallahassee at a time when there were very repressive Jim Crow laws, segregation by race. Civil rights conversations swirled in our household. My parents were very involved civically, doing things that made life better for others. For instance, my mother was a nurse, and when my parents moved to Tallahassee she noticed that there was no licensed practical nursing program that black people could attend. She viewed this as a ladder from poverty to a better life, so she repeatedly petitioned the school board to start a licensed practical nursing program, and ultimately she was successful. She became the director of the program, and for nearly 20 years she educated primarily women and had a very successful track record.
What would you say to people who may be inclined to volunteer but are hesitant?
I find that people come to civic involvement where they feel that they can make a difference and they feel that it's something that's manageable within their own personal circumstances. There are things that can be time intensive, but there are also things that are not so time intensive. One great thing about the Early College Awareness program is that it doesn't take that much time. It's only the time to get to the school, an hour to participate, and the time it takes to get back to work. And you never know how much a few hours of your time can make a difference in someone's life, or how much you can learn as you interact with people whom you don't come into contact with every day.
---
Learn more about The Harvard Black Alumni Society, one of the Harvard Alumni Association's more than 50 Shared Interest Groups.