Alumnae Bring Touch of Crimson to a Green School
October 6, 2017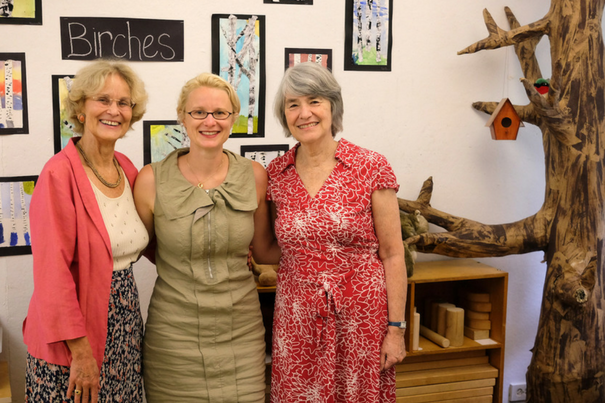 As cofounder of Birches School, Cecily Wardell AB '03 is accustomed to wearing many different hats. Director of operations, director of admissions, and a parent of two Birches students, Wardell has a hand in nearly every aspect of the independent nature-based school she created five years ago in idyllic Lincoln, Massachusetts. Now, with the K-8 school getting ready to move into a new building, she has added another hat to her ensemble—a hard hat.
In addition to meeting with faculty and parents in the historic stone church building that has housed Birches since 2012, Wardell now spends much of her time meeting with contractors at an active construction site, less than a mile up the road, that will soon be the growing school's new home.
The site isn't much to look at now, but Wardell's excitement is palpable when she describes her vision for a woodland play and research site, with an outdoor amphitheater, flower and vegetable gardens, and access to conservation trails reaching all the way to Walden Pond. Wardell says her involvement with the building project has been a crash course in many unfamiliar topics, from grading and drainage issues to building codes to town politics. While the learning curve has been steep, she credits Harvard for teaching her how to tackle new challenges and learn on the fly.
"This whole process has been a bit of a puzzle, but I learned how to solve these kinds of puzzles at Harvard," Wardell says.

Drawing on Experience
An East Asian studies concentrator at Harvard, Wardell considered herself to be a humanities person but was proud to find she could hold her own in math and sciences courses, which taught her how to think logically.
Some of her most formative experiences came outside the classroom through her involvement in the Hasty Pudding Theatricals, where she held several roles, including business manager and tour manager. With no paid administrative support, it was up to Wardell and her fellow students to figure out how to run the performing arts organization. "It was empowering. There was a feeling that you really could do anything," she says.
When she started Birches nearly a decade later, Wardell drew upon that entrepreneurial spirit and the lessons she learned at Harvard about how to build an organization. Struggling to find the right place to enroll her son in kindergarten, she was inspired to partner with another parent to create a new school, which they named after Robert Frost's poem "Birches."
"We obviously didn't have any depth of experience in this area, but I thought if we built the right team, we could make it work. We recognized the importance of relying on people who knew more than we did," she says.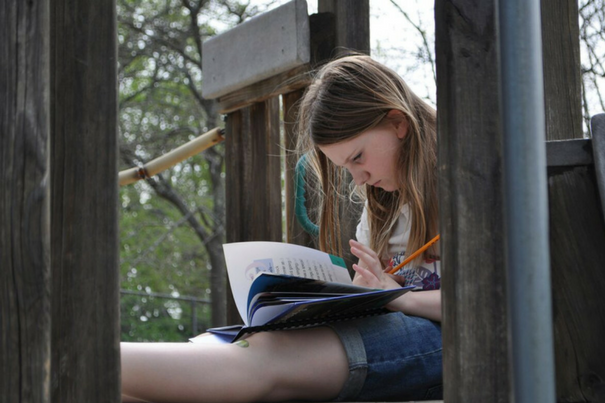 Among the first people Wardell invited to join the Birches team were two fellow Harvard alumnae with years of experience in education: her mother, Elizabeth ten Grotenhuis AB '70, PhD '80, and a family friend she calls her "honorary mother," Kathleen Moreno Dorkin AB '70, BF '81, EdM '89.
Ten Grotenhuis and Dorkin were freshman dorm mates at Radcliffe but didn't rekindle their friendship until years later when their daughters became classmates at Buckingham Browne & Nichols School (BB&N) in Cambridge. Like Wardell, both women cite Harvard as having played an integral role in shaping the career paths that eventually led them to Birches.
After completing her doctorate in Asian art at Harvard, ten Grotenhuis became a research associate at Harvard's Reischauer Institute of Japanese Studies and later a professor of Japanese art history at Boston University and a founding member of Yo-Yo Ma's Silkroad project. Coming to Birches first as an advisor and eventually as head of school, she instilled a scholarly rigor and an interdisciplinary approach that has become a hallmark of the school's curriculum.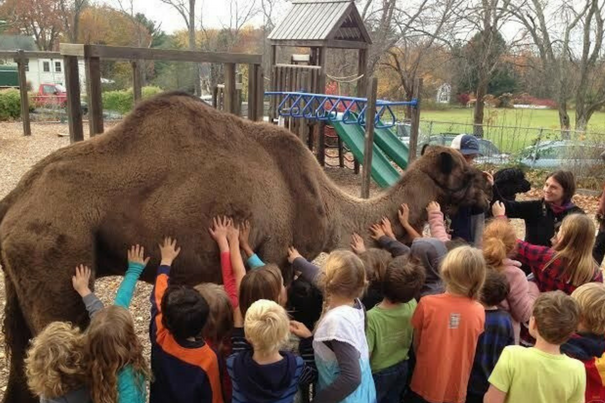 For example, she called upon her interest in Asian history to design a unit exploring the Silk Road through the lens of different academic subjects. The integrated curriculum became the basis for a 2016 issue of the children's educational magazine Dig Into History, featuring articles by ten Grotenhuis and several Birches teachers. "I brought from the University the dictum of publish or perish," she says.
As chair of the Birches Board of Directors, Dorkin has also been instrumental in developing the school's curriculum, particularly around math and music—two passions she pursued at Radcliffe as one of only four female math concentrators and also one of the few harpists on campus. She went on to work as a professional harpist and returned to Harvard on a Bunting Fellowship to study contemporary harp music. Years later she came back to Harvard once again, this time to earn her teaching degree at the Harvard Graduate School of Education (HGSE), which sparked a second career in the math department at BB&N.
While she is recently retired from classroom teaching, Dorkin has continued to put her background in math and music into practice through her work for Birches. "My divergent paths that started at Harvard came full circle at Birches," she says.
Community Connections
The three alumnae have stayed connected to Harvard in different ways: Wardell is a member of the Harvard Alumni for Education Shared Interest Group, ten Grotenhuis is active with the Reischauer Institute, and Dorkin volunteers as an alumni interviewer.
They have also forged partnerships between Birches and Harvard. Several Birches teachers recently participated in the Harvard Forest Schoolyard Ecology program, and Birches students are serving as citizen scientists as part of a collaborative Harvard-Brandeis study of deer populations in the Lincoln and Concord woods. In addition, Birches has hosted visits from HGSE classes and routinely invites professors and graduate students from Harvard and other institutions to speak to Birches students.
"There are so many resources in the Harvard network that we can tap into. It's incredible," Dorkin says.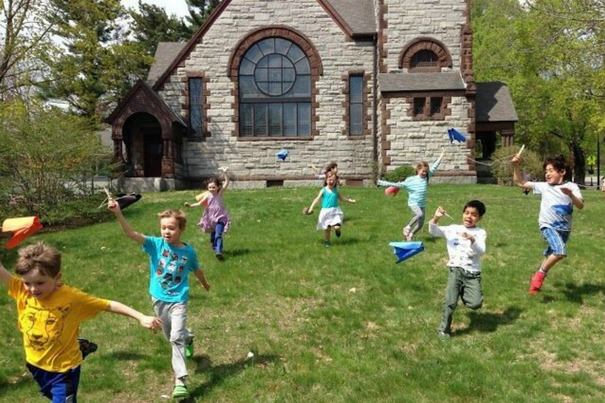 Enrollment at Birches has swelled from 5 students in 2012 to 44 students today from across Greater Boston. As the school continues to grow (with a five-year goal of 95 students), Wardell and her team are looking for more ways to engage with the broader community, including Harvard. "We don't want to be an insular little micro-school," she says. "We want to connect to wider communities—not only in terms of what visiting scholars can bring to us, but also the educational and natural resources that we can share with others."
Ten Grotenhuis recognizes that there is a lot of work ahead for Birches, but it's joyful work. "This is what I always say, and we do live this: It's not work when work is more fun than fun."
---
Want to connect with other Harvard alumni involved in education? Learn more about Harvard Alumni for Education, one of the Harvard Alumni Association's more than 50 Shared Interest Groups.