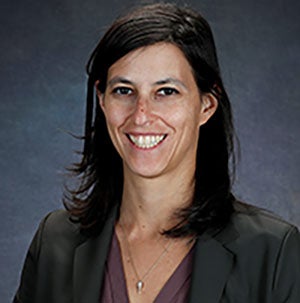 Eve Rosenbaum '12
Psychology Concentrator
Mather House
Following a childhood of frequenting Camden Yards, gymnasiums, and athletic fields, Eve Rosenbaum '12 found herself on the bench at Harvard. And it made all the difference. She always knew she wanted to go. Her parents met there—her mother was in the first Radcliffe class to live in the Houses and met Eve's father in Quincy. When you ask Eve about her Harvard, she'll rave about star faculty and a blocking group she texts daily. But when she talks about what those years mean to her today, she returns again and again to the joy she found as a catcher for varsity softball. Learn how being a player behind the scenes has led to a career in professional sports and the opportunity to rebuild her hometown team.
What was your first memory of Harvard?
I went to my parent's 25th Reunion when I was in third grade, and we got to stay in Grays Hall. The counselors were Harvard students and so cool. We hung out in the Yard, played cards, and went to the Boston Symphony Orchestra, led by John Williams. We started a Star Wars chant and got them to play the Star Wars theme.  Later, I visited the College when my older brother attended, and I knew I wanted to go.
What was it like being a student-athlete here?
I was a walk-on for Harvard Softball. I'd been in touch with Coach Jenny Allard before I applied. She told me that the recruiting class was already done, but I could try out for the team. I still remember sitting in Matthews's basement, doing some homework, when she called me. She said, "Eve, I'd like to offer you a spot. You're a catcher, and we have a lot of pitchers, so we need more catchers. I don't anticipate you playing a lot. But, if we win, you win."
I said, "Sign me up." This was the best decision I've made in my entire life. I loved getting to know my teammates and being part of that camaraderie. I did whatever I could to make the team better, like squatting and catching in the bullpen for endless hours.
How did that shape how you see teams now and women in sports?
When you go from being the best athlete on your high school team to being a bench player in college, you learn what it is to be part of a team. It was my job to do everything I could to make my teammates better. At work, everyone in the office has the same goal: to build a winning team.
We all want to win, and we all want to be the best, but you're also playing because it's fun and you enjoy it. This is especially true in women's athletics. There's not a next level. There are professional women's leagues, but it's nothing like the men's professional leagues. You're not doing it to get to the next level. You're doing it because you enjoy it.
Playing a college sport (especially riding the bench) and having to balance that with Ivy League academics is a grind. Playing professional baseball is a grind too. The season is long. So I can relate and understand what our players go through.
After Harvard, you worked for the National Football League and then the Houston Astros. In 2019, you were appointed as Director for Baseball Development for the Baltimore Orioles. What does that mean day-to-day?
My job is to make sure we're all on the same page. This includes amateur scouting, professional scouting, general baseball operations, player development, strength and conditioning, health and performance, and research and development. I'm responsible for making sure we're talking the same language and using the same methodologies when we evaluate and coach players. We weigh a ton of data and work with software developers and analysts. I also have a large hand in all of our player signings and trades.
Sounds like complex analysis is a big part of your job. How do you use these resources to evaluate talent and avoid implicit bias in the process?
I was a psychology concentrator, and our head of research and development is also a psychology major. He's famous in the baseball world. It's a huge part of our job, figuring out the best way to make decisions. Of course, everyone who evaluates players has their own biases about what makes a player good or bad and these biases show when you get into a room of decision-makers. People pound the table for their player. Knowing how to manage that and still come to a rational decision is a huge part of our job. We are fans of Daniel Kahneman, so we try to stick to base rates and anchor to our statistical models and then mix in subjective opinions.
How did the pandemic change your job?
I was down at spring training in Florida when the pandemic hit. Suddenly, baseball just stopped. Two days later, I was in a rental car driving back to Baltimore, afraid to go into rest stops.
People are always traveling in baseball. You have scouts and coaches across the country and the world, so in some ways we were used to working remotely. A big difference was that we couldn't watch games in person, so we ended up watching a ton of video.
t's still hugely important to see the players in-person and see them interact with other players. Data is never going to be able to replace that. What we've learned is how to supplement our in-person evaluations with what we do remotely away from the field.  
You are the highest-ranking woman in the Oriole's Baseball Operations department. What's it like being a leader in a male-dominated field?
So many people want to get into sports and there are not enough jobs. It's a very competitive field. Once you're in, you want to prove you belong there. I rarely thought of the fact I was one of few women. I just put my head down, did the work, and worked the long hours.
Now, I can look back and think: I did this as the only woman in the room. I'm proud of myself. I tend not to think about it because I've been fortunate to have great mentors, coworkers, and bosses. They just want the smartest people, and they want to win. They know that I played Division-1 college softball and that I know my stuff. I have full confidence that I'm going to have the support of my team.
You continue to maintain close ties to Harvard and are a generous donor. Why do you give back?
If I had not accepted that invitation to be a walk-on for the Harvard Softball team, I don't know if I would be where I am today. Being a Harvard athlete teaches you that you're in this for the team. I also had access to a lot of opportunities. I think being an athlete, and an Ivy League athlete, will always catch people's attention. While I was a student, I had internships at the Red Sox and Major League Baseball.
I give back as a way to express my gratitude and express my thanks. And I want to make sure that Harvard is affordable and accessible to everyone and that they have the same kinds of opportunities, whether clubs, classes, study abroad programs, or anything that they want to do. Harvard shaped my life after college so much. I want everyone else to have that same opportunity as well.