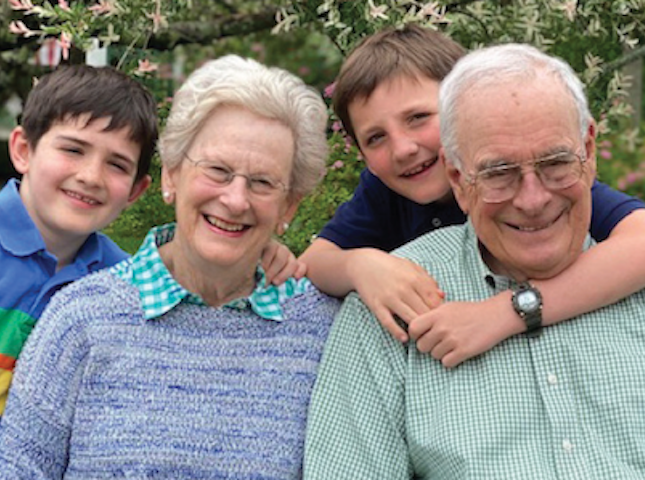 Leading innovations at Harvard Business School and building relationships across the globe, F. Warren McFarlan AB '59, MBA '61, DBA '65 plans to continue his legacy by investing in Harvard.
F. Warren McFarlan AB '59, MBA '61, DBA '65 has been part of the Harvard community for more than 60 years. From his first steps in the Yard to an illustrious career at Harvard Business School (HBS), McFarlan pioneered advances in information technology and established management and executive education programs around the world. Now, with the help of University Planned Giving, he and his wife, Karen (BA '62, University of North Carolina at Chapel Hill; MS '66, Simmons University), have found yet another way to contribute to his alma mater.
McFarlan, T.J. Dermot Dunphy Baker Foundation Professor of Business Administration Emeritus and Albert H. Gordon Professor of Business Administration Emeritus at HBS, began his journey at Harvard in 1955, when he enrolled as an undergraduate at the College to study physics. Serving as student manager for the football team and a member of the business board for the Harvard Crimson opened his mind to pursuing a degree in business at HBS, but it was an undergraduate course on computer programming his senior year that ultimately changed his life, putting him near the forefront of an emerging field.
"As a 17-year-old," McFarlan says, "never could I have predicted that I would remain at Harvard for the span of my career."
In 1961, upon completing his MBA, his programming experience led to a job as a research assistant, helping to design the first-ever information technology course at HBS. He went on to build a computer simulation model, one of the largest models built at that time, while pursuing his doctorate and later joined the faculty as an assistant professor— the first faculty member with an information technology background and one of the first to receive a doctorate in this field.
Shortly after an appointment to full professor in 1973, he became a faculty member of Harvard's new International Senior Management Program in Switzerland, moving there with his young family and spending two years in Europe writing case studies and teaching. Five years later, while serving as chair of the Advanced Management and Executive Education programs, he was once again called to travel on behalf of HBS—this time leading Harvard's first delegation to China, giving lectures in Harbin, Beijing, and Shanghai.
From that point on, China played a central role in McFarlan's career. In addition to serving in several leadership roles at HBS, including senior associate dean of external affairs and senior associate dean of research, he helped establish the Harvard Center Shanghai and the Asia-Pacific Research Center in Hong Kong. He also worked with Tsinghua University in Beijing, establishing joint executive education programs at its School of Economics and Management with HBS and forging a relationship between the two institutions that continues today.
In the last 20 years, McFarlan has made over 90 trips to China. He has also authored 14 books and more than 300 cases and teaching notes on China, information technology, and social enterprise.
Through it all, McFarlan has dedicated much of his time to nonprofit work. He recently published Effective Fundraising: The Trustee's Role and Beyond, a guide that helps nonprofit leaders and trustees navigate the world of fundraising.
Championing the Future
When it came time to plan for their financial futures, the McFarlans felt compelled to give back to Harvard, choosing a blend of giving vehicles—including a charitable gift annuity and a charitable remainder unitrust—that support future undergraduates while providing the couple with secure lifetime income.
"The College was great when I was there, and it's even better today," McFarlan says. "It's just a remarkable group of students and faculty."
Their gifts to the Faculty of Arts and Sciences include support for the Harvard College Fund, Harvard Art Museums, and Harvard College Library, where Karen began her career. Her first job out of college was at Houghton Library, and she went on to work for the University Library system for 15 years. In her last position there, she served as University personnel librarian, overseeing the staff of approximately 100 different library units. She also sat on the board and eventually chaired Harvard Neighbors, a volunteer group offering programs and activities for spouses to connect across faculties and departments. For 10 years, she volunteered as a docent at the Harvard Art Museums, and both she and her husband have enjoyed trips and events as Fogg Fellows.
"I am grateful for the opportunities Harvard gave me in my library career as well as my other volunteer activities," Karen explains. "I feel very much a part of the Harvard community!"
The McFarlans are also committed to supporting Harvard Business School through a unitrust and a bequest intention, with funds going toward the F. Warren McFarlan Associate Professor of Business Administration—established by brothers William K. Fung MBA '72 and Victor K. Fung PhD '71 in honor of McFarlan's retirement from HBS—as well as the Asia Pacific Global Initiative.
"As far into the future as we can see, the economies and destinies of China and the United States are going to be linked together," explains McFarlan. "We need to have faculty who work on that relationship and students who are educated on this topic, and we need to support Harvard in the evolving process of global engagement."
---
This story is featured in the Spring 2021 issue of the Gift Strategies newsletter. For more information about charitable giving techniques, please visit our webpage or please contact us here with any questions.