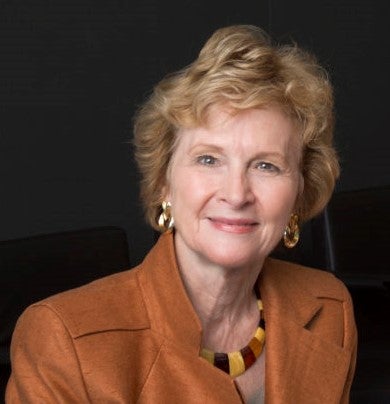 Sandy Moose PhD '68 is a trailblazer for women in business. The first female consultant for Boston Consulting Group (BCG), she spent her career there advising Fortune 500 companies on long-term strategy as well as serving as a mentor to many.
She credits her experience at the Graduate School of Arts and Sciences for giving her the foundation to succeed—though perhaps not in the way one might expect. "It was difficult," she says of being one of a few women in the economics program in the 1960s.
"The environment was often not very welcoming to women, but that proved to be good training for going into the business world. In addition to receiving an excellent foundation in economics, I developed a larger perspective and a greater resiliency," says Moose.
"Having a doctorate from Harvard proved to be a valuable credential in itself to open doors for me as one of very few women in business."
As an alumna, she found Harvard was a place that welcomed change. And she has given back with decades of volunteer service, including leadership roles with the Graduate School Fund and the Graduate School Alumni Association Council. "I've been so pleased with the receptivity and responsiveness of Harvard to enhance graduate student life," says Moose, citing improvements such as the English as a second language program, advising, career counseling, and fellowships.
This work inspired Moose and her husband, Eric Birch '63, MBA '66 (who passed away in 2018), to establish a bequest to support the Graduate School into the future. The couple felt the lasting impact of a bequest was a nice complement to their giving, which also included support for House Renewal and a dissertation completion fellowship. "We made this legacy gift because we wanted to help graduate students, who greatly enrich the academic experience of the undergraduates" explains Moose, who also makes an annual gift to Harvard.
"I hope that our bequest helps Harvard continue to attract the best and the brightest students," she says. "We want to ensure that they have the resources they need to achieve in their fields and to resolve some of the most important issues facing society."
Moose makes a point to return to Cambridge to help BCG with recruiting and to participate in fireside chats at the GSAS Student Center (formerly known as Dudley House). "Harvard widened my horizons and helped me to develop valuable professional capabilities, as well as life skills to succeed. I gained a measure of confidence and learned to find ways to add value in all that I undertake," says Moose. "I feel so grateful for the degree."
---
This story is featured in the Fall 2020 issue of the John Harvard Society Newsletter. For more information about bequests or planned gifts, please contact the Office of Gift Planning: ogp@harvard.edu.