By Katie Catulle '24
In high school, I struggled in AP Environmental Science. Perhaps it was because, in my small mountain town, climate change was framed as an unsettled debate. Or perhaps as more of a humanities person, I didn't feel connected to the subject. Yet three years later, I found myself on the second floor of the Phillips Brooks House discussing climate writing through the lens of a mountain town not entirely unlike my own.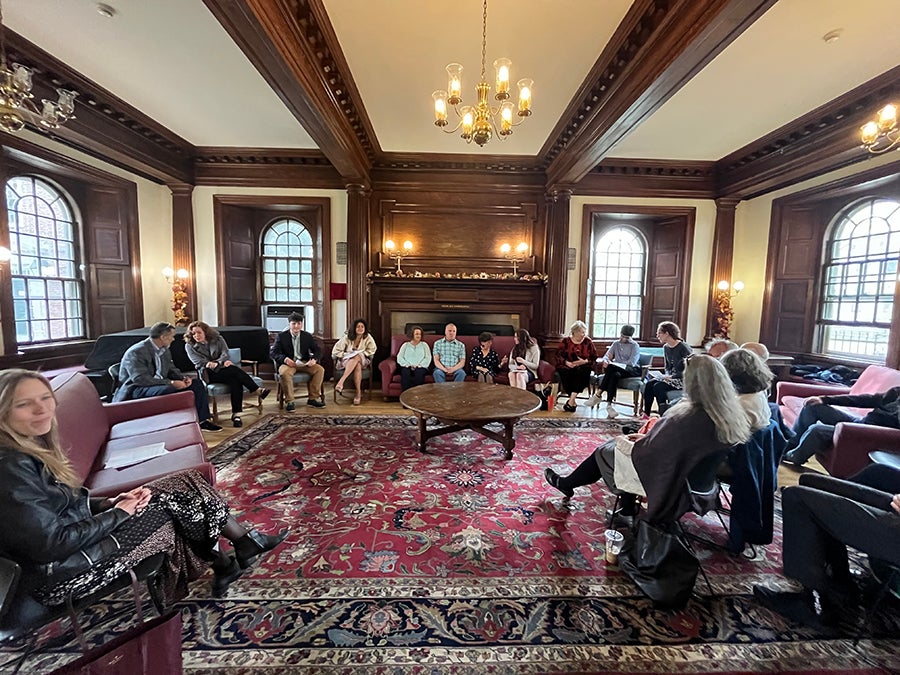 I was drawn to "Storytelling: Hazards and Possibilities," a working group in the Mindich Program in Engaged Scholarship, because of its emphasis on storytelling for climate awareness and justice. Twice a month, a group of undergraduates across concentrations, class years, and backgrounds came together to discuss the importance of storytelling in climate writing with Kerri Arsenault, American Democracy Fellow in the Charles Warren Center for Studies in American History and award-winning author of Mill Town: Reckoning with What Remains.
We met on Friday evenings, which marked us as the "nerdiest of the nerds," Arsenault lovingly teased. Sitting around the table, we discussed her book, along with other examples of effective climate writing on our quest to decipher how storytelling can breathe life into scientific facts locked behind paywalls and jargon.
Launched in 2016 through a gift from Eric '88 and Stacey Mindich, the Mindich Program in Engaged Scholarship prepares students to thoughtfully commit to public service through deeper understanding and engagement with complex social problems. Nearly 30 classes were included in the Mindich Program last semester, in addition to other academic programs—such as Arsenault's storytelling workshop—with a community engagement focus.
The workshop challenged us to not only think about how to make scientific facts more accessible but also to expand our definition of climate storytelling. Arsenault described the challenges of combating pollution from the paper mill industry nestled within the complexities of her community in Mexico, Maine, which has its entire economy around the mill.
"I am always tempted to snatch a bunch of books off the shelves and put them together under 'environmental stories' as if they were friends having a conversation, because that's what I see these books trying to do," says Arsenault. "They are not just having a conversation about ecology, society, and landscape and how those things connect—but are also having a conversation with readers, because that's what well-written stories do."
Participant Aeden Marcus '23 learned that though climate writing is not widely discussed, that doesn't mean it doesn't exist.
"So many of the stories that we already have, that we are already telling each other, are stories that are deeply tied to climate," she says. "Stories of moving away from home, or falling in love, or building a sandcastle—all of these can also be stories about the climate or environment."
As an Environmental Science and Engineering concentrator, Aeden Marcus was drawn to a program that offered a different perspective on her studies.
"I felt like I was missing the humanities angle on climate," she says. "I've always valued stories as a powerful tool to share experiences and learn from others, and so I jumped at this opportunity."
The Mindich storytelling program offered a bridge between often delineated fields: science and the humanities.
"People can't connect emotionally to statistics unless those statistics happen to them," says Arsenault. Instead, stories can make those statistics resonate. "If there's one thing we have learned over the past few years—especially on the daily news—data and facts don't change anyone's minds. Stories do. So why not use narrative and tell a better story than industry or climate deniers or politicians?"
The program culminated in a roundtable event, "Meet Mill Town," where members of Arsenault's workshop helped moderate a discussion with guests from Rumford and Mexico, Maine, settings from her book. The discussion revolved around questions of community and relationships to a place, environmental justice, and the power of storytelling.
As Arsenault says, "to get at the heart of storytelling, we summon the brain and the heart, by paralleling the complex systems of both."
Climate writing is part of preserving the future just as much as recycling or using energy saving lightbulbs or planting trees. When discussing plans to save our planet, writers must be part of that conversation.
Katie Catulle '24 is an English concentrator in Adams House.