Susie DeLellis Petruccelli '96
Kirkland House
Environmental science and public policy concentrator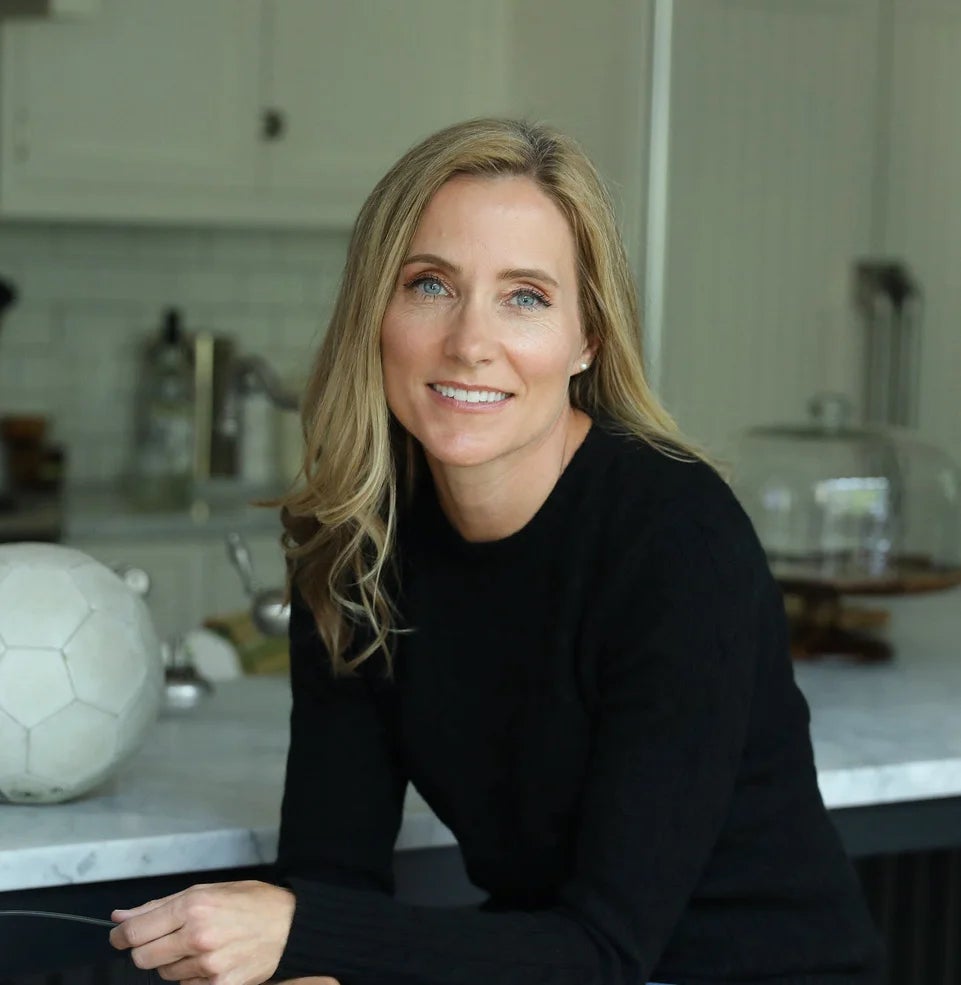 Susie DeLellis Petruccelli '96 and her twin, Katherine DeLellis Henderson '96, grew up in a house where trophies lined the mantels. So, as a little girl, Petruccelli dreamed of playing football and baseball like her father, grandfather, and brother had. She quickly learned there weren't spaces for her on those teams. She remembers feeling visible for the first time when she tried out for soccer and was handed a uniform. Playing the sport changed her life. It led her to Harvard, where she became captain of the women's soccer team and met her future husband, Armando Petruccelli '99. And since those days on the field, she's become a passionate advocate for girls and women around the world who are denied opportunities in sports and life. The author and documentarian's most recent film project follows women wanting to play soccer in six different countries. This fall, Petruccelli has joined the Weatherhead Center's Global Sports Initiative, where she'll research the prize gaps between the men's and women's FIFA World Cups. Read how her experiences on the sidelines have made her a powerful amplifier for female athletes around the globe.
What role did soccer play for you at Harvard?
My sister and I were recruited by some great schools. When we got the letter from Harvard, we were jumping up and down, screaming. It was an incredible feeling. I'll never forget it. Going to Harvard was the best decision I ever made. I met the most amazing people there, and the soccer team became my family and safety net. My husband played on the men's team, so we are fortunate to have friends that span a bunch of years and both teams.   
I've been trying to pay the program back ever since. I encourage everyone to get to their games and be fans of the incredible young women on the Harvard women's soccer team. Like all the amazing students at Harvard, these people are just so impressive. It's impossible not to be inspired by them. If you're looking for role models for your kids, read about these players.
You said wearing a team uniform gave you a sense of belonging and purpose. What happened when you found yourself injured your sophomore year?
I made a regular kick during a preseason workout and felt something tear in my right quad. Walking off the field, I knew something was wrong, but I didn't know how bad it was. I was told it would take two to three weeks to recover, but it just wouldn't heal.  
It was a hard time, but I'm grateful for it now. It taught me so many things that I wouldn't have learned otherwise. Being sidelined from your joy, your passion, your identity, your life's purpose—in sport or in another part of life—is always going to be hard but it's just another part of the human experience. It shaped where I am now and started to help me get an important perspective.  
And how did you come back from that?
After sophomore season, I went to see a sports medicine doctor who worked with college football players. He showed me my MRI and said it was lucky that soccer wasn't the most important thing in my life. There was an experimental surgery to repair this muscle, but they only did it on elite athletes, so he said I didn't qualify.  
So even though I was a Division-1 college athlete, I wasn't an elite athlete to him. This experience helped me begin to see the world more clearly and planted the seeds for the work I do now. In the short term, I had to grow up, get over my disappointment, and move on. I had to find a way to adapt my game to my new body. In the end, winning the Ivies as a senior co-captain with my teammates who pulled me through the hard times was pretty darn special and is what eventually became the basis for my book.  
You wrote about these experiences in your book Raised a Warrior and were involved in several indie films and documentaries on women in sports. What led you to become a storyteller and advocate?
I felt like something was missing. I grew up watching sports movies like Hoosiers, Rudy, Chariots of Fire, and Field of Dreams. My dream was to contribute to that genre with a movie about a women's team that was funny, full of surprises, with all the highs and lows, the downfall, and the comeback. But I kept being told that no one was interested in a women's sports movie. I couldn't understand why they insisted on calling it a women's sports movie instead of just a sports movie. Why were they different? But I started to look for these stories and found them in documentaries on Billy Jean King and Title IX and the trailblazers who were opening up sports to women.  
I spent the next 10 years learning about the lives of women and their access to sports. The more I read and watched, the more I realized that women's sports have a totally different timeline than men's. For most of the 20th century, women's soccer was banned in powerful countries—England, Germany, and Brazil—essentially because it was starting to grow. The English Football Association barred women from even using their fields and penalized people who refereed their games. Brazil made women's soccer illegal.  
I started to see that people saying no one wants to watch women's sports or read about it was part of something much bigger. Women's sports are not less entertaining or less valuable intrinsically. It's behind men's sports because of real obstacles that have been intentionally put in our way. I'm doing what I intended to do, but I'm working around the setbacks. Not unlike my path on the field. 
Your most recent project is a collaboration with Kely Nascimento (the daughter of famed soccer player Pelé). Can you share more about the Warriors of a Beautiful Game documentary?
Kely and I are looking at what women's professional football (soccer) looks like in six different parts of the world. In our research and travels, we've learned so much about gender gaps in global football in respect, access, infrastructure, media, marketing, investment, pay, and safety. We've learned from the incredible experts in the world of sport development that closing these gaps in football has the power to close gaps for women and girls everywhere—not just in sports.  
Why do you think playing sports is so empowering for women?
Sports are empowering in too many ways to count. If a girl is playing sports, it means on some level, she is in the driver's seat of her own life. We need more of that. When girls choose sports, there is a trickle-down effect on their confidence and autonomy. It's so much more than just mental and physical health. It's the ability to make your own choices about your daily schedule. It's about freedom. It's independence.  

To keep it in sports terms, we either allow ourselves to be put on the bench and kept to the sidelines, or we stand up and change things. We are at a moment in history where we can't be silent or complacent. If we accept being paid or valued lower, we are setting that example for our daughters. And our sons too. And to me, that means we will have failed them.  
As we celebrate the 50th anniversary of Title IX, what are your thoughts about our progress for women?
Title IX was revolutionary—I was on a panel this week where a journalist from the U.K. said every country needs a law like Title IX. Every girl deserves a law protecting her access to education and sports. There has been so much progress. But we have a long way to go. Here in the U.S., scholarship money isn't even close to equal yet. There are still more opportunities for boys.  
Is this why you stay so engaged with Harvard?
I'm so proud to have been an undergraduate and to have played on the soccer team. I've stayed connected through the Varsity Club and the Athletic Department. I love being part of the Friends of Harvard Soccer and I also love the work that the Radcliffe Institute is doing. I'm continually inspired by what the Harvard community is doing and that keeps me very engaged.  

I'm also starting a visiting fellowship at the Weatherhead Center for International Affairs this fall with their Global Sports Initiative so that has me engaged in a really exciting way. I'll be researching the vast and still growing gender prize gap between the men's and women's FIFA World Cups. There is momentum around equalizing prize money at every level, so I'm hoping what I'm doing will help.     
Photo by Francesca Petruccelli