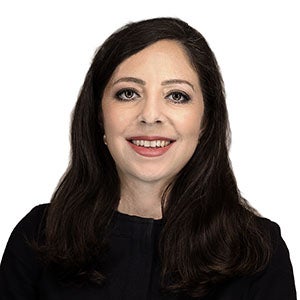 Melissa Blair Fisher '94, MBA '98 always knew she wanted to make a bequest to Harvard. She consistently donated for annual and reunion fundraising but it was her 25th College Reunion that inspired her to start planning a bequest. "I always light up when I think about my time at the College," she says. "It was a place where there was so much freedom to explore new ideas and friendships. It was an incredibly warm and supportive environment." 
When thinking back to her days in the Yard, Fisher recalls Kirkland House friendships and time spent in government classes with faculty like Harvey Mansfield '53, PhD '61, William R. Kenan Jr. Professor of Government, and mentors at Harvard Kennedy School like Robert Glauber '61, DBA '65, adjunct lecturer in public policy (who passed away this February). "Taking classes through the Kennedy School inspired my senior thesis, which was on government regulation in the treasury market," says Fisher. 
This exploration marked only the beginning of a fascination with the world of finance. Her love for Harvard led her to return for business school where she went on to earn her MBA, after which she pursued a career in investment banking, working with software clients at Goldman Sachs and Bank of America Securities. After 15 years, she found herself wanting to make a bigger impact and took on chief financial officer roles, most recently at Outreach Inc., a leading sales engagement software platform. 
"Harvard changed my life in ways I can never repay. I've made lifelong friendships and became a better critical thinker and citizen of the world. Making a bequest is the least I can do." 
Many donors include Harvard in their wills or estate planning as a way to make a significant contribution for the benefit of future students. Fisher decided to create an unrestricted bequest to help the College make the best use of her gift. "I hope that it helps Harvard continue to be a place that pursues intellectual debate and honest discussion of ideas that facilitate friendships and knowledge." 
She sees estate planning as a complement to her annual giving. "It's important to show the School how appreciative you are," she says. "By participating every year, you are showing your commitment." Fisher remains an active member of her Harvard community. "I've always imagined Harvard would be a big part of my life," says Fisher, who volunteers as a Class fundraiser and was grateful to have had the chance to get together with her classmates in 2019. "It feels like nothing has changed," she says, "We're still at heart the same 20-year-olds we used to be." 
---
For more information about making a bequest to Harvard, please contact the Office of Gift Planning.