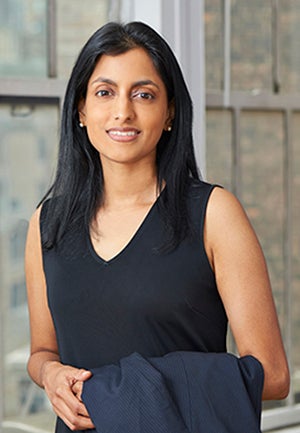 Sarita James '98 has been a business executive, government official, and most recently, entrepreneur and writer. And she credits her Harvard education for helping her navigate all of these worlds.
"I fell in love with Harvard because science is deeply valued and, at the same time, students are encouraged to be well-rounded," says James, who was a computer science concentrator.
Harvard was just the right place for James, who as a teenager won the 1994 Intel International Science and Engineering Fair with a speech recognition software project. She was also interested in writing and volunteer work.
She was thrilled to learn not only from the computer science faculty who had taught Steve Ballmer and Bill Gates, but also to study Shakespeare with Marjorie Garber and take music composition with a professor whose work was performed by the Boston Symphony Orchestra.
James took introductory computer science courses as a freshman and was hooked. She proudly earned her "I Survived CS50" T-shirt and later became a teaching fellow for the class.
"Some of my happiest memories were working in the basement of the Science Center, staying late into the night with my classmates," says James, who was a resident of Lowell House.
Other seminal experiences were the chance to work with Brian Kernighan, a one-time visiting professor and co-author of the first book on the C programming language, and to study under mentor Harry Lewis, now interim dean of the Harvard School of Engineering and Applied Sciences.
"I really admired Dean Lewis," James says. "He was both my computer science thesis reader and my friendly adversary when it came to budget negotiations for student programming." At the time, Lewis was the dean of Harvard College and James was student co-chair of the Harvard Foundation for Intercultural and Race Relations, the umbrella organization for minorities on campus.
After graduation, James spent a summer teaching computer science in Zimbabwe with computers donated by Harvard students and faculty. She went on to a product development role at Microsoft Corporation, where her work was awarded two patents. She earned her MBA from Oxford University's Said Business School, and later worked at McKinsey & Company where she advised technology companies. She then took on senior roles in the public sector—running the domestic microloan program as a White House Fellow during the Obama administration, and leading the strategy and policy division of the New York City Economic Development Corporation during Mayor Michael Bloomberg's second term.
James gained an insider's view of entrepreneurship from her husband, Vishal Garg, who she met in New York.
"Vishal took his first company public at 25," James said. From him, she learned how to find balance through the ups and downs of entrepreneurship. "One of his ventures went bankrupt the week before our wedding after its primary bank partner folded during the financial crisis. Fortunately, Vishal was still in good spirits on our big day!"
In February 2015, James was named president of Embark, a software company that helps universities and fellowship programs with admissions: recruiting students, collecting online applications, and managing the online review process. To date, Embark has powered over 13 million student applications from more than 150 countries. Prominent client institutions include Harvard, the Rhodes Scholarships, the Fulbright Program, and the University of Amsterdam.
"I love our goal of connecting people with educational opportunity," she says. "We are very much a for-profit business, but the staff takes pride in advancing the social and educational missions of our clients."
Her own undergraduate experience is an ever-present influence. "I want the culture at Embark to be similar to Harvard's—filled with people who are passionate about their work, but also nurturing of their other interests. These employees are more relatable to clients and often more fulfilled," she says.
One such employee has been Jacqui Rossi '12, who was selected as her class's student commencement speaker and performs comedy when she is not working with university clients at Embark.
One of James's other interests is her work on a memoir. A parent of two boys, James has written for the New York Times about her experiences "growing up as an Indian in Indiana." She also has contributed a chapter to the book Girls and Young Women Inventing, and has served on the board of the Asian American Writers' Workshop. She is represented by The Wylie Agency, a prominent literary agency that also represents Salman Rushdie, her favorite author.
"I used to write down stories for myself when I was a little girl, so I'm still pleasantly surprised to see readers engage with what I publish," she says.
She credits Harvard for these opportunities, but also her approach to them. "Harvard really influenced me to explore multiple interests at the same time. Sometimes one doesn't distract from the other, but gives it new strength," she says.
Photo credit: Lisa Berg