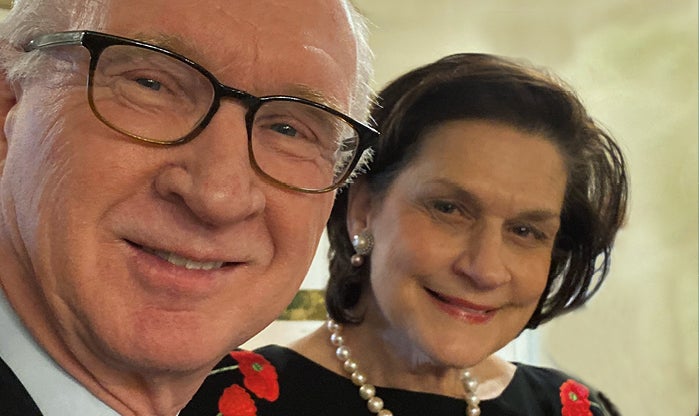 Thomas N. Keltner Jr. AB '68 found a way to blend family financial planning with long-term support for the Radcliffe Institute for Advanced Study.
For Tom Keltner AB '68, coming to Harvard as an undergraduate from Oklahoma transformed his understanding of the world and sparked a lifelong love of learning. 
"Harvard was an intellectual and cultural awakening for me," says Keltner, "and a place where I formed lifetime friendships."
After graduation, he served stateside as a U.S. Naval officer for two years during the Vietnam War, then set out for Columbia Law School in New York City. Keltner didn't expect to stay, until he fell in love with another Oklahoman-turned-New Yorker—Paula, now his wife of 48 years.
They have remained in New York ever since, raising two daughters: Katherine, an artist, and Jane, style director at Architectural Digest, each now raising the next generation of the Keltner family in New York.
Keltner began his career at a Wall Street law firm before moving to a private real estate company where, in a 42-year career to date, he became a partner and general counsel, then helped take the company public as Empire State Realty Trust. When he became more focused on estate planning, he wanted to show his gratitude for the career vision Harvard had given him.
With expert guidance from the University Planned Giving team and Radcliffe's development staff, he and Paula decided to give a blended gift to Harvard—a permanent endowment through a charitable remainder trust, plus a pledge of annual giving to establish a dean's leadership fund at the Radcliffe Institute for Advanced Study, enabling the dean to have discretion in allocating all or a portion of the gift to Radcliffe's endowment as well as immediate-use priorities. This format allowed them to retain income during retirement, support annual operations, and ultimately increase the permanent endowment of a chosen mission at the University.
"I was trying to maximize the impact I could make to a cause I believed in and still be conservative in my planning," says Keltner. "This is a way of embracing Harvard, of feeling like I'm part of the community again."
Opening Opportunity
Inspired by his daughters, he was drawn to Radcliffe College's history of opening doors to women and its evolution into the Radcliffe Institute for Advanced Study. Today, the Institute remains a catalyst for intellectual and cultural leaders across many fields, who further Radcliffe's historical mission of unlocking opportunity to those who aspire to new achievement.
Keltner's friend and classmate Susan Wallach AB '68, JD '71 helped him understand Radcliffe's mission and impact. A longtime supporter of the Radcliffe Institute along with her husband, Ken AB '68, JD '72, Wallach has served on the Radcliffe Dean's Advisory Council since its inception and is the current chair. Keltner's respect for her commitment and achievement there motivated him to center his giving on Radcliffe and its fellowship program.
Since 1999, Radcliffe has awarded over 1,000 fellowships, hosting leading scholars, scientists, artists, and practitioners from around the world for a year in residence as a community. "The fellowship program builds bridges," Keltner says. "It reaffirms the value of human interaction on a human scale in a world which today sometimes tilts toward digital isolation."
Leadership Guided by Empathy

 
Keltner was also impressed by the leadership of Tomiko Brown-Nagin, dean of the Radcliffe Institute for Advanced Study, Daniel P.S. Paul Professor of Constitutional Law at Harvard Law School, and professor of history in the Faculty of Arts and Sciences.
"I believe her goals are rooted in what she has learned through empathy for others, always with the discipline of a brilliant legal scholar and historian," he says. Her authenticity and unselfishness, Keltner continues, solidified his decision to engage with Radcliffe on a deeper level.
As a recent addition to the Radcliffe Dean's Advisory Council, Keltner values the opportunity to hear from University leaders on initiatives at Harvard, Radcliffe, and beyond. The Council gathers for dinner and lively exchange in the dean's home before a full agenda of meetings the following day—all continuing in virtual format during the pandemic.
Keltner is proud to support Harvard's work and grateful to those who encouraged him to get involved. "The culture I see at Harvard and the Radcliffe Institute is one of engaged and curious thinkers—purposeful yet open. It's helped me to understand how privileged I am to have spent formative years at Harvard and now to be part of it again," he says. "It's an inspiring community."
---
This story is featured in the Winter 2020 issue of the Gift Strategies Newsletter. For more information about charitable giving techniques, please visit our webpage or please contact us here with any questions.