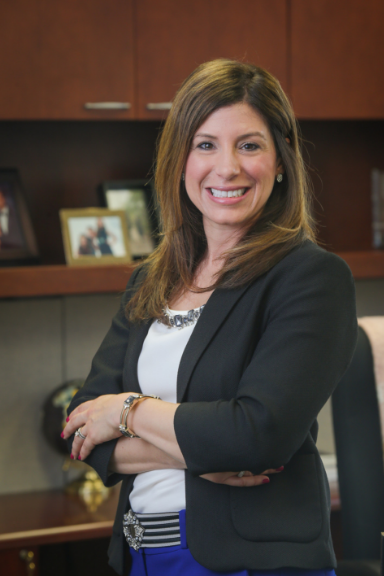 Before she was president and chief executive officer of Metro United Way, which serves seven counties in Kentucky and Indiana, Theresa Reno-Weber MPP '08 was the first chief of performance and technology for Louisville Metro Government. As head of the Office of Performance Improvement & Innovation, the Department of Information Technology, and the Department of Human Resources, her team helped launch the internationally recognized LouieStat performance platform that tracks progress on operational goals. She has spoken globally on the subjects of performance management, data-driven decision making, and culture change.
Here, the former U.S. Coast Guard lieutenant shares why supporting Louisville is important to her and the impact Metro United Way is making for families in her community.
Why is serving the city of Louisville so important to you?
At my core is a desire to leave any place I am better than I found it, whether it is the organization in which I work or the community in which I live. My work with Metro United Way allows me to do both.
Everything we do is focused on improving the community around us. It is the community in which I live and am raising my three children in, so it is very personal. I want my own children to grow up in a strong, vibrant, healthy community where every person has the opportunity to thrive, not just survive. I also believe that what we are doing in Louisville can be a model for the rest of the country. The smaller size of our community makes it possible to truly wrap our arms around the problems and drive to solutions that can create population-level impact. However, we are still large enough that our interventions can translate to other metropolitan areas.
What do you tell people to inspire them about Metro United Way?
Think of an orchestra—every musician is a master of their instrument and could wow an audience on their own—however, when they come together in concert, they can play a symphony that is more complex and more powerful than anything they could do on their own. 
At the front of an orchestra is a conductor, making sure the whole is working together, lifting up each musician at the appropriate time for the greatest impact. Metro United Way is our community's conductor, coordinating a network of human service organizations that, together, solve complex problems and create powerful impact.
There are a lot of organizations doing great work. Metro United Way works with them to reduce duplicated efforts and identify unfilled gaps. We do more than just fund our partners. We align them around shared community goals and mutually beneficial work. We provide them with research, data, and best practices to enhance and strengthen their impact, and we connect them to volunteers. Our goal is to be a powerful catalyst producing better results faster. 
Can you tell us about a time when Metro United Way changed the life of a member of your community?
So often people think of nonprofits as helping those with the least among us, living in the worst of conditions. And while we definitely work in support of those just struggling to survive, we also support those who may appear more secure. This is the story of Victoria, who works on our team, and her son, Kane.
When Kane was two years old and at his first childcare center, Victoria was told within the week that her son might be autistic. Because Kane's responses were nonverbal in nature and he often withdrew from classroom participation, the staff assumed he had a learning disability. After several tests in which the doctors confirmed Kane was fine, he continued to struggle at childcare; eventually the disappointing cycle of conflicting statements from different providers and physicians left Victoria at her wits end. Happily this changed when she enrolled him at the Children's Learning Center at Goodwill of Southern Indiana, a Metro United Way Excellence Academy (EA) early learning program—supported in partnership with Community Coordinated Child Care (4-C) and the Lift of Life Foundation—two of Metro United Way's partners.
After only seven weeks at this EA center, Kane started saying three-word sentences such as "I want drink" and "give me food," and also learned the alphabet, started pronouncing his colors, and was learning his numbers. With the support of the teachers, the classroom environment has motivated Kane to be more interactive with space, objects, and his classmates.
Victoria wasn't going to give up and allow Kane to become a statistic as a child not ready to enter kindergarten and neither were we. Research confirms that children with high-quality early care experiences, like those in our EA centers, score higher on measures of physical, cognitive, and socioemotional competencies compared to their peers. Metro United Way knows that this early start with kindergarten readiness is critical to a child's academic and lifelong success and we are providing access to these high-quality centers to kids across our community. The work of Metro United Way touches one-in-three people in our region. Those who support our work are giving to support their neighbors, their co-workers, their friends, and their families.