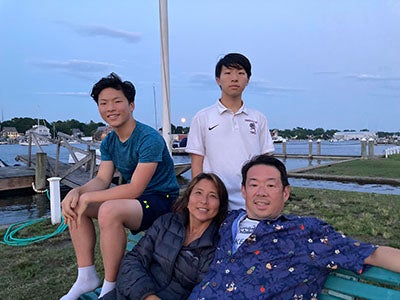 Peter Kyunghwan Kim '91 and his wife, Sarah, have always wanted to give back to Harvard. His College experiences continue to shape his life and he is grateful for the lifelong friendships he made. "I talk to my roommates frequently," he says. "Harvard put us together as a group and it really worked out."
When Harvard successfully defended its admissions practices in a lawsuit alleging Asian American discrimination, Kim wanted to make a gesture of support. "I really value how [Dean of Admissions and Financial Aid] William Fitzsimmons '67, EdM '69, EdD '71 described how they select people for Harvard," says Kim. "I feel lucky that I was selected. I am so appreciative."
Kim's undergraduate experience included concentrating in biochemical sciences and becoming editor-in-chief for Yisei Magazine, a publication spearheaded by Korean American students at the College. After Harvard, he became a general surgeon who also performs cancer and trauma surgeries. He and his wife, a gynecologist, both teach residents and medical students and live with their two children, Jason and Thomas, in Pelham, New York.
In weighing their philanthropic options, they reached out to the Office of Gift Planning for advice and settled on establishing a charitable remainder unitrust (CRT). "We want to make a contribution, but at some point in the future," says Kim. The CRT offers donors quarterly income for life, tax savings, and the chance to make a meaningful impact on Harvard's research and teaching.
"Working with OGP was so helpful. They really created a personalized experience for us, particularly as first-time donors."
He and his wife decided on a 10-year CRT. "Harvard will get the money sooner than my lifetime, and we could direct the money toward programs that interest us," says Kim. "There was also a significant tax deduction that came with it. The shorter the period of time for the trust, the bigger the tax benefit, especially for those of us still working."
Kim likes the idea that the gift could be unrestricted and used for whatever the current administration feels they need. He also thinks about dedicating support for future undergraduates. "Encouraging social consciousness is really important to me."
Above: Peter Kyunghwan Kim '91 and his wife, Sarah, with their two boys, Jason (left) and Thomas (right). Photo by Alice Kim.  
---
This story is featured in the Fall 2020 issue of the John Harvard Society Newsletter. For more information about bequests or planned gifts, please contact the Office of Gift Planning: ogp@harvard.edu.