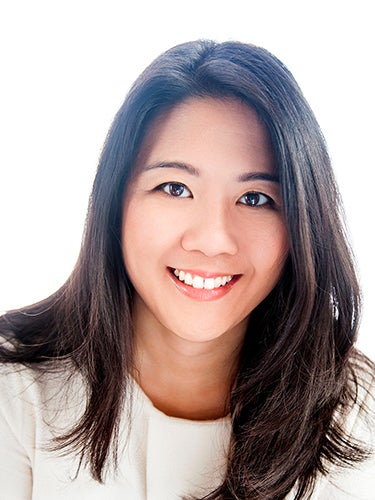 Walking into Harvard's Financial Aid Office changed her life, says Angela Sun '96, JD '01. She had fallen in love with the College during a weekend for admitted students but worried that she wouldn't be able to attend. Another school had offered more financial aid, which would put less of a burden on her parents.
So she asked if Harvard could offer her more support. "Within minutes, Harvard told me they would match the package," recalls Sun. "I feel that everything I've been able to do, pursue, and give was started at that moment."
To pay it forward for future generations of deserving students, Sun has made several leadership gifts to mark her 15th and 20th Reunions and later endowed a travel and research scholarship. She also designated Harvard as a beneficiary of her will in her 30s, a relatively young age for such a long-term decision. "I wanted to ensure that the things I care most about would be included," she explains.
Sun cares deeply about increasing access. "If I can, in my small way, contribute to one person being able to attend Harvard and have the trajectory of his or her life changed, that's what I want to do."
After College, Sun worked at J.P. Morgan before attending Harvard Law School. She went on to work in the Bloomberg Administration as a senior policy advisor in economic development. She spent 10 years at Bloomberg LP as chief of staff to the CEO as well as global head of strategy and corporate development. She recently joined as COO and partner of Alpha Edison and lives a bicoastal life with her husband and daughter.
Devoted to Harvard, Sun volunteers as vice chair for her class's Reunion and as an alumni interviewer—part of a larger passion for philanthropy, which includes serving as a trustee on several nonprofit boards.
"My inspiration comes from my dad. He's the first philanthropist I knew," says Sun. She describes a lifetime of giving by her father, who has always set aside money for the homeless, his church, and virtually every charitable organization that solicits him. "He has a system that if he has a windfall, however small, he puts that money in his left pocket. Everything in that pocket is money he sets aside to top up what he gives to others." 
She believes you don't have to make big philanthropic gestures to change lives. "For me, giving isn't about how much you have or what you can spare. It's about gratitude and how you think you can use your life to touch other lives."

For more information about planning a bequest and suggested legal language, please visit our bequest/estate gifts page or contact the Office of Gift Planning.