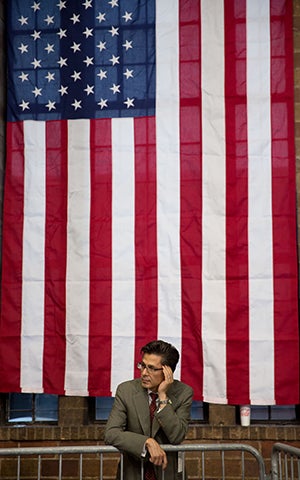 Jose Cerda III '88
Kirkland House
Government Concentrator
Jose Cerda III '88 believes government is a force for good. It's why he sought out ways to shape public policy in the offices of a congressman, senator, two presidents, and a city mayor. Ask Cerda where those ambitions first took root, and he'll say it was a last-choice course at Harvard and the faculty member who became his first mentor. When he moved to Washington, D.C., he knew no one. His determination—and Harvard networking—led him to a job in the Clinton White House and 12 years working in federal and city government.
These days, Cerda lives in Chicago with his wife and two daughters, where he works as vice president of public policy for IFF, a nonprofit community development financial institution. Learn why he's optimistic about politics, how universities are part of the long-term solution, and why Harvard is still part of his life today.
Why Harvard?
I grew up in Chicago, the child of recent immigrants, with little expectation of attending college anywhere but maybe a Catholic college in the Midwest. My older sister got it into her head—at a high school where no one had ever gone to Harvard—that this was her dream. Despite being discouraged by the principal at the time, she applied and got in. When I was a senior in high school, I went to visit her. I had never been anywhere like Harvard. It was eye-opening. It made me realize all the people she was meeting and new things she was learning, and I wanted that for myself.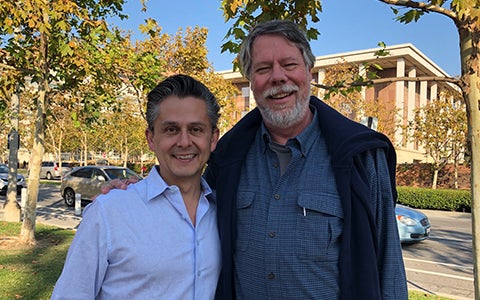 How did a last-choice class help shape your career path?
My sophomore year, I didn't get into the government seminar I wanted, and a friend recommended a class he had taken on congressional decision-making with Mark Peterson [who was then the Henry LaBarre Jayne Associate Professor of Government]. I hadn't even read the blurb on the class and had no idea who Mark Peterson was. But Mark took an interest in me, and I took a class with him every year. He became my thesis advisor.
At dinner with my family on the day I graduated, he told me that I was one of his best students and had done real political science, and that I should consider going to Washington. I've stayed in touch with Mark every year since the fall of '85 when I met him. And I've never made a career decision without speaking to Mark first. 
You took his advice and moved to D.C., where you received so many rejection letters you papered your bedroom wall with them. Why?
I was interested in working in Congress. But aside from another Chicagoan a year ahead of me at Harvard who was working on Capitol Hill, I knew no one. I started writing letters. I wrote to every member of Congress from my home state of Illinois, to everyone who represented a congressional district with a large Latinx population, and to anybody who had a connection to Harvard. 
I wrote 54 letters and was rejected by everyone—except for two people. Two congressional offices called me in to talk to me. They didn't give me a job, but they thought I was interesting enough to meet and were willing to give me some advice. I took a job in the evenings as a concierge and posted all those rejection letters on the wall in my room. I used them as motivation until I got my first job a few months later for a newly elected congressman from my home state. 
How did your Harvard connections lead to your first job working for a campaign?
After three and a half years working on Capitol Hill, I became interested in working on a presidential campaign. I started to knock on doors. As luck would have it, I ran into another Harvard classmate who had just started to work on the Clinton campaign. He and I had first met at an Institute of Politics event while still in college, but we had bumped into each other in D.C., too. He introduced me to Clinton's domestic policy advisor, who then hired me onto the Clinton campaign in Little Rock. 
You worked in two White Houses: as special assistant for domestic policy to President Clinton and as a deputy assistant to President Obama and senior advisor to Vice President Biden. How does that experience shape how you view politics?
When I arrived in D.C. in 1988, things were pretty polarized too. There were a lot of dead-end, left-right debates on a host of public policy issues. When President Clinton was elected, I was able to be part of an administration that started to reframe some of those debates and make progress on important issues that people hadn't made progress on in a generation. 
The reason I do the work that I do is because I believe government can be a huge force for good in the lives of ordinary people. These things go in cycles. We're in a really polarized period again—even more so than during the Clinton and Obama administrations—but with new blood, new leadership, and new energy we can start solving problems again. 
You left Washington to work for the City of Chicago, both in planning and development and then as a policy advisor to the mayor. Today, you are vice president of public policy for IFF, a nonprofit community development financial institution. Describe that work.
Community development financial institutions (CDFIs) raise public and private capital to deploy in communities that need investment. At IFF, we work with nonprofits to help them plan, build, and finance their facilities, such as childcare centers, schools, health clinics, housing, and more.  In other words, we invest in the community infrastructure many of us take for granted.  
How do you see your role in helping to advance public good?
The great thing about working in government is that when it works, the scale at which you can operate and make a difference is huge. The work I do now is smaller scale but more tangible. I'm still solving many of the same problems, but instead of working on national policy, I'm supporting individual projects in communities or groups of projects throughout the Midwest.
Because of IFF, every 10 to 18 months, there's a childcare center where there wasn't one before, or a community health clinic, or hundreds of affordable and accessible homes for people with disabilities. We're strengthening the social fabric one community at a time.
Does Harvard still play a role in your life now?
My best friends are my old roommates—we have been close for over 30 years now and still vacation together every summer. They continue to be an important part of my life and are one way that I stay tethered to Harvard. Also, the Class of 1988 has a huge Facebook group that grew out of the 25th Reunion. We've had hundreds of in-person mini-reunions on an ongoing basis over the last six years, including several in my home. Members of my class reach out for support or with questions on just about any topic through the group. In many ways, I am more connected to my class members than when I was an undergrad.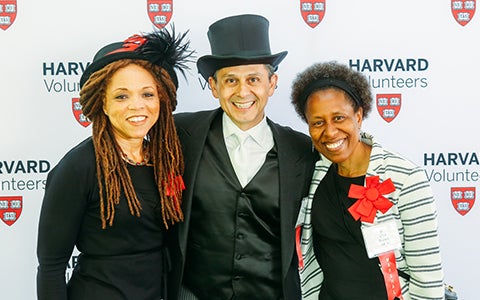 You are a loyal donor and volunteer to Harvard. What motivates you to give back?
I've come to believe that great universities matter and are part of the long-term solution to some of the challenges we are dealing with in society today. To me, Harvard is the greatest of them, but it's not just Harvard—it's universities like Harvard. Harvard is mine, and by investing in it as a volunteer, I feel like I'm contributing to the future. 
What kind of advice would you give Harvard students wanting a career in public policy?
Take risks now because you can. For me, taking a leap right out of college and trying something new paved the way not just for my career in public policy but for my whole life. If you're open to new opportunities and aren't looking for that linear career path, really great things can happen. And if you are lucky in your career and in your life, you will meet two or three people who take an interest in you and who will be willing to invest in you and teach you something. Embrace those opportunities, and they will shape your life in a really incredible and powerful way.