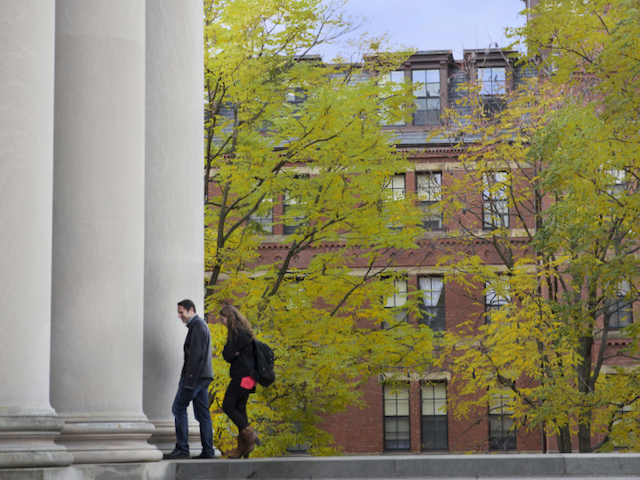 Inspired to give back in memory of his mother, an anonymous donor's gift supports future generations of Harvard Law School students while providing financial peace of mind.
Many years ago, a young woman tenaciously pursued an education and a career while raising her son—pushing him to dream big and raise his sights. Inspired to follow her example and achieve excellence, her son went on to attend Harvard Law School (HLS), where he learned from eminent legal scholars—including Archibald Cox AB '34, LLB '37, LLD '75, special prosecutor during the Watergate scandal—while working weekends as a truck driver, even delivering chairs to his own graduation ceremony. After earning his degree, he embarked upon a successful career in corporate law. Now he is honoring his mother's memory and the ideals of humility and charity that she lived by with an anonymous gift to provide opportunities for future HLS students.
"By the sheer force of her will and the values she instilled in me, she compelled me to aim very high," he says. "You work hard and do what you have to do. You push yourself to achieve."
Grateful for his extraordinary legal education, he began to work on a planned giving strategy with HLS at the forefront of his mind. He wanted a financial instrument that would reaffirm the commitment to giving back he learned from his mother and his faith.
Ultimately, he decided on a deferred charitable gift annuity for HLS—which he may later decide to designate in memory of his mother—as the right choice to help further the success of those seeking a top-notch legal education.
"It's important for those who have fared well to understand that there are people coming along behind us who deserve an opportunity," he says. "You can't forget what got you to the dance."
Charting Your Own Course
Thanks to his Harvard Law School training, he was able to create a life for himself that his mother had dreamed of—and now he looks forward to helping others find their own path.
"I owe Harvard Law School something in return," he says. "Without this education, I would have never had the opportunities I've enjoyed. The doors that were open to me would not have opened so readily," he continues. "And once those doors open, you've got to walk through them and get the job done."
He credits the generosity of those who came before him—whose gifts supported the scholarships that allowed him to succeed—as a compelling reason to pay it forward now. He is also inspired by Harvard's commitment to a fair admissions policy that gave him an opportunity to matriculate to HLS as a minority student. It wasn't about the standards being adjusted or compromised, he says, but a process that was applied consistently to everyone. His decision to give was motivated in large part by wanting to ensure this policy is continued.
"Whether you want to work in the corporate sector or a legal clinic, teach or go into public service, Harvard Law School gives you the ability to use your education to chart your own course."
Now that his career has been well established, he says, it's time to take stock of his priorities and how he can give thanks to the institution that has given him so much.
"People don't have to wait until they leave a legacy in their will to make an impact," he says. "This is something you can do now to make a difference. If each alum gives back a little bit, it helps pave the way for younger generations. And if you want a world where merit and perseverance are rewarded, you've got to fund it."
---
This story is featured in the Spring 2021 issue of the Gift Strategies newsletter. For more information about charitable giving techniques, please visit our webpage or please contact us with any questions.