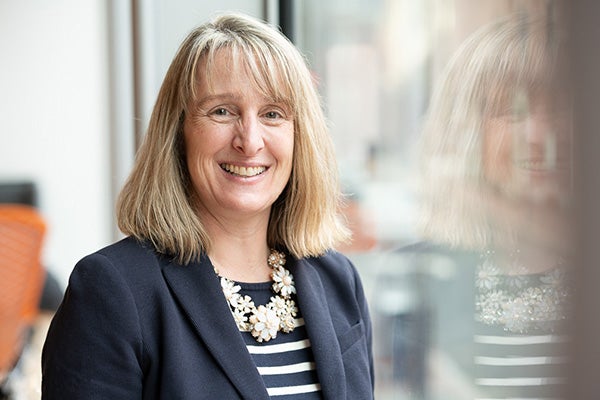 For Caitlin Murray O'Connor '92, her days sailing on the Charles were some of her favorite at Harvard. It was on the Harvard Sailing Team that she first met her husband Paul O'Connor '89; when he was her skipper and she was his crew. "Harvard Sailing was our everything," says O'Connor of the tight-knit team. "And the College made that experience possible." 
O'Connor's Harvard was also where she met roommates and classmates that became lifelong friends and a place that gave her four years of intellectual and personal development. In gratitude, O'Connor and her husband have planned a bequest to Harvard College.
The bequest enabled the O'Connors to make a meaningful gift at this stage of their lives. "We're raising four kids, all of whom are still at home," she says. "A bequest allows us to take advantage of a longer planning horizon."
"Paul and I believe that Harvard College brings together people who are giving their gift to the world, to make it a better place," she says. "It inspires us to give our time, talent, and treasure to the College, so it can continue its mission."
After years of living far from Cambridge, including time in Seattle and Cincinnati, the O'Connors settled in a town outside of Boston, where they've lived for the last five years.
 Her proximity to the Yard means that O'Connor has been able to reconnect with Harvard even more. Even as a busy mother and part-time entrepreneur, she makes time to volunteer as the John Harvard Society chair for her class and as co-chair of Friends of Harvard Sailing. 
She especially loves the chance to return for reunions. "I always love connecting with people I've known, but also getting the chance to meet people I didn't know as a student," she says. "I am delighted that the College provides this fantastic opportunity to meet people in my own class and across the years and decades."
For more information about planning a bequest and suggested legal language, please visit our Bequest/Estate Gifts page or contact the Office of Gift Planning.