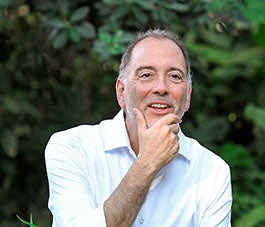 Nathan Leight '81, P'21
Sociology Concentrator
Dunster House
Nathan Leight remembers what it felt like when he first came to Harvard: eye-opening. A first-generation college student from a public school in Miami, Leight was fascinated by the diverse opinions he discovered here. He initially went on to a career in Wall Street but was drawn to entrepreneurial ventures, finding ways to fuel his creativity by investing and building new companies. His latest is The Juice, an educational technology company with a mission to make students better critical thinkers. A reunion volunteer and financial aid donor, Leight now lives in Coconut Grove, Florida, with his family. He shares why he thinks new perspectives and empathy are key to engaged citizenship and how Harvard paved the way for his ambitions.
What was your path to Harvard?
My father didn't go to college, so when he realized I was capable of going, it became a game to see where I could get in. The kid I most admired went to Harvard. And I wanted to be just like him. My first Harvard experience was the Summer School, and when I was accepted to the College, there was no doubt that's where I wanted to go.
What surprised you about coming to Harvard?
Everyone else seemed better prepared. I didn't appreciate the differences in high schools until I went. Meeting kids from all over was amazing—I couldn't believe how smart they were. I remember my freshman roommate taking apart a broken watch. He had never done it before, but he fixed the watch. It was the experience of being around a diverse group of people who had interests in fields that I didn't know anything about before getting there.
What's the thread that brought you from Harvard Student Agencies (HSA) to Wall Street?
I am the oldest child of an entrepreneur. I heard the good and the bad around the dinner table while growing up and understood the cycle. While I was at Harvard, I spent a lot of time at HSA. I created an agency, which used to be called Harvard Student Resources, that was a great confidence builder.
After Harvard, my first job was as the analyst for the CEO of a Wall Street firm. Three years later, I helped create a hedge fund. I had this wonderful seat to see the entire investment landscape. And I loved the daily feedback on our investment decisions.
Your career has ranged from asset and hedge fund management to venture capital and private equity investing. What do you like about building new companies?
Creating and financing companies became vehicles for expressing my creativity. I really enjoy the learning and discovery. I like making the mess and creating order, and the journey from conception to commercialization. I launched Terrapin Partners in January 1998. We've had plenty of zeros but have also had success in fields as varied as software, agriculture, medical devices, financial services, specialty construction, and commodity manufacturing. Three years ago, we launched The Juice, an educational platform designed to make students better critical thinkers. As a father of four, I have found that The Juice has captured my heart and mind.
What inspired you to create this new learning platform?
It's bothered me that we seem to be in a post-truth world, where facts are treated as opinions. I feel like we lost news and replaced it with commentary. We've ended up with a duopoly of thought: we're either members of the blue team or the red team. 
Information is available in a couple of keystrokes, but so is the noise. When you start asking your kids, "How do you get the news today?" you hear that it's from social media, TikTok, and Facebook. We can help teach children to decipher the noise from the facts. Our goal is to teach children how to think, not what to think. 
What's the company's mission?
How can we be better citizens? Create more civil discourse? Follow the golden rule? True critical thinking and civic engagement require empathy. One of the ways to be most empathetic is to hear different perspectives. This is woven into the fabric of what we do. 
How does The Juice work?
Current events are our Trojan horse, so to speak, to teach our kids how to be better critical thinkers. Every day, we provide four current events stories at differentiated reading levels. Each issue has an infographic—we think numerical literacy is incredibly important—as well as vocabulary aids and a life-hack video focused on STEAM (Science, Technology, Engineering, Arts, and Math).
In 10 to 20 minutes, a student can read unbiased news, interact with informational text, practice digital media literacy skills, answer standards-based questions, practice reading comprehension, and sharpen critical thinking skills, all while becoming smarter about our world. 
What are you most looking forward to in 2021?
The fast and equitable distribution of the vaccine. And the use of The Juice by as many educators as we can reach. If you're a school with underfunded resources, you get The Juice for free. Nonprofits are using The Juice every day in ways that we never imagined.
You've established support for undergraduate financial aid. Why do you give back?
Harvard changed my life. I came from what I thought was a fine public school to learn there was another world out there. The experience opened my eyes to the journey of the mind. What lit my fire was learning how to ask questions and become a good listener. I also made the deepest and most meaningful friendships I've ever made while I was there. I'm forever grateful for that.