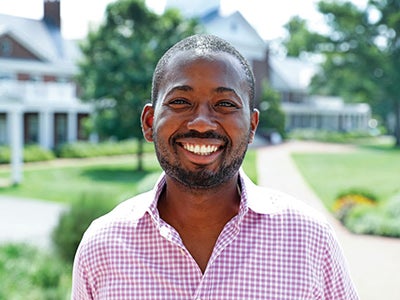 Sangu Delle '10, JD '16, MBA '16 was used to being the face of success. Everything he tried, he excelled at—as a student, entrepreneur, investor, and writer. Always driven, he dreamed of going to Harvard as a six-year-old living in Ghana. Decades later, he has degrees from Harvard College, Harvard Business School, and Harvard Law School, and has cofounded nonprofit and business ventures from his dorm room and beyond. It wasn't until a business deal went awry that he found himself grappling with what it meant to fail. A natural storyteller, Delle shared his struggle with depression on the TED Talk stage in 2017. Learn how he became an advocate for mental health, at Harvard and around the world, and what he hopes to do next for Africa. 
When did you first set your sights on Harvard?
My father was involved in the African Commission of Health and Human Rights Promoters and had contacts at Harvard. When I was six, I came across materials from Harvard University. I asked: "What is a university?" He said: "That's where you go to get smart." And then I asked: "What's Harvard?" He suddenly got animated: "That's where you go to get really smart." 
I wrote to the "headmaster" of Harvard to ask: When can I start? Eight months later, I got mail from a man called Neil Rudenstine (former president of Harvard University). He told me that I'm a bit too young for Harvard but sent me a bunch of Harvard paraphernalia. I shared this story with him years later when we met at the African and African American Studies 50th Anniversary Symposium. He loved it. 
Tell us about some of the projects you started while a student at Harvard.
I was sitting on the steps of Weld with my first-year roommate, Darryl Finkton Jr. '10, who was from Indianapolis. I told him what I observed in West Africa with refugees and underdevelopment. He told me about inequality and poverty in urban America. We said we need to fix these problems. We started a program called College-Bound Mentoring Program with the Phillips Brooks House Association. You get a Harvard student to pair with a high school student, an at-risk youth, and your goal is simple: get that kid in college. 
It was successful, so we decided to do something in West Africa. It was 2008, the International Year of Water and Sanitation. We wondered why is there only a year for this? At the time, a billion people did not have access to clean water. More people have access to a mobile phone than to safe sanitation. Lack of access to water and sanitation kills more children every year than AIDS and malaria combined. We started to talk to faculty about starting a nonprofit called the African Development Initiative. It later became the subject of my thesis and is still a nonprofit, Cleanacwa, which impacts 200,000 people.   
After Harvard, you worked in investments, wrote the book Making Futures: Young Entrepreneurs in a Dynamic Africa, and are now chairman of Golden Palm Investments and CEO of Africa Health Holdings. Can you explain some of your drive and what you hope to accomplish?
I'm most grateful to my parents because they never shut down my dreams. I didn't believe in any limitations. My mom would always tell me: "Every day is a gift of 24 hours. What are you going to do with it?" I'm going to make sure it counts as best as I can. 
With Africa Health Holdings, I hope to help build Africa's healthcare future. We have 15 percent of the global population. Yet we're responsible for 26 percent of global disease burden. We only have three percent of global healthcare workers and one percent of global healthcare expenditure. And my thesis is that we can leverage technology to bridge the gap and build a network of hospitals, clinics, and labs. 
You gave a TED Talk in 2017 about being an African man struggling with depression. Can you share the story behind that talk?
I had never really experienced failure. I was number one in my class throughout. I got to Harvard. I graduated with highest honors. I had started Golden Palm Investments, which was doing well. I was used to a lot of success. I had been featured in Forbes. I had inked a book deal. 
Then I had a signature business deal go horribly wrong. Everything just crumbled. I had never dealt with failure and failure of that magnitude. I didn't know how to talk about it. I had never had that conversation before. It was isolating. I was deeply depressed. I would have anxiety attacks. But on the outside, everything was amazing. On the outside, I kept racking up awards. And it hit me. I realized how dangerous that was. I realized how dangerous the stigma of mental health troubles was. I just came out to say my story. The first time my family or anyone close to me knew I was struggling was in that TED Talk.  
What responses did you get to the TED Talk? 
When I gave that talk, I gave it from the perspective of an African black man. Since that talk, I've received tens of thousands of messages. I've had people reach out to me to say, "Hey, I'm white and Irish, and I'm facing the same thing." A man in Idaho said it resonated so powerfully. Someone messaged me from Sudan, telling me, "I made my family watch your talk, and we're having a conversation on mental health for the first time." There's a universality of the experience, which has been deeply moving. There's a lot more that unites us than divides us. 
Therapy is remarkable in being able to unpack so many things. I highly recommend it for everyone, just like an annual physical. One of the things that I hadn't recognized until much later was how much the condition of how to survive as a Black man in America deeply traumatizes. It takes a huge toll on your mental health. 
What inspired you to cofound the special interest group Harvard Alumni for Mental Health? 
It's something that I championed as a resident tutor in Adams House. I don't think Harvard was good at it then. We're the gold standard in most things, but we weren't even the bronze standard when it came to mental health. I'm happy to see there's been meaningful change and a lot of progress. Harvard has been incredible, working with me and with others to create more resources. I've been definitely impressed with the commitment to doing something meaningful and real. 
You're so active as a volunteer and donor with Harvard: former director for the Harvard Alumni Association, vice president for the Harvard Club of Ghana, leadership member for the Harvard University Center for African Studies. What motivates you to give back? 
There were so many days freshman year, where I would wake up and pinch myself because I couldn't believe I was there. I was on financial aid. They gave me money to buy a winter coat. And it was an extraordinary, transformative experience. I'll do anything I can to pay it forward. The first major investment I did was endow a scholarship at Harvard. What I really care about is that I'm able to play a role in making it possible for someone else to go to Harvard, like someone did for me. Giving back to Harvard is a privilege and a gift.  
You share that one of the most meaningful aspects as an undergraduate was your time at the Department of African and African American Studies. Why was that experience so important to you? 
It became a home for me. The faculty were so extraordinary. I was at a book signing event, and someone asked me how I got Skip Gates [Henry Louis Gates, Alphonse Fletcher, Jr., University Professor and director of the Hutchins Center] to write my foreword. I met Skip my freshman year. I took his class and went to his office hours. We became friends. It was the same way with [Thomas W. Lamont University Professor] Amartya Sen. I had no idea he won the Nobel Prize. And I was just like, "Hey, we're doing this work in Ghana. Can you advise us?" Those were amazing experiences with extraordinary faculty who are just normal, regular people who embraced me with open arms. I've been the beneficiary of tremendous, tremendous love.