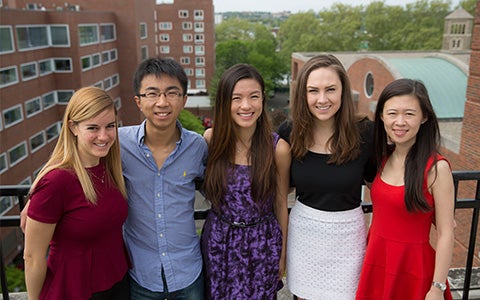 As the Class of 2015 embarked on the final weeks of their unforgettable Harvard College experience, 150 seniors began a new journey in their relationship with Harvard by serving on their Senior Gift Committee—joining generations of volunteers whose loyalty and passion keep the University moving forward.
"This is an opportunity for all of us to say, 'Thank you.' Senior Gift is an expression of our appreciation for our time at Harvard and our commitment to its future," said Senior Gift co-chair Alissa Song '15, of Sunnyvale, California, and Pforzheimer House. Fellow co-chair Tianhao He '15, of Clarksburg, Maryland, and Mather House, echoed that sentiment. "From day one, getting into Harvard was a dream come true for me and my family, and it has forever changed my life. Without the type of financial aid package that Harvard offers, my Harvard story simply would not be possible."
Making Connections
The Senior Gift campaign encourages seniors to make their first gift (of any amount) to Harvard by participating in this collective act of philanthropy. The drive raises vital unrestricted and financial aid dollars for the College and unifies the class through hundreds of one-on-one conversations with Housemates about their Harvard experiences and the impact of their combined efforts. This year's theme, "Leave Your Mark," conveyed this concept, showcasing the many ways Harvard has left a mark on students' lives—and how they are leaving their mark on Harvard through philanthropy. "Senior Gift is so much more than a fundraising campaign," said He. "It's an opportunity for us to reconnect as a class community, to reflect on our four years here, and to reimagine Harvard for future generations of students."
"This is an opportunity for all of us to say, 'Thank you.' Senior Gift is an expression of our appreciation for our time at Harvard and our commitment to its future."

—Alissa Song '15, Senior Gift Co-Chair
For many, Senior Gift is a meaningful start to a longterm relationship with Harvard as donors and volunteers. That's been the case for Mick Bordonaro '05, who joined his class campaign 10 years ago and has remained a Harvard College Fund (HCF) volunteer ever since, attending phonathons, meetings, and social events and serving as a participation co-chair for his 10th Reunion this year. A New York City lawyer who lived in Leverett House, Bordonaro enjoys supporting Harvard's mission to provide transformative financial aid, expand knowledge and discovery, and educate the next generation of leaders. "The chance to stay engaged with so many thoughtful, worldly, and intellectual people has been fun and rewarding," Bordonaro said. Volunteering allows him to maintain friendships and meet alumni from other years—some of them through his mother, Katy O'Brien Bordonaro '76, an active HCF volunteer.
Giving Back
That same spirit propels Kaitlin Gallo '05, a participation chair with Bordonaro and Jean-Pierre Jacquet '05. She remembers signing up for the 2005 Senior Gift effort to help fellow classmates thank Harvard for their life-changing four years. "As an undergraduate, I received a Gerald Jordan Family Scholarship, so helping future students attend Harvard was very important to me, and remains important to me," reflected Gallo, who lived in Winthrop House and is now a clinical psychologist in the Boston area. "I continue to be convinced that our collective gifts can be exponentially impactful, as they change the lives of current and future Harvard students who will become innovators and leaders."
The 2015 Senior Gift co-chairs—Song, He, Katie Gamble, Cindy Guan, and Sharon Stovezky—hope their work will inspire classmates to stay involved beyond Commencement, just as it did for the Class of 2005. "We set the example about giving back," Guan, of Boston and Kirkland House, told Senior Gift volunteers as their "Leave Your Mark" campaign launched this spring. "Through our collective efforts, we can ensure that future generations can have a bright and equally amazing experience as we have had."
As seen in HARVARD MAGAZINE
---
Choose Harvard today with a gift to the Harvard College Fund.