Family is important to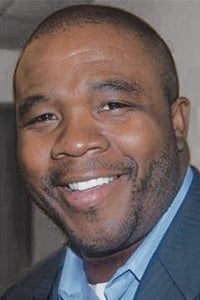 Claude T. Tolbert III '94. And it's one of the reasons he decided to include Harvard in his will. "I've realized that the important things in life start with family. And Harvard is a part of my family," he says. "I want to leave a mark in my own small way and support the College as it makes the world a better place."
For Tolbert, his College experience was transformational. "I am giving back in gratitude to Harvard for shaping the person I became," he says. "Harvard is such a wonderful place and it has opened doors."
While at Harvard, he concentrated in economics and graduated cum laude. He went on to earn his MBA from Stanford University and became an entrepreneur in telecommunications, software, and business consulting. A resident of Mountain View, California, he is the managing partner of Three Sticks Management Company and serves on the board of directors for LifePoint, a nonprofit organization focused on building life skills for families in need.
"That teenager, that young man who stumbled onto Harvard is now someone whose opinion is sought and example followed," he says.
"Harvard is like no place in the world," says Tolbert. "It's only when you leave that you realize its influence—whether it's finding out what you're capable of doing or seeing what your classmates or current students are accomplishing. It's rejuvenating."
"I want to leave a mark in my own small way and support the College as it makes the world a better place."
He was inspired to establish a bequest for Harvard after meeting fellow alumni at a planned giving dinner in Palo Alto, California. "I was the youngest in the room, yet I felt such a bond with everyone," he says. "It was a privilege to hear their life stories and what they wanted their personal legacies to be."
Tolbert decided that he didn't want to postpone his desire to include the College in his will.
"I want to make a powerful statement now by leaving something to Harvard," he says. "One day, I will no longer be upright and I would love to know that I've been able to help propel Harvard forward. It is a special opportunity to be a part of something greater than ourselves."
---
Learn more about making a planned gift to the Faculty of Arts and Sciences by visiting the Office of Gift Planning page or by emailing ogp@harvard.edu.