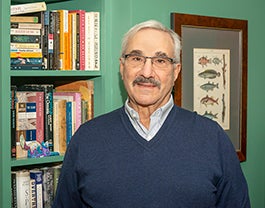 Ensuring Harvard's continued excellence is what inspires Lewy to extend his annual support through a series of charitable gift annuities. "I support the College because Harvard provides a service to the country by keeping its standards high," he says. "Alumni provide the resources to bring in faculty, maintain facilities, and attract top students from all over the world." 
The gift annuities also provide Lewy with a steady stream of income. "I like that this type of gift helps me now and will help others in the future," says Lewy. A resident of Highland Park, Illinois, he spends his retirement traveling, swimming, learning to play the piano, and visiting his daughters and grandchildren. 
Gratitude is not the only reason Peter Lewy '60 gives back to Harvard—though he is profoundly thankful for his College experience.
"Harvard has been a very important part of my life, and it requires support." 
He likes knowing his annuities help sustain Harvard's financial aid policy. "You never know where the talent is going to be," he explains. "There are smart people all over who don't necessarily have the resources to get an optimal education. I'm proud that Harvard is open to students of any economic background."  
"I received a terrific education, met many great friends, and was able to go on to medical school," says Lewy, who became a pediatrician. "Harvard shaped my entire life. It was such a privilege to go." 
For more information about charitable gift annuities, including representative rates, please visit our gift annuity page or contact the Office of Gift Planning.