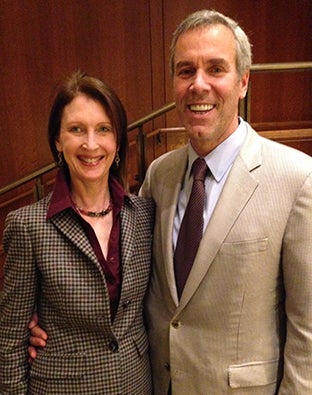 After 15 months of construction, Leverett House's McKinlock Hall opened its doors to students, showcasing new common spaces reconfigured for today's House life. The largest project to be completed under Harvard's House Renewal initiative, it was made possible through the generosity of donors like Theodore "Ted" '81 and Barbara Janulis P'16.
The couple participated in the Hutchins Family Challenge, a program that awards matching gifts and naming opportunities for alumni and friends who support the revitalization of Harvard's Houses. 
"These new common rooms are terrific. It's great for students to have more spaces to informally interact with faculty and with each other right in their House," says Barbara.
With their loyal support of the Faculty of Arts and Sciences, the Janulises are true Harvard citizens. In addition to giving a House Renewal gift that established the Janulis Family Common Room in McKinlock Hall, these parents of three have made generous gifts to the Dean's Leadership Fund and financial aid, having established the Ted and Barbara Janulis Scholarship Fund and the Barbara and Theodore P. Janulis Graduate Fellowship Fund.
In addition, Ted has served as a co-chair for New York for his 30th Reunion Gift Committee and is a member of COUR and the New York Major Gifts Committee. "What excites us most about Harvard is its far-reaching influence and impact around the world. No matter what the area or discipline, Harvard is involved," says Ted.
The Janulises have been inspired by the road map of the Campaign, with its mission of fundraising priorities, and their family philanthropy is driven by wanting to give back to the institutions that have changed their lives.
Access to education is particularly important to the couple, and they have taken great pleasure in hearing directly from students about the impact of financial aid.
"A Harvard education has such a profound effect on its students' lives," says Barbara, "and it's extremely gratifying to see how these funds allow incredibly talented students from all over the world to come to Cambridge and then go out and do great things."
The Janulises live in New York City; Ted is CEO of CRT Capital and Barbara serves on the national board of directors of The Posse Foundation, a college access program. As parents of a current Harvard student, they return to Cambridge frequently, sometimes to see their son Peter '16 play as a member of Harvard's squash team and other times to connect with volunteers and fellow alumni.
"It's like having an extended family," says Ted.