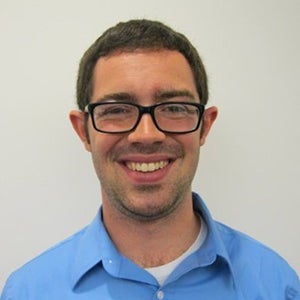 Adapting to college life can be a difficult transition for any student. For freshmen who are the first in their family to attend college, passing through the gates of Harvard Yard can feel like stepping into a different world. With no frame of reference for the academic and social norms of their new surroundings, first-generation students at Harvard often experience a sense of culture shock.
"I had no baseline; I didn't know anyone who had gone to college," says Josh St. Louis AB '09, who was not only the first in his family but also one of the few in his high school class to go to college. "I felt like I had a lot of choices in terms of what I wanted to do, and I didn't really have anyone to tell me this is what you should do."
After a challenging first year, St. Louis thrived at Harvard, graduating cum laude and going on to earn MD and MPH degrees at Tufts University School of Medicine. Now a resident physician at Greater Lawrence Family Health Center, St. Louis is part of a growing group of first-generation alumni who are serving as mentors to current first-generation students, offering support and guidance to help students make the most of their time at the College.
The mentorship program is organized by First Generation Harvard Alumni, a Shared Interest Group of the Harvard Alumni Association founded by Kevin Jennings AB '85 in 2012.
"Students have said that having access to someone who has 'been there and done that' is invaluable as they confront situations that no one in their family has experience with," says Jennings, who recently moderated a panel discussion on first-generation students. "For mentors it's been enormously rewarding, especially as many can remember how challenging this time was for them."
In the first year of the program, 17 mentors, including St. Louis, were matched with 33 freshmen from the Class of 2016. This year, there are 95 mentors and 134 mentees. "The rapid growth of the program speaks to how great an unmet need it is meeting," says Jennings.
The mentorship officially ends after freshman year, but St. Louis has continued relationships with all seven of his mentees. Helping his mentees find success, he says, is its own reward. "I get a lot out of being a mentor in that sense, just seeing someone do so well."
Making mom proud
St. Louis is a success story in his own right, and, like many success stories, it all started with his mother (pictured below with St. Louis in his Tufts graduation gown). One of five children of French Canadian immigrants, she gave up her own dreams of college when her father left, thrusting her into the role of breadwinner at age 16. When she had a son of her own, she was adamant that he would fulfill the educational opportunity that she had been denied.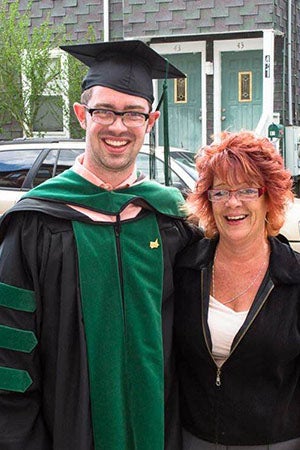 "When I was growing up, it was just me and my mom," St. Louis says. "She was always very clear that even though we didn't have the means to send me to amazing schools, that I would definitely be going to college."
St. Louis grew up in Haverhill, Massachusetts, before moving to northern New Hampshire when he was 14. There he attended a small public high school, which had the highest dropout rate in the state, the highest rate of teen pregnancy, and a low college acceptance rate. Driven to achieve by his mother's unflagging support, St. Louis sought out opportunities beyond what his school offered, studying on his own for additional AP tests and taking classes at a local community college.
When it was time to apply to colleges, St. Louis had a frank discussion with his guidance counselor about financial aid. "We realistically discussed the fact that if I didn't get into a college that would pay for everything, I just couldn't go to college," he recalls. His guidance counselor told him there was only one college that could offer him that kind of support—Harvard.
"No one from my high school had ever gone to Harvard," St. Louis says. "The idea of Harvard was just completely fantastical."
Nevertheless, he applied. A few months later, when he received an email from Harvard informing him of his acceptance, he was in disbelief. "I really didn't remember that this was how they would do it. All the other colleges I had gotten into sent paper letters, so my mom and I were extremely suspicious and refused to let ourselves celebrate until the next day when the real letter came."
St. Louis got another surprise the next morning at school, when his guidance counselor came on the loudspeaker to announce the big news to the entire school. "It was kind of ridiculous," he jokes.
Learning to be an advocate

But getting to Harvard was just the beginning of the journey for St. Louis. Freshman year was a struggle academically. He remembers feeling woefully underprepared compared with his peers, especially in science classes, but was uncomfortable asking his professors for extra help. "I felt like Harvard was such a huge gift. Who was I to show up and ask for someone to teach me something in their spare time?"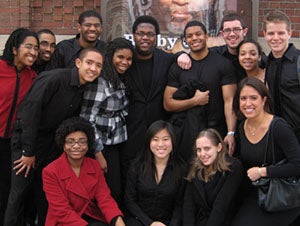 After the fall semester, a despondent St. Louis considered taking a year off. But things began to turn around in the spring when he joined the Kuumba Singers of Harvard College. There he found a community of supportive people, including many other first-generation students, who pushed him to take advantage of everything Harvard has to offer. "Having that community helped me realize how to be an advocate for myself," he says.
Now St. Louis is helping his mentees make the same life-changing realization: "Learning to be an advocate for yourself in college is a skill that you will carry with you. It's the key to being successful in everything you do."
From farmyard to Harvard Yard
St. Louis's message was epiphanic for Renajd Rrapi '16 (pictured below with his family at his high school graduation), who credits his mentor with getting him through a difficult first semester.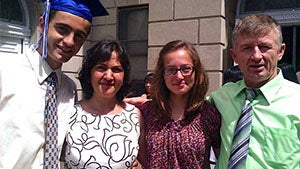 "Josh was monumental to my self-esteem," says Rrapi, a pre-med student concentrating in neurobiology. "His idea of advocating for yourself really hit home for me. It did take a while to implement, but at this point it's something I live by."
Similar to St. Louis, Rrapi's road to Harvard was paved by the support of his family. His parents were farmers in Albania, where Rrapi was born. They didn't go to college ("College isn't really something people do in Albania," he says) but were determined that their children would get an education. When Rrapi was six, his family immigrated to the United States, settling in Philadelphia.
"My parents' main motivation for coming over was for me and my younger sister to have educational opportunities," Rrapi says. "My sister and I worked really hard. It was great making our parents proud and making the most of their sacrifices."
Rrapi excelled academically and was admitted to a highly regarded public magnet school for middle and high school. Like St. Louis, when Rrapi was looking at colleges, it all came down to money. Through a program sponsored by Stanford, he received eight vouchers to pay for college applications. "I applied to Harvard on a whim," he says. "I thought there was no way I had any chance, but I still applied."
When he opened the email from Harvard in April, it was an emotional moment. "I started cheering in my living room. My mom rushed over. Quite honestly, we started crying a bit," he recalls. "It's something I'll never forget."
A friend and mentor
When he arrived on campus, Rrapi worried about being able to relate to his new classmates. He remembers participating in an icebreaker during the Freshman Outdoor Program in which students were asked to give a brief autobiography. "At that moment, I realized that I should be cautious about who I share my story with," he says. "They couldn't fully sympathize with the things that I was going through."
Classes were also a source of anxiety. "I was very insecure about not being on the same playing field as everyone else," Rrapi recalls. "I got hit pretty hard on the exams. I remember telling myself to strive to get the average grade."
Then he met St. Louis, who wouldn't let him settle for being average and who understood his struggles and offered proof it was possible to overcome them. St. Louis urged his mentee to go out of his comfort zone and speak up for himself.
"Josh really boosted my confidence," Rrapi says. "I found a group of people I could open up to. I was no longer afraid to speak with my professors. Right now, I'm very proud to say that I'm a first-generation college student."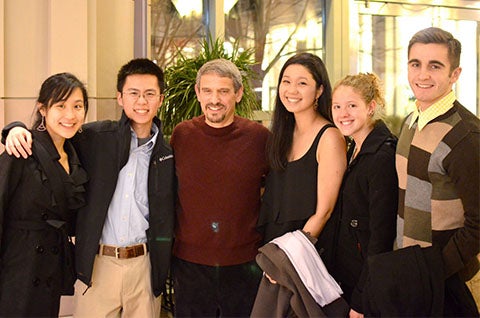 One of Rrapi's proudest accomplishments at Harvard is his work with Harvard College Alzheimer's Buddies (HCAB), a student organization that aims to build connections with Alzheimer's patients during weekly one-on-one visits. He is considering taking a gap year before medical school to expand the program into a national nonprofit with branches at colleges and nursing homes around the country. "Our program is becoming the gold standard," says Rrapi, who is co-director of HCAB. "Having these individual visits really does make a difference in the quality of life of these residents."
St. Louis says Rrapi doesn't really need mentorship anymore. "At this point, it's more of a friendship. He's a really cool person who I get to see now and again and be really impressed by all the things he's doing," St. Louis says. "It also helps me to realize the important things about being a mentor for the students I have who are struggling right now and do need more mentorship."
Rrapi has also become a mentor himself, serving as a Peer Advising Fellow to current freshmen, some of whom are first-generation students. "I try to say the same things Josh told me a few years back," he says. "They should be proud of their achievements. It will definitely be a scary experience at first, but they should always keep their head up and look forward to making the most of this opportunity."
---
Read more about First Generation Harvard Alumni's recent "First in the Family" event in the Harvard Gazette. Listen to audio from the event on the HAA's SoundCloud page.
Learn more about First Generation Harvard Alumni, one of the Harvard Alumni Association's 50 Shared Interest Groups.