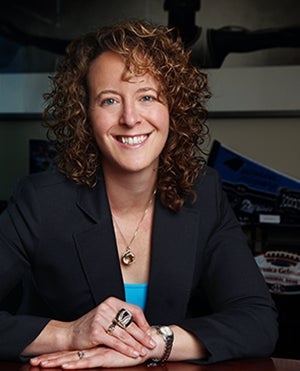 Jessica Gelman '97, MBA '02
Lowell House
Psychology concentrator
 Once a star on the basketball court, Jessica Gelman '97, MBA '02 now spends more time thinking about what it's like to be a spectator. As CEO of Kraft Analytics Group (KAGR), she helps teams across four of the five major U.S. sports leagues, including the New England Patriots and Philadelphia 76ers, use data to better understand fan behavior and growth opportunities.
A love of sports has always been at the center of Gelman's life. A standout athlete, four-time letter winner, and record assist leader, she co-captained the women's basketball team her senior year, leading them to the first 14-0 Ivy League record by any men's or women's team. She was recruited by Robert Kraft MBA '65 and Jonathan Kraft MBA '90 after doing a school project for them while at Harvard Business School. After 14 years with the Kraft Sports Group, she was named CEO of KAGR, a new Kraft organization that uses data management technology, business intelligence, analytics, and strategic consulting to help clients improve customer experiences.
A leading voice in sports analytics, Gelman co-founded and now co-chairs a national conference that draws leading experts and newcomers to Boston every year. She also actively volunteers for Harvard, serving on the Harvard Alumni Association (HAA) Board of Directors, as a member of the Harvard Visiting Committee on Athletics, and as a mentor for Harvard undergraduates. She shares how her leadership is shaped by the teams she's been on and why Harvard is such an important part of her life today.
What was your Harvard College experience like? 
My time at Harvard College exceeded my expectations. I was exposed to people who really knew and cared passionately about a wide spectrum of interests and perspectives.
Having this broader view of the world and ideas during such a formative period in my life was transformative. 
Harvard was where I really learned how to analyze information. It was also where I learned time management. I played basketball for four years, was a leader for the Harvard First-Year Outdoor Program, and concentrated in psychology. There was this incredible richness of experiences and opportunities to hone my skills, which included how to lead and how to create bonds and engage with folks who had different priorities.
How has being an athlete at Harvard (and beyond) shaped your life now? 
Playing basketball at Harvard remains one of the best experiences of my life. My coach Kathy Delaney-Smith was such an incredible role model and mentor, and my teammates from College remain my best friends to this day.
I was surrounded by these really talented, funny, and driven women, and we helped create and build a team that went from some very public failures to great wins. We became one of the best teams to play in the Ivy League. We were the first Harvard team to go to the NCAA tournament and the first team to go undefeated in the Ivy League. We set a record for the most consecutive wins in the Ivy League and won back-to-back titles. We were driven and serious about winning, but also serious about having fun. 
How did being a part of this team prepare you for your career?
Once you've been on a team and had that kind of experience, it is really powerful. You understand the role that you and your teammates play in creating a team where not everyone has the same skills and capabilities. A critical aspect of leadership is understanding people's strengths and putting them in the right situations to be successful based on those strengths. I try to recreate this environment in everything I do. In building a team, while we all need to do our jobs, we also must identify the capabilities and growth opportunities of those on our team. 
How would you describe your work at Kraft Analytics Group (KAGR)? 
In the early 2000s, Robert and Jonathan Kraft tasked me with applying analytics to the business. After great success, this ultimately led to the creation of KAGR in 2016. At KAGR, our mission is to help organizations make data-driven decisions. Organizations often invest in technology platforms but don't know how to drive their businesses using the technology or haven't created the infrastructure to best use it. Equating it to sports, you may have a basketball, but if you don't know the rules of the game, you won't know how to play, let alone win.
Predominantly, we focus on the sports and entertainment industry, which includes, obviously, the Patriots and New England Revolution, but we're working with many others in the industry, including the Philadelphia 76ers, the New Jersey Devils, and Mississippi State, to name a few.
What does being entrepreneurial and innovative mean to you?
 It is all about a willingness to take action. If there's something that needs to be fixed, I have always been the person who wants to find a solution. Building things, making things better, and continuing to learn is the type of environment and teams I enjoy most.
So much of that is drawn from my experiences at Harvard, both academically and athletically. There were challenges, and failure happened a lot. Understanding failure is temporary, and how I respond, evaluate, and quickly adjust are the lessons I still apply today. With Harvard, what I learned during my four years has been hugely applicable to the rest of my life.
How have you impacted sports analytics?
The Krafts really embraced pushing analytics across the business to understand our customers. We were definitely ahead of the curve adopting analytics and technology in our approach to driving business decision-making. Our results became well-known across the industry and organizations have adopted some of our principles.
For the last 12 years, I've been deeply involved with the MIT Sloan Sports Analytics Conference, which I co-founded with Daryl Morey (general manager of the Houston Rockets).We bring industry leaders in sports analytics, business, and technology together in Boston. This year, we had more than 3,500 attendees for panels, presentations, research paper competitions, hackathons, and sports competitions. Our speakers included former President Barack Obama, Steve Ballmer '77, Nate Silver, Alex Rodriguez, and Jeremy Lin '08!
You actively support and volunteer for Harvard. What motivates you to stay so closely connected to Harvard?
I've been incredibly involved with Harvard since graduation. I was co-chair for Friends of Harvard Basketball for six years and was elected to the Harvard Alumni Association Board of Directors in 2014. I really love volunteering with the HAA because it's all about helping alumni staying connected, engaging in lifelong learning, and giving back. 
Living 15 miles from Harvard, I'm fortunate to be back on campus to do career talks and volunteer for the Radcliffe Institute Fellowship Program. We've also actively hired Harvard alumni, and the Office of Career Services just brought 20 Harvard undergraduates down in January to learn about sports and KAGR. 
Paying it forward is important to me. Harvard has contributed so meaningfully to my life, so if I can give back, then hopefully I'm part of supporting the broader community in a good way.
Plus, I love bringing my family (including my two young boys) to Harvard hoops games.