To Jacob Verrey '19, the Greek classics have always been more than just assigned reading. "Ever since middle school, I've been fascinated by how the classics reveal the psyche of those who lived in arguably the world's most influential ancient empire," he says. "At the same time, I've always felt slightly distanced from a land and culture so far away."
Verrey's opportunity to "tear down the barrier" of that distance came in just his second semester at Harvard College, when he joined Harvard Alumni Travels' spring break trip to Greece.
Over the past decade, this annual trip—organized in cooperation with Harvard's Center for Hellenic Studies—has given students, alumni, and their guests the chance to journey back through time to explore the country's famous archaeological sites and museums under the guidance of an expert in the field, Gregory Nagy PhD '66, Francis Jones Professor of Classical Greek Literature and professor of comparative literature.
Hundreds have visited Greece with Harvard Alumni Travels and Professor Nagy over the years, making it one of the program's most popular trips. No matter what drew them to the Mediterranean nation, alumni and student travelers rave about their experience. Here are five reasons why you should consider exploring Greece with Harvard Alumni Travels.
1. A front row seat to Greek mythology, literature, and culture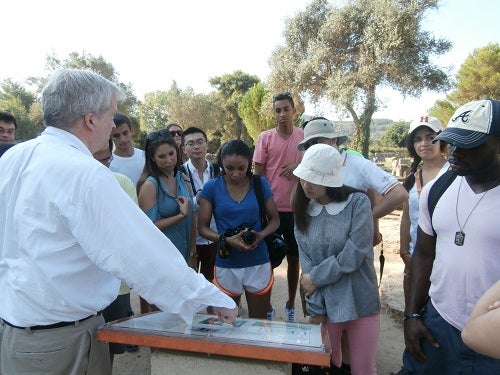 "I had always wanted to go to Greece once during my lifetime, especially since I indulged myself in the stories of Greek mythology as a child," says Mari Kinoshita MPH '16.
A common theme among Greece travelers—alumni and students alike—is the desire to experience firsthand what they've only read about or to close a perceived gap in their knowledge of the country and its history.
This was also true for Tayt Harlin. "As an undergraduate, I took surveys of the history and literature of ancient Greece and Rome that were captivating, but I never had the chance to visit," says Harlin, who took the trip with a Harvard alumna friend. "It was a revelation to visit the sites mentioned in ancient texts and to contemplate the concrete life of myth."
The draw is equally strong for current Harvard students. "The week before my trip, my linguistics class was given the assignment of learning to read the Greek alphabet," says Amanda Flores '18. "Actually being in Greece and putting my homework into practice by reading road signs, menus, and more made me realize how much I love being able to use languages in their local contexts."
2. A world-class tour guide: Professor Gregory Nagy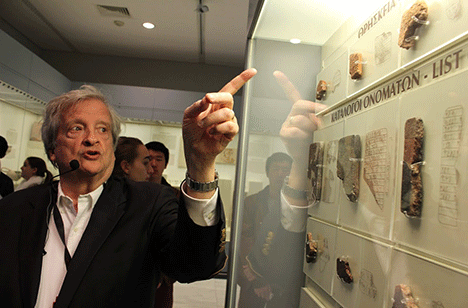 "Greg Nagy is as engaging and entertaining in person as he is in the classroom," says Kim Bendheim AB '81, who studied under Nagy at Harvard College. "Many of the key concepts of his course stayed with me more than thirty years later, and it was a treat to have him introduce us to the Greek gods and goddesses carved in white stone in their original home."
A preeminent authority in Homeric and related Greek studies, Professor Nagy has taught courses at Harvard College and Harvard Extension School for more than 40 years. To his spring break travel companions, this makes Nagy an inimitable guide who is at once authoritative, enthusiastic, and friendly.
"The academic guidance by Greg Nagy was an experience in itself," says Klaus Koester TGMP '06. "Through explaining about ancient Greece, Greg explains about our life, our civilization, our past, and our present."
In addition to teaching at Harvard, Nagy is also director of Harvard's Center for Hellenic Studies in Washington, D.C. His wealth of knowledge provides a unique perspective from which he can educate his travel companions.
3. Connections that span Harvard generations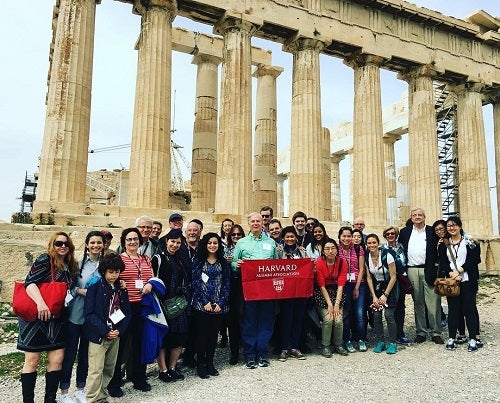 What could be better than immersing yourself in history and learning from a professor who is the closest thing there is to a primary source? Sharing the experience with your fellow travelers. From recounting Greek history and classical texts to trading Harvard stories, the mutually beneficial interaction between alumni and students further enhances the trip.
"The group dynamic of alumni, current students, and even children of alumni was a delight," says Jinhee Kim AB '85, whose teenage daughter joined her on the trip in 2015.
Because this trip is open to all Harvard alumni and students—and their families—it cultivates lively discussion and educational exchange, not to mention impactful lifelong connections.
Amanda Flores '18 established a close relationship with an alumna on the trip and the two keep in regular contact. "Paula has become a host mom of sorts to me," says Flores. "The past two years, she has invited me to Thanksgiving dinner at her home."
4. An opportunity for current students to travel through scholarships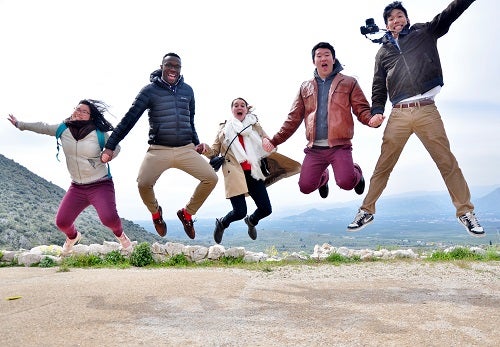 While many HAA Travels trips are generally intended for alumni, spring break trips are unique in that they provide meaningful and accessible travel opportunities for students as well. Discounted rates are available to all students, and there are scholarship opportunities for undergraduates who are in need of financial assistance.
Dozens of students, including Haley Adams AB '15, have received scholarships to join the trip. The students come with different levels of travel experience, but many emerge from the trip grateful for the opportunity to see a new part of the world and expand their horizons. For Adams, the trip was her first time traveling abroad, and it opened her eyes to future opportunities for global exploration.
"After this trip I realized how much I have to explore in the world," she says. "Material things can only bring us so much joy, but experiences have the potential to change how we see the world for a lifetime."
5. An experience you will never forget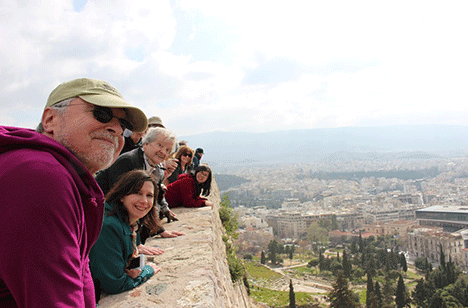 No matter your Harvard affiliation, your level of travel experience, or even your affinity for all things Greek, spending a week exploring Greece can be life altering.
"This trip turned my liking of Greek culture into a full-blown love, and for that I cannot be more thankful," says Verrey, another student scholarship recipient. "It is something that will powerfully affect the rest of my college career."
Still need convincing? Just picture yourself standing on the cliffs of Delphi among the remains of the Apollo temple, hearing a renowned Greek scholar impart his wisdom on the famous Oracle that once occupied the site. An experience like this is not just a trip to an historically rich location—it is a transportation back in time to ancient Greece.
"I expected this to be an intellectual trip full of interesting on-site lectures," says Kim. "But what I experienced was so much more. It was both meditative and restorative."
Reserve your spot on the spring break trip to Greece, or learn about other opportunities to explore the world by visiting Harvard Alumni Travels.